Not Yet Brewing Members
If you are considering the idea of setting up a brewery but not quite brewing yet, then you can join SIBA as a 'Not Yet Brewing' (NYB) member.
NYB members are entitled to all of the usual Brewer member benefits – detailed below – but you will not be able to…
– Vote at SIBA's AGM
– Trade through Beerflex until you are a Brewing member.
Not Yet Brewing Membership costs £126.00 + VAT for the year Oct 2019 – Sept 2020.
A one of registration fee of £30.00 + VAT is applicable to Not Yet Brewing Members
To join as a 'Not Yet Brewing Membership Application' click here
---
SIBA Membership Benefits: Delivering for Brewers
SIBA has listened to member and non-member breweries alike to launch our Delivering for Brewers initiative which builds on the existing benefits of being a SIBA Member – including Government lobbying, beer awards, compliance advice and much more – with new brewery business tools, promotional opportunities and practical guides which we have created in direct response to feedback from brewers being launched throughout the year.
Below you will find a brief summary of some of the ways in which SIBA are Delivering for Brewers, but if you have any questions or would like to know more about joining SIBA then click here to email our membership team.
GOVERNMENT LOBBYING: BREWERS' VOICES ARE BEING HEARD
SIBA continues to lobby on behalf of members and upped its game during 2018/2019 pushing forward the SIBA Proposal on Small Brewers Relief, meeting more politicians and policy makers to make sure brewers' voices are heard. Following a duty freeze in January 2019 which could have seen Britains brewer's be hit by £100m, SIBA will continue to defend SBR at current levels whilst lobbying for positive reform. 
LEGAL HELPLINE: FREE ADVICE FROM EXPERIENCED SOLICITORS
As with all manufacturing industries, breweries are unfortunately open to a variety of legal issues. To help protect your brewing business SIBA has partnered with Napthens solicitors to ensure members receive the best advice from a firm with a wealth of experience. All members are eligible for one hour's free legal advice. 
PROMOTION
 : 

MARKETING SIBA BREWERIES

 

The SIBA COMMS Team work with selected Trade Shows and industry events – such as Imbibe Live, Ei Road Shows, the British Guild of Beer Writers Dinner, The Michelin Guide Launch – in order to raise the profile of our members and help engage the right people with the fantastic independent craft beers you brew. 
COMPLIANCE: FOOD SAFETY AND QUALITY ASSURANCE FROM PROFESSIONAL BREWING BUSINESSES
Recognised as a minimum standard by a number of leading companies within the Industry, the SIBA Food Safety Quality Audit continues to be adopted by a number of Brewing Members who do not hold an alternative accreditation. To assist Brewers in becoming compliant, tools such as HACCP, Traceability and Health & Safety are made available to all Brewing Members via the Toolbox. 
PRACTICAL GUIDE TO LABELLING & MORE
As part of SIBA's ongoing Delivering for Brewers initiative we are launching new business tools, guides and opportunities every month throughout the year. The first of these was a comprehensive labelling guide which advises on what is and isn't needed on your bottle, can, cask and keg labels – including allergen advice, ABV, alcohol consumption advice and much more. This guide and all future 'Delivering for Brewers' items will be made free of charge to SIBA Members.
NEWS & COMMUNICATIONS: KEEPING MEMBERS UP TO SPEED
Every quarter SIBA Members receive a copy of the SIBA Journal through the post. Featuring industry news and guest articles from some of the UK's best beer writers, as well as interviews, meet the brewer and business profiles, the SIBA Journal is your portal to the wider world of independent brewing. 
Weekly you also receive 'Brewing in Brief', which drops into members' email inboxes
to give a snapshot of the weeks industry news, SIBA internal news and important dates for the diary! 
CHAMPIONING INDEPENDENCE
 : 

FIGHTING FOR ASSURED INDEPENDENT BRITISH CRAFT BREWERS

 

SIBA's 'Assured Independent British Craft Brewer' seal can only be used by Full SIBA member breweries like you who are independent, relatively small, and brewing quality beer as assured by the SIBA Food Safety & Quality standard.

The seal is a unique USP in a crowded beer market and resonates with consumers, with more than half saying they would be more likely to buy a beer which carries the seal. 
BEERX UK
 : 

FREE ENTRY TO THE UK'S LARGEST INDEPENDENT CRAFT BREWING TRADE SHOW

 

BeerX UK is the UK's biggest and best independent craft brewing event, with a huge trade-only showcase of award-winning beers, an ever expanding trade show of hundreds of the best beer industry suppliers, as well as a packed schedule of seminars, panel debates and workshops. 

Brewing & Not Yet Brewing Members are entitled to 1 Free of Charge Ticket to SIBA's Annual event BeerX UK – BeerX UK 2020 is certainly not to be missed! 
CLASSIFIED ADS
Our Classified Ads section on the website allows members the opportunity to advertise products and services and also gives members the chance to search for products and services they may require. For example, brewing equipment for sale can be listed here, job vacancies can be posted or members can look for Supplier Associate Member promotions. Just select the 'Classifieds' tab on our website for more information or go to www.siba.co.uk/classifieds
REGIONAL MEETINGS
SIBA's eight regions host Regional Meetings throughout the year which allow SIBA members the opportunity to network with other brewers and suppliers, as well as speak to members of the SIBA Senior Management Team regarding anything to do with SIBA Nationally.
Regional meetings are a great place to network, ask questions and raise any ideas or concerns you may have regarding regional operations, SIBA nationally, or brewing itself. The meetings are informal but informative!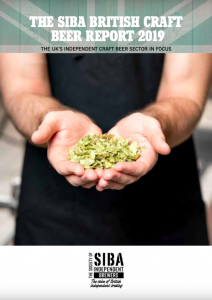 ACCESS TO EXCLUSIVE DATA, FIGURES, PLUS THE SIBA BRITISH CRAFT BEER REPORT
Regional meetings are a great place to network, ask questions and raise any ideas or concerns you may have regarding regional operations, SIBA nationally, or brewing itself. The meetings are informal but informative!