SIBA Homebrew Beer Awards 2024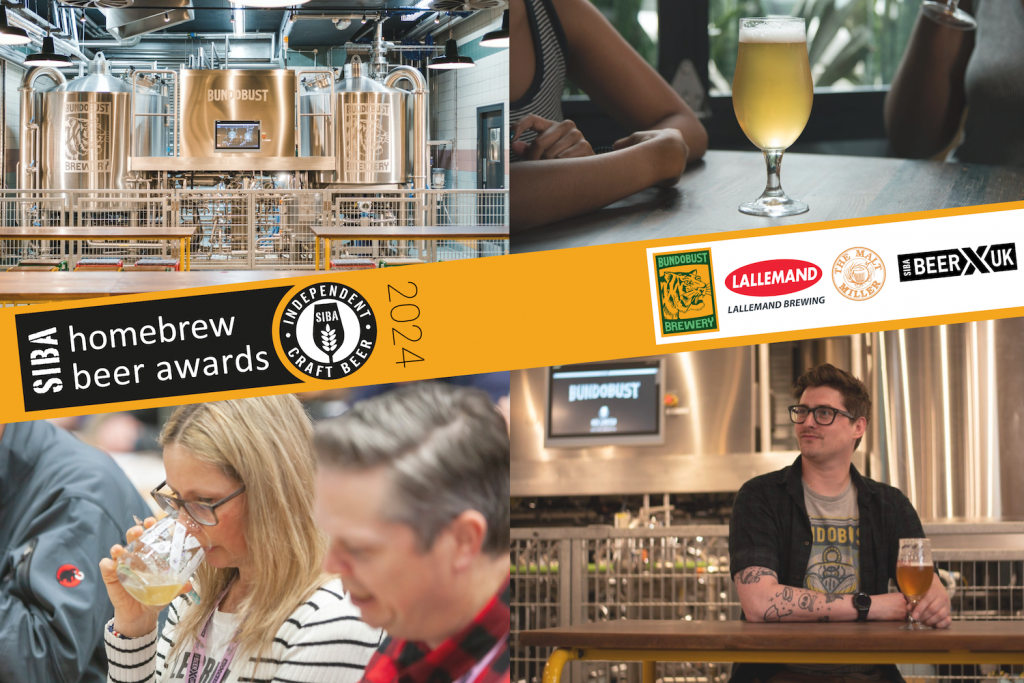 Important Information:
You must be a SIBA Homebrewer member to enter. You can join here
Please read the competition detail below before submitting your entry form
SIBA has teamed up with Lallemand Brewing, Bundobust and The Malt Miller for the 2024 National Homebrew Awards which is judged by professional brewers at BeerX in March 2024.
For your chance to brew the winning beer at Wheat Beer aficionado's Bundobust Brewery in Manchester, SIBA Homebrewer members are challenged to brew the UK's best tasting wheat-based beer in the style of their choice. Whether it's a Belgian Wit, American Wheat, German Hefeweizen, or White IPA, the only rules are the beer must use Lalbrew Wit yeast and a minimum of 25% wheat in the grist.
To get you started, Lallemand will provide you with a free pack of Lalbrew Wit yeast sent directly to you from The Malt Miller. And as part of the competition, The Malt Miller is including a pack of Barth Haas noble hops as well. All you have to do is pay the postage and packaging. You have until Friday 26 January 2024 to register for entry into the competition with entries needing to arrive by Friday 1 March 2024 to the collection point (address received on registration). Each entrant must provide three bottles or cans (any size) to enter.
The beer style
The beer must contain 25% wheat malt and use the LalBrew Wit yeast with a target strength of 4-6% ABV. For the competition recipe you can choose any style using any hops or adjuncts that match the beer.
Entrants must send 3 x bottles or cans (any size). When sending your bottles or cans of beer in for judging you will also be asked to supply information on what style you have chosen (referencing the most appropriate BJCP style), whether the beer is bottle conditioned, whether it is meant to be hazy and what the estimated or target abv is.
Malt: Must contain minimum 25% wheat malt
Hops: Any
Adjuncts: Any
Yeast: LalBrew Wit yeast
ABV: 4.0 – 6.0% abv
Style: Any
Judging
Your beer will be judged by professional brewers and experienced beer judges using SIBA's standard awards judging system, which gives a score out of 100  – taking into account: Aroma, Flavour, Presentation (colour, head retention, carbonation), and Overall Quality.
Judging will take place at BeerX on Thursday 14 March 2024. All SIBA Homebrewer members will also get free entry to BeerX. 
Entering
Please enter using the registration form, providing your details and agreeing to allow SIBA to share your details with The Malt Miller who will be sending you the yeast and noble hops. On registering you will be sent a code which can be used on The Malt Miller website. You'll only have to pay postage and packaging and may wish to order other ingredients at the same time.
You must send 3 x bottles or cans (any size) to the collection point which must arrive by Friday 1 March 2024.  
The prize
The winner will have the opportunity to work with the head brewer at Bundobust Brewery to develop and brew the winning beer at a brew day in the summer of 2024. SIBA will cover hotel and travel for the winner to attend a day at Bundobust Brewery. You'll need to record and provide a copy of your recipe. The beer will be brewed into kegs and sold in Bundobust locations.
National Homebrew Beer Awards 2024 Terms and Conditions
The National Homebrew Beer Awards 2024 is open to all SIBA Homebrewer members and only one entry is permitted per member in a given year.
SIBA Homebrewer members must complete a registration form to enter. The form must be completed between 1 November 2023 and by 26 January 2024 (midnight). Any entry that is late, incomplete or inappropriate will be deemed invalid at the discretion of SIBA.
SIBA takes no responsibility for any technical failures that may result in any entry being lost, broken in the post or not properly registered. No responsibility will be taken for damaged or lost entries.
This is restricted to 200 entries to be judged at BeerX 2024. At the discretion of the Society of Independent Brewers (SIBA) entries may be extended with initial judging take place at an earlier stage.
The Awards will be judged at BeerX by a panel of judges compiled by SIBA and include professional brewers using SIBA's Beer Award style guide. Each entrant will receive via email judges' feedback. The judges' decision will be final.
All entries must be received at the collection point by 1 March 2024. Any received after this date will not be eligible for entry into the competition.
The names of winners will be published on the SIBA website and social media.
Any personal data submitted to SIBA will be processed in accordance with any applicable data protection legislation and SIBA's Privacy Notice which is available at http://www.siba.co.uk/wp-content/uploads/2018/04/SIBA-Privacy-Notice-April-2018.pdf
Entrants agree for SIBA to share their details with the Malt Miller so that yeast for the competition can be provided.
The overall winner will have the opportunity for their recipe to be brewed at a SIBA participating brewery, subject to approval of the brewer. Submitting an entry means that the entrant agrees to provide a copy of the recipe used to brew the beer in an eligible format and that SIBA and the SIBA participating brewery are licenced to use, change, brew and sell the beer made from the recipe.
SIBA reserves the right to replace the prize with alternative prizes of equal or higher value if necessary and to cancel, amend or suspend the competition, or any part of it (including these Terms and Conditions) as required by circumstances.
The winner will be announced at BeerX and notified by email by telephone or in writing (using the details provided at entry) and will be invited to arrange a brew day with the SIBA participating brewery. SIBA will not be liable for any failure or inability to contact a winner nor the brewers' availability to attend a brew day on the dates provided.
SIBA cannot accept responsibility for or liability arising from entrants taking part in the competition. SIBA give no warranty or guarantee in relation to the prize and accept no responsibility or liability for the prizes being amended. To the fullest extent permitted by law, SIBA exclude liability for all loss, damage or claim arising as a result of a participant's entry into the Competition or use of the prizes (save in the case of death or personal injury caused by the negligence of SIBA).
By entering the Competition, entrants agree to hold SIBA harmless for liability, damages or claims for injury or loss to any person or property, relating to, directly or indirectly, participation in this Competition, or claims based on publicity rights, third party intellectual property rights, defamation or invasion of privacy
SIBA reserves the right to refuse entry or to refuse to award a prize to anyone in breach of the Rules
These terms and conditions shall be governed by and construed in accordance with English law. Disputes arising in connection with this Competition shall be subject to the exclusive jurisdiction of the English courts
The promoter is the Society of Independent Brewers, Unit 4, The Old Laundry, Fishergreen, Ripon, England, HG4 1NL