How important is Small Breweries' Relief (SBR) to independent craft brewers?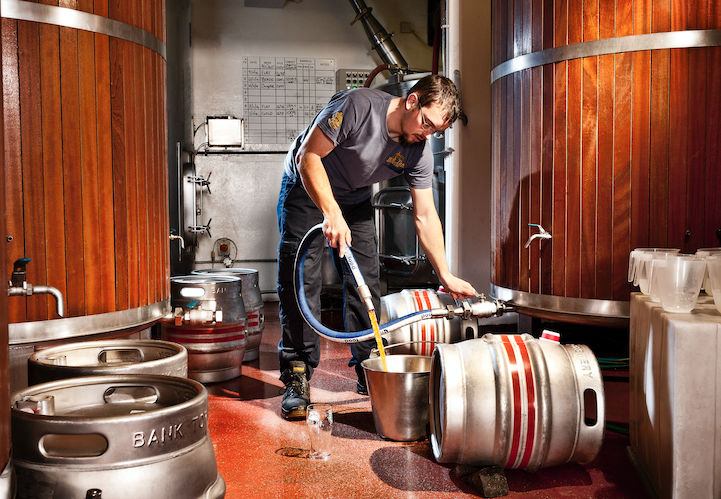 We spoke to brewers from across the UK and asked them what SBR meant to their businesses. Here, in full and unedited, is what they had to say:
Claire Monk, Welbeck Abbey, Nottinghamshire:
"I run an independently owned microbrewery producing about 4000HL per year.
Last financial year our turnover was £650,000 and we paid circa £130,000 in beer duty at the half rate which is 20% of the total turnover.
I invested £70,000 in new UK manufactured equipment, £2,000 in staff training, and took on new employees with a combined annual wage bill of around £35,000. The total investment was £107,000 and we expect a growth of about 10% in turnover and profit from this investment.
I firmly believe that the relief should be used for just that and not as a way to subsidise the price to pubs or bolster profits. Without the SBR scheme I wouldn't have been able to reinvest this money.
Last year the amount of tax paid to HMRC (Duty, VAT, and Income tax) totalled £245,000 which is 38% of my turnover.
If we continue to grow 10% year on year this total figure will only grow, however at present we will only grow until we reach the 5000HL mark. The steep increase in amount of duty to be paid is so much that I would not be able to:
a) retain our profitability at an acceptable level
b) keep to our guiding principles of producing quality products sold locally and
c) invest further in equipment and staff.
In order for me to continue on our growth trajectory we need to see the Treasury investing in the current steepest part of the curve i.e 5-10,000HL as at this point we don't benefit from economy of scale and still wish to invest heavily in equipment and staff. Smoothing this duty increase curve would allow my continued growth which, as demonstrated, will generate income in other areas of tax revenue."
Pete Hounsall, Amber Ales, Derbyshire:
"SBR is vital to our business and the craft beer sector. Without it, we would not be able to trade and there would be virtually no small microbreweries left either."
Philip Darby, Nottingham Brewery, Nottinghamshire:
"In my view it is vital to maintain the duty as or less than it is to sustain small breweries. The current duty break enables us to compete with larger breweries economy of scale and to reinvest in the business growth, and in the development of the people working within it."
Jan Rogers, Marble Brewery, Greater Manchester:
"As a brewery that has brewed at under 5000hL for the last 22 years Marble definitely benefited from the introduction of Small Brewers Relief in 2002.
It meant we were able to balance the books whilst championing quality cask beer and innovating in a changing product market.
Whilst acknowledging the benefits of expansion in craft beer breweries we are proud of the fact that both our brewery and our two outlets are unique and geared to community and locale rather than corporate expansion plans.
We believe that the removal of Small Brewers Relief for producers under 5000hL will lead to the return of a monopoly style market with a loss of many small businesses such as ours."
Roo Stone, Old Sawley Brewing Co, Nottinghamshire: 
"Put simply, we are a relatively new business trying to expand.
Without SBR I doubt that I could continue employing people, and as a consequence would probably have to close down as I couldn't do it all myself. "
Anthony Hughes, Lincoln green Brewing Co, Nottinghamshire: 
"We've benefitted from SBR since our commencement of trade in 2012 – we've used the relief to help grow our business from two employees to eight in 2019. The brewery has been capable of growing organically, supported by SBR relief, investing in new plant and equipment. Our next focus is upon the relocation of the brewery to a new site in Hucknall by 2021 that would see us expand to allow for the continued growth of our pub estate – this new brewery would also include increased local employment for both brewery workers and retail staff to support a shop and taproom on the new site.
Adverse changes to SBR would put this growth at risk – and potentially that of our pub company, which has a business model very much dependent on the brewery and its' beer as their unique selling point. Our pubs, The Robin Hood (AND) Little John in Arnold, The Sir John Borlase Warren in Canning Circus, The Station Hotel in Hucknall, The Brickyard in Carlton and The Railway in Belper (which is due to open at the beginning of July) now employ over 70 staff, creating local employment opportunities in Nottinghamshire and Derbyshire.
SBR isn't broken – far from it – it's serving to support small brewer's overcome the diseconomies of scale and to compete in a market dominated by large breweries. Together, small brewers have created the most exciting and innovative beer market the country has ever known.
Please show your support to Lincoln Green, and to other local brewers, through the retention and further improvement of the existing SBR model."
Guy Rolfe, Penton Park Brewery, Hampshire:
"Hugely, without this there would be no point starting a small brewery. We would be financially suffocated, and very quickly close, this would be a huge knock to the booming brewing industry."
Andy Mansell, Red Cat Brewing, Hampshire:
"The small brewery's of the country are now a huge part of the local and national economy.
Without SBR many, if not, most would shut. Small brewery's make huge payments to the government and economy in many ways, one being a higher number of staff per hectolitre of beer produced than big brewers for a start. This alone is supporting in the making of Jobs therefor paying tax and national insurance etc.
Small brewers such as myself and many others that I talk to will also chose to use smaller interdependent, local, companies to have work carried out often at a slightly higher price than a national company. This again is supporting the local economy and community.
With duty being one of the biggest prices on a pint of beer should it rise then small brewery's will be closing there doors, that will have a big effect on the wider world than just brewing.
If the small brewery's did not exist these jobs would not exist."
Eddie Gadd, Ramsgate Brewery, Kent:
"Our brewery was established in 2002 to serve the east Kent pub market with fresh, local beer, something it hadn't had for decades, and it now employs 11 local people. At around 5000hl per year we are not big enough to enjoy the benefits of any scale and any profit we do make is absorbed into reinvesting in our facility. A cut in SBR at the 5000hl level would result in job losses, and a 'smoothing of the curve', as proposed by SIBA would enable us to grow and create more jobs."
Mark Anderson, Maxim Brewery, Tyne & Wear:
"The 1st July 2019, marks 20 years since the closure of Vaux Breweries, Sunderland. A group of ex-Vaux employees were able to purchase some of the famous Vaux brands like Double Maxim first brewed in 1901 for the return of the Maxim Gun detachment from the Boar war.
Without SBR the newly formed Maxim Brewery would not have been able to purchase and fund a new small brewery in Sunderland to keep the brands and brewing heritage alive.
The Company has now been operating sucesfully for 20 years, employs local people and sources local supplies wherever possible.
Maxim Brewery also supports many charities in the area and is recognised as a key business for the City of Sunderland.
The Industry remains difficult and highly competitive with larger and multinational beer companies dominating the industry and the availability of beer on the bar. The only way we can compete is with SBR helping to offset the huge economies of scale of the bigger players.
An example of this is business rates whereby large brewers have rateable values of less than 50 pence per brewers barrel but smaller brewers can be well in excess of £15 per brewers barrel.
Any reduction to the current scheme would likely lead to Maxim's closure and the loss of over 120 years of Brewing heritage. I would urge all MP's to support Britains smaller brewers by calling on the treasury to maintain and extend SBR and keep the country's unique brewing heritage alive."
Peter Hills, Hackney Brewery, London
"SBR is crucial to my business. We founded the brewery in 2011 and have grown the business over the last eight years creating jobs for nine full-time, tax-paying, local staff.
We use SBR to improve working conditions for our staff and to run a socially responsible brewery. We are London Living Wage employers, use 100% renewable energy in the brewhouse and donate to local charities.
If SBR were to be reduced it would realistically mean that we would have to review our policies as progressive, ethical, responsible employers. It would hinder our growth, and in the worst case scenario we would have to close the business leading to job losses and everthing else that comes with it.
SBR works exactly as it is for the vast majority of small breweries."
Greg Pilley, Stroud Brewery, Gloucestershire:
"SBR is possible THE most important area of policy affecting our business. We have just borrowed £300,000 to invest in the growth of our enterprise, and this is based on a stable policy environment. If SBR was to be reviewed I would only support an extension of the benefit for small brewers and above the 5000Hl point, where many growing enterprises are finding themselves.
If we are to leave Europe – which overall I believe would be disadvantageous to our business – an opportunity would be to consider differential duty rates for bulk and small packaged beers. Bottles and cans use lots of energy and produce waste.
Casks and kegs are environmentally much better and encourages people to get together, strengthening community and drinking within social norms. This brings health and social benefits and by nature of distribution would further strengthen local economies.
This would also boost our pubs which have been in decline."
Shane Swindells, The Cheshire Brewhouse, Cheshire
"SBR is vital to keeping my brewery open. The SBDRC state that brewers below 5000hl use SBR to undercut them, however even with SBR I could not entertain the prices that many of its members sell into the large multiples at. We Need SBR to pay the Bills, reducing it would close my business overnight, it's that Vital to keeping us open."