Coffee and Welsh Cake? Duo of stouts named the best independent craft beers in Wales & West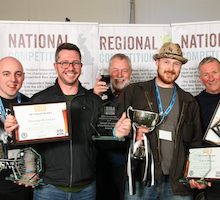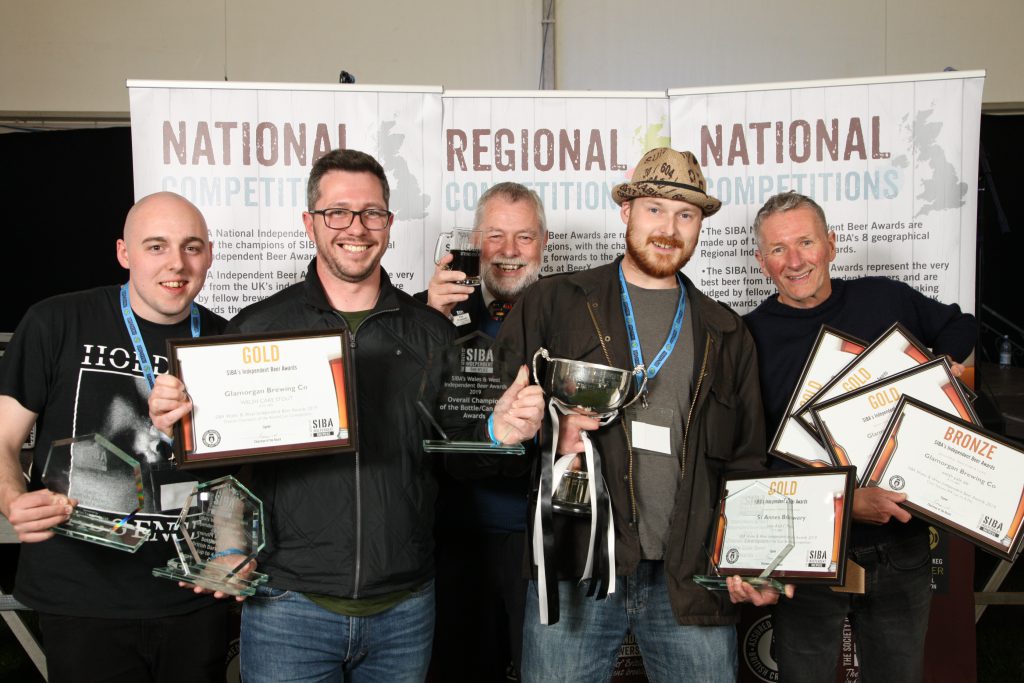 St Anne's Brewery and Glamorgan Brewing Co have taken home the two top awards in SIBA's Wales & West Independent Beer Awards, winning the "cask" and "bottle & can" competitions respectively – one with a coffee stout and one with a Welsh Cake Stout.
The awards are run by the Society of Independent Brewers prior to the opening of the popular SIBA Ludlow Beer Festival at Ludlow Castle and judge the best independent craft beers across a variety of style categories before overall 'Gold Champions' are selected in the seperate 'Cask' and 'Bottle & Can' competitions.
It was 'Iron and Fire' by St Anne's Brewery which took home the Overall Gold in the cask beer competition. Featuring fresh ground coffee, it's a collaboration brew with a local artisanal coffee roasters, giving extra zip to this traditional stout. Chris Yeomans, Head Brewer at St Anne's Brewery was there to collect the award,
"I'm absolutely blown away, I genuinely wasn't expecting to win anything and we'll all be celebrating back at the brewery. This stout was a collaboration with a local coffee roasters and they'll be over the moon as well – I can't wait to tell them!"
'Welsh Cake Stout' by Glamorgan brewery is a take on the Welsh classic with all of the flavours of the tea-time cake, wrapped up in a smooth, rich stout. Gavin Parsons, Regional Sales Manager for Glamorgan Brewery accepted the award on behalf of the team
"Absolutely overwhelmed with this achievement – this goes down to all the hardwork of the brewery team. Just incredible, absolutely fantastic to win and the team will be so proud of this. What we tried to do with this beer is do something which represents Wales, which for us is Welsh Cake, it seems to have gone down really well with people – and beer judges!"
Guy Sheppard, SIBA's competitions committee Chair presented the awards;
"It's great to see two dark beers taking the overall Golds and just shows that craft beer is about more than just hoppy pale ales – there were a huge range of flavours on show at these awards and the quality across the board was fantastic. I'd like to thank all of the brewers who entered and congratulate those who were lucky enough to walk away with the silverware!"
The SIBA Wales & West Independent Beer Awards judge a huge range of beers across a number of styles before the winners from each category go forward to an 'Overall Champions' final. It was this 'best-of-the-best' final that finds the best winners in cask and small pack, which judges cans and bottles side by side.
Full Winners List:
Overall Champion of the Cask Competition
Sponsored by Radnor Hills Water
Brewery
Product
ABV
Gold
  St Annes Brewery
 Iron And Fire
7.5
Silver
  Stonehouse Brewery Limited
 Ballast
4.4
Bronze
  Brew Monster
 Leviathan
4
Cask British Dark Beers (up to 4.4%)
 

Brewery
Product
ABV
Gold
 Stonehouse Brewery Limited
Ballast
4.4
Silver
 Mumbles Brewery Ltd
Oystermouth Stout
4.4
Bronze
 Hobsons Brewery
Champion Mild
3.2
Cask British Dark Beers (4.5 to 6.4%)
 

 

 
Brewery
Product
ABV
Gold
 Boss Brewing Company
 Boss Black
5
Silver
 Purple Moose Brewery Ltd
 Dark Side of the Moose
4.6
Bronze
 Bewdley Brewery
 William Mucklow's Dark Mild
6
Cask British Bitters (up to 4.4%)
 

Sponsored by Charles Faram & Co. Ltd

 
Brewery
Product
ABV
Gold
 Glamorgan Brewing Co
CWRW GORSLAS
4
Silver
 Tomos & Lilford
Wright's Best Bitter
4.3
Bronze
 Salopian Brewery
Darwins Origin
4.3
Cask Premium Bitters (4.5 to 6.4%)
 

Sponsored by Rankin Brother & Sons

 
Brewery
Product
ABV
Gold
 Mantle Brewery
 Hoodwinked
5
Silver
 Goffs Brewery
 White Knight
4.7
Bronze
 Harbwr Brewery Tenby
 R.F.A Sir Galahad
4.6
Cask Session IPA (up to 4.3%)
 

Sponsored by Rastal GmbH & Co. Ltd

 
Brewery
Product
ABV
Gold
 Brew Monster
Leviathan
4
Silver
 Brewhouse & Kitchen
Shed Head
4
Bronze
 Glamorgan Brewing Co
welsh pale ale
4.1
Cask Premium PAs (4.4 to 5.4%)
 

Sponsored by Crisp Malting Group

 
Brewery
Product
ABV
Gold
 Prescott Ales
 Super 6 No 1
4.5
Silver
 Hobsons Brewery
 Simcoe Chinook (BBNo Colab)
4.8
Bronze
 Grey Trees Ind Craft Brewers
 Afghan Pale Ale
5.4
Cask IPA (5.5 to 6.4%)
 

Brewery
Product
ABV
Gold
 Salopian Brewery
Bulletproof
5.8
Silver
 Cold Black Label
Red Beast
6
Bronze
 Boss Brewing Company
Boss Brave
5.5
Cask Speciality Light Beers
Sponsored by Napthens

Brewery
Product
ABV
Gold
 Gower Brewery Company Limited
 Lighthouse Lager
4.5
Silver
 Mumbles Brewery Ltd
 Murmelt
4.2
Bronze
 Corvedale Brewery
 Ale Of ODIN
4.2
Cask Speciality Mid to Dark Beers
Brewery
Product
ABV
Gold
 St Annes Brewery
Iron And Fire
7.5
Silver
 Mantle Brewery
Dark Heart
5.2
Bronze
 Harbwr Brewery Tenby
Trawlers Dread
5.4
 Cask Strong Beers 6.5% and over
Brewery
Product
ABV
Gold
 St Annes Brewery
 Majors Stout
7
Silver
 Salopian Brewery
 Cico Buff
6.9
Bronze
 Clun Brewery
 Unk IPA
7.5
Champion Bottle/Can Beers
 

Brewery
Product
ABV
Gold
 Glamorgan Brewing Co
 WELSH CAKE STOUT
4.3
Silver
 Brecon Brewing
 Mind Bleach
10
Bronze
 Boss Brewing Company
 Boss Black – Chocolate Orange Edition
5
Bottle/Can British Dark Beers (up to 4.4%)
Brewery
Product
ABV
Gold
 Glamorgan Brewing Co
WELSH CAKE STOUT
4.3
Silver
 Mumbles Brewery Ltd
Oystermouth Stout
4.4
Bronze
 Stonehouse Brewery Limited
Ballast
4.4

Bottle/Can British Dark Beers (4.5 to 6.4%)
Brewery
Product
ABV
Gold
 Mumbles Brewery Ltd
 Lifesaver
4.9
Silver
 Stroud Brewery Ltd
 Big Cat, Organic Stout
4.5
Bronze
 Wye Valley Brewery Ltd
 Wholesome Stout
4.6
Bottle/Can British Bitters (up to 4.4%)
Brewery
Product
ABV
Gold
 Magic Dragon Brewing
Eyton Gold
4
Silver
 Salopian Brewery
Darwins Origin
4.3
Bronze
 Gloucester Brewery
Cascade
4.2
Bottle/Can Premium Bitters (4.5 to 6.4%)
Brewery
Product
ABV
Gold
 Goffs Brewery
 White Knight
4.7
Silver
 Bewdley Brewery
2857
5
Bronze
 Magic Dragon Brewing
 Eyton Bitter
4.5
Bottle/Can Session IPA (up to 4.3%)
 

Brewery
Product
ABV
Gold
 Salopian Brewery
Oracle
4
Silver
 Ludlow Brewery
Blonde
4
Bronze
 The Hop Shed
Pekin Pale Ale
4
Bottle/Can Premium PAs (4.4 to 5.4%)
Sponsored by Beatson ClarkLtd

Brewery
Product
ABV
Gold
  Wood Brewery Ltd
 Coracle
5.2
Silver
  Stonehouse Brewery Limited
 Kelly Point IPA
4.4
Bronze
  Purple Moose Brewery Ltd
 Antlered IPA
5.2
Bottle/Can Can IPA (5.5 to 6.4%)
Sponsored by Anton Paar Ltd
Brewery
Product
ABV
Gold
 Astwood (T/A Lab Culture Brewery)
Galilale Galilei
6
Silver
 Salopian Brewery
Kashmir
5.5
Bronze
 Wye Valley Brewery Ltd
Glorious IPA
6
Bottle/Can Can Imperial IPA (6.5% and over)
Brewery
Product
ABV
Gold
 Brecon Brewing
 Mind Bleach
10
Bottle/Can Session Lager & Pilsners
Brewery
Product
ABV
Gold
 Glamorgan Brewing Co
WELSH LAGER
4.3
Bottle/Can Premium Lager & Pilsners
Brewery
Product
ABV
Gold
 Zerodegrees Cardiff
 The Bohemian Czech Pilsner
4.8
Silver
 Purple Moose Brewery Ltd
 Mwsh
4.7
Bronze
 Wye Valley Brewery Ltd
1985
4.5
Bottle/Can Speciality Light Beers
 

Brewery
Product
ABV
Gold
 Salopian Brewery
 Slipstream
5.1
Silver
 Geipel Brewing
 Hefeweizen
5.6
Bronze
 Stonehouse Brewery Limited
 Witbier
4.4
Bottle/Can Speciality Mid to Dark Beers
Brewery
Product
ABV
Gold
 Boss Brewing Company
 Boss Black – Chocolate Orange Edition
5
Silver
 Astwood (T/A Lab Culture Brewery)
 Chocolate Milk Stout
5
Bronze
 Purple Moose Brewery Ltd
 Chocolate Moose
4.5
Bottle/Can Sours/Spontaneous
Brewery
Product
ABV
Gold
 Tomos & Lilford
Wild Rose
4.9
Bottle/Can Strong Beers 6.5% and over
Brewery
Product
ABV
Gold
 Salopian Brewery
 Cico Buff
6.9
Silver
 Bewdley Brewery
 Decennium
10
Bronze
 Bluestone Brewing Co.
 Pierre Bleu
6.5