Brakspear Honey Bee creates a buzz for Friends of the Earth Bee Campaign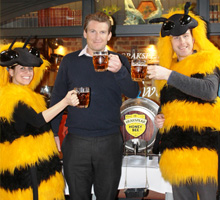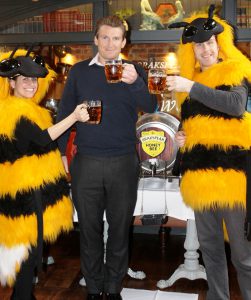 A Friends of the Earth campaign to help Britain's under-threat bees is being given a boost by a honey beer created by Henley-based brewer and pub operator Brakspear.
Honey Bee, a 4.4% ABV honey beer, will be available in selected Brakspear pubs in Henley from    1 April and then offered to the entire Brakspear estate as their seasonal ale for May.  Every pint sold will raise 10 pence for Friends of the Earth's Bee Cause campaign.
Created by Brakspear head brewer Malcolm Mayo, Honey Bee was originally sold in 2015, and raised £1,300 for the charity. Brewed using Maris Otter and Crystal malts as well as malted oats, First Gold and Willamette hops, Honey Bee has delicate, subtle honey notes, with a bracing delivery of hops on the follow through.
Honey Bee is one element of Brakspear's support for British bees this year. Pubs will also be encouraging customers to take part in the Great British Bee Count  www.greatbritishbeecount.co.uk) from 19 May – 30 June. This initiative by Friends of the Earth encourages the public to get outdoors and do some bee-spotting with a free smartphone app. It's a fun way to learn more about bees and provides some easy steps that can be taken to protect them.  The data from the sightings will also help experts build a better picture of how our bee populations are faring.
Brakspear chief executive Tom Davies said: "We are very proud of Honey Bee and delighted to be continuing the partnership with the Bee Cause that we started in 2014, when many of our pubs planted bee-friendly flowers and shrubs in their gardens, patios and window boxes.
"Brewing a honey beer and supporting the Bee Cause are naturals for Brakspear. Not only do we have a bee in our logo, but most of our pubs have gardens or outdoor floral displays that depend upon bees, which is why so many of our licensees and their customers supported the campaign in previous years.
"We're sure that Honey Bee will once again be popular among our customers and we look forward to presenting Friends of the Earth with a sizeable donation later this year."
Friends of the Earth chief executive Craig Bennett said: "We're extremely grateful to Brakspear for their fabulous support for our Bee Cause Campaign, and their tremendous efforts in raising awareness of the plight of the humble bee.
"People can enjoy a pint of Honey Bee and know they are helping these precious pollinators, which are currently facing enormous threats, such as habitat loss, pesticide-use and climate change."
Brakspear's partnership with Friends of the Earth will help to raise awareness of the threats facing these bees and encourage the public to be part of the generation that saves them.  As well as the honey bee, Britain is home to around 225 species of solitary bee and 25 bumble bees.