Exeter Chiefs and Otter Brewery Line Up together for the 2017 Poppy Appeal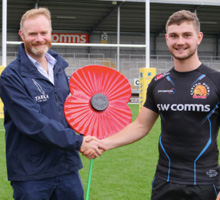 England's reigning Premiership Rugby champions and one of Devon's leading breweries are joining forces to help raise money for this year's Poppy Appeal.
Building on a strong relationship that pre-dates their promotion to top flight rugby, Exeter Rugby Club and long-time sponsor Otter Brewery are hoping fans will get behind their combined efforts and raise a glass for the Royal British Legion.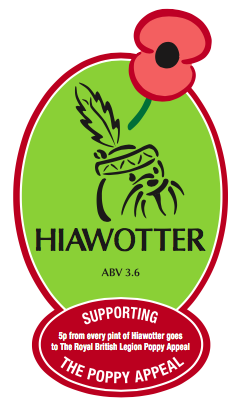 Each autumn Otter's Head Brewer Keith Bennett produces a specially created charity beer called 'Poppy Otter' for pubs and drinkers across the West Country. This year the brewery and the rugby club have put their heads together and, building on a mutual support for local charities, decided to make the Poppy Appeal a shared priority.
During the club's Anglo-Welsh Cup match against Northampton Saints on 4th November, between them they will be contributing 5p from every pint of 'Hiawotter' (the resident Otter beer at Sandy Park) sold across all of the bars to the Poppy Appeal.
General Manager at Sandy Park, Natasha Pavis, said: "As a Club, we always commemorate Remembrance Day, and it is great that this year we are able to make the most of our partnership with Otter Brewery and do something extra towards the Poppy Appeal."
Patrick McCaig from Otter Brewery commented: "We share a very close personal affinity with the values the RBL hold dear and an added bonus for us is that all the money raised locally is then used locally. In the last seven years Poppy Otter has contributed £11,000 to their regional efforts."
"Rugby's also in our veins so having the Chiefs involved this year is something extra special given our ties with them. Thirsty fans coming to Sandy Park on the 4th will have a rousing day out, the chance to chase 'Derek the Otter' up and down the pitch at half time (a stadium tradition!) and all in the knowledge that every time they raise a glass they'll be helping to support the Poppy Appeal…… we'll certainly drink to that!"
Exeter Chiefs are currently 2nd in the English Premiership and won their latest fixture in the European Champions Cup (27-24) against Montpellier on Sunday.
For pre-match details and ticket availability for the 4th November please check www.exeterchiefs.co.uk