Quantock Brewery and Cheddar Ales named Champions of the South West at new-look SIBA Independent Beer Awards 2022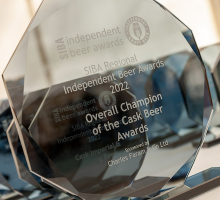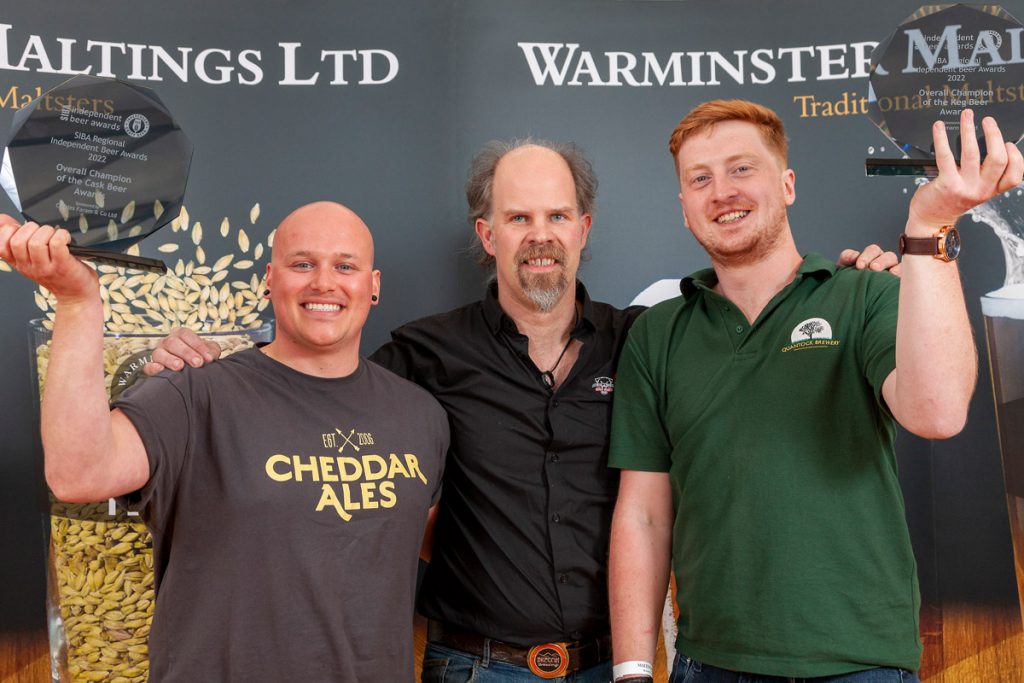 Quantock Brewery and Cheddar ales have taken home the two Overall Champion awards in the Society of Independent Brewers (SIBA) South West Independent Beer Awards, which took place last night at the MaltingsFest beer festival in Newton Abbot.
'We're gonna need a bigger boat', a modern 6.3% New England style hazy IPA took home the top award in the keg beer competition for Quantock – the first time keg has ever been judged at the event as part of a huge shakeup of the awards in 2022. The Overall Champion of the Cask beer competition went to 'Piney Sleight' by Cheddar Ales, a Session IPA of 4% with huge aromas of pine and citrus.
"The South West competition is the oldest of all SIBA competitions Nationally so it seems apt that this is where we launch our new and improved SIBA Independent Beer Awards 2022 – featuring a brand new set of keg categories, an international-standard scoring system and hugely experienced 'lead judges' on each table. I would like to say a huge congratulations to all of this year's winners and in particular Quantock and Cheddar Ales, who really were the best of the best, not only being named best-in-class in their category but then going on to become Overall Champions. Very well done and good luck in the National Finals in Liverpool next year!" Buster Grant, SIBA Competitions Chairman.
The awards, which were presented at MaltingsFest at the old Tucker's Maltings site, are judged by beer sommeliers, master brewers and other expert beer judges from across the industry. Collecting the award for Quantock was brewer James Higgins, "Fantastic. Speechless! The name for this beer 'We're gonna need a bigger boat' comes from the fact we really needed a bigger brewery to keep up with demand, and it's beers like this that are the reason for that! We can't make them quick enough right now and to win the biggest Regional Beer Award going and have the chance to go through to the Nationals is just amazing."
Commenting on why the beer proved a hit with judges James added "It's majorly hop-forward and everything you want from a New England IPA, big tropical fruit and citrus but also silky smooth – we're absolutely over the moon to have won."
The Overall Cask Champion award was collected by Cheddar Ales brewing apprentice Joel Hancock, "It's just amazing to win against so many fantastic breweries and the quality of the beers and judging at this event was the best I have ever seen, so I know how hard it is to walk away with the overall Gold. It's a beer that just resonates so well with our customers too, loads of hop flavour and aromatic, but also really drinkable and a good session strength. Very proud and happy to accept the award on behalf of our whole team."
Members of the public will get a chance to taste the best beers in the South West at the MaltingFest Beer Festival which continues today and this weekend.
SIBA South West Independent Beer Awards – Full Winners list
Overall Champion of the Cask Competition
Sponsored by Charles Faram & Co Ltd
Brewery
Product
ABV
Gold
Cheddar Ales Ltd
Piney Sleight
4
Silver
Cheddar Ales Ltd
Totty Pot Porter
4.4
Bronze
Salcombe Brewery Co.
Belgica
5
Cask Session Dark Beer
Brewery
Product
ABV
Gold
Cheddar Ales Ltd
Totty Pot Porter
4.4
Silver
Dawkins Ales
East Bristol Session Porter
4.1
Silver
Hop Kettle Brewery
North Wall
4.3
Silver
Yeovil Ales
Stout Hearted
4.3
Silver
Castle Brewery
Moat Mild
4.4
Bronze
Southbourne Ales
Sunbather
4
Bronze
Driftwood Spars Brewery
Pete's Mild
4.4
Cask British Dark Beer
Brewery
Product
ABV
Gold
Castle Brewery
Cornish Stuggy Stout
4.6
Silver
Teignmouth Brewery
1846
6.2
Silver
Fine Tuned Brewery
Twist & Stout
4.5
Silver
Bridgetown Brewery
Shark Island Stout
4.5
Silver
Cheddar Ales Ltd
Velvet Bottom
4.7
Silver
HANLONS BREWERY
PORT STOUT
4.8
Silver
Exeter Brewery
Darkness
5.1
Bronze
Epic Beers – Pitchfork Ales
Old Slug
4.5
Bronze
South Hams Brewery
Devon Porter
5.2
Bronze
PALMERS BREWERY
TALLY HO!
5.5
Bronze
Dawkins Ales
We 3 Bears
4.5
Bronze
Twisted Oak Brewery
Ghost Town
5.7
Cask British Bitter
Brewery
Product
ABV
Gold
Teignmouth Brewery
Portside
4.3
Silver
Bays Brewery
Topsail
4
Silver
Dawkins Ales
Bristol Blonde
3.8
Silver
Exeter Brewery
Fraidnot
4
Silver
Stonehenge Ales Ltd
Heel Stone
4.3
Bronze
Branscombe Vale
Branoc
3.8
Bronze
Southbourne Ales
Headlander
4.2
Bronze
PALMERS BREWERY
IPA
4.2
Bronze
Arkell's Brewery Ltd
3B's
4
Bronze
Liberation Brewing Company
Liberation Ale
4
Bronze
Otter Brewery
Bitter
3.6
Bronze
Isca Ales
Dawlish Bitter
4.2
Bronze
Cheddar Ales Ltd
Potholer
4.3
Cask British Best Bitter
Brewery
Product
ABV
Gold
Bays Brewery
Devon Dumpling
5.1
Gold
Good Chemistry Brewing
Extra Special
5.6
Silver
Firebrand Brewing
Beast of Bodmin
5
Silver
Epic Beers – Pitchfork Ales
East Street Cream
5
Bronze
PALMERS BREWERY
PALMERS 200
5
Bronze
Yeovil Ales
POSH IPA
5.4
Bronze
HANLONS BREWERY
STORMSTAY
5
Bronze
Dawkins Ales
Bob Chequers
5
Bronze
Cheddar Ales Ltd
Crown and Glory
4.6
Bronze
Abbey Ales
White Friar
5
Bronze
Exmoor Ales
Exmoor Gold
4.5
Bronze
Otter Brewery
Ale
4.5
Cask Session Pale Ale
Brewery
Product
ABV
Gold
Cheddar Ales Ltd
Piney Sleight
4
Gold
Powderkeg Brewery
Ripple Effect
4.2
Silver
Eight Arch Brewing Co.
Square Logic
4.2
Silver
Teignmouth Brewery
Tame Ale
3.8
Silver
Firebrand Brewing
Patchwork Rocket
4
Silver
Hop Kettle Brewery
Cosmic Shake
4.4
Bronze
Stonehenge Ales Ltd
Spire Ale
3.8
Bronze
Dawkins Ales
Easton IPA
4.4
Bronze
Exeter Brewery
Avocet
3.9
Bronze
Keystone Brewery
Whiltshire Pale Ale
3.8
Bronze
Lyme Regis Brewery
Lyme Gold
4.2
Bronze
Branscombe Vale
Golden Fiddle
4
Bronze
Quantock Brewery
QPA
4
Bronze
Fine Tuned Brewery
Don't Worry Be Hoppy
4.4
Cask Pale Ale
Sponsored by ekegplus
Brewery
Product
ABV
Bronze
Salcombe Brewery Co.
Salcombe Pale ale
4.6
Bronze
Hop Kettle Brewery
Neonate
4.5
Bronze
Cheddar Ales Ltd
Lisa Likes Nelson
5
Cask IPA
Brewery
Product
ABV
Bronze
Yeovil Ales
Yeovil Pale Ale
7.3
Bronze
Barefaced Brewing
Flash IPA
5.9
Bronze
St Austell Brewery
Big Job
7.2
Bronze
Cheddar Ales Ltd
Goats Leap IPA
5.6
Cask Speciality Light Beer
Brewery
Product
ABV
Gold
Salcombe Brewery Co.
Belgica
5
Silver
Keystone Brewery
Gold Spice
4
Bronze
Hop Union Brewery & Taproom
Bloody Nora
4.7
Cask Speciality Amber to Dark Beer
Brewery
Product
ABV
Gold
Epic Beers – 3D Beer
Craic On!
5
Silver
cerne abbas brewery
gurt coconuts
6.7
Bronze
Dawkins Ales
Foresters Black Caramel
4.8
Bronze
Castle Brewery
Winter's Knight
4.5
Cask Imperial & Strong Beer
Brewery
Product
ABV
Silver
Epic Beers – Pitchfork Ales
Santa Fe
7.3
Bronze
Exmoor Ales
Exmoor Beast
6.6
Overall Champion of the Keg Competition
Sponsored byThielmann UK Ltd
Brewery
Product
ABV
Gold
Quantock Brewery
We're Gonna Need A Bigger Boat
6.3
Silver
Dawkins Ales
Foresters Black
4.8
Bronze
Zerodegrees Bristol
Cloud Waltz
4.4
Keg Non-Alcoholic & Low ABV
Brewery
Product
ABV
Gold
Butcombe Brewing Co.
Goram IPA Zero
0.5
Bronze
Powderkeg Brewery
Green Light
1.2
Keg Lager
Sponsored by Kegstar
Brewery
Product
ABV
Gold
Zerodegrees Bristol
The Bohemian
4.8
Silver
Otter Brewery
Tarka Premium
4.8
Silver
Firebrand Brewing
Helles Beach Cornish Lager
4.4
Silver
Bays Brewery
Devon Rock Craft Lager
4.5
Bronze
Quantock Brewery
Lager Than Life
4.6
Bronze
St Austell Brewery
Korev
4.8
Bronze
Exeter brewery
IPL Devons OrganicLager
3.9
Bronze
Powderkeg Brewery
Harmony
4.2
Keg Amber & Dark Lager
Brewery
Product
ABV
Gold
Zerodegrees Bristol
Cloud Waltz
4.4
Silver
Utopian Brewing Limited
Utopian Vienna Keller Lager
4.8
Keg Pale Ale
Sponsored by ekegplus
Brewery
Product
ABV
Gold
Firebrand Brewing
Thundercloud Hazy Pale
5.5
Silver
Powderkeg Brewery
Speak Easy
4.3
Silver
South Hams Brewery
Sundown
4.5
Silver
Stannary Brewing Co.
Half Pint Mafia
4.8
Bronze
Roam Brewing Company
Everyday Hero
5.1
Bronze
Dawkins Ales
Whiplash
5.3
Bronze
Zerodegrees Bristol
Downtown
4.6
Bronze
Padstow Brewing Co
Pocket Rocket
4
Bronze
Liberation Brewing Company
Liberation Waverider
4.2
Bronze
Bays Brewery
Devon Cove Pale Ale
4.1
Bronze
Quantock Brewery
Titanium
5.1
Keg IPA
Sponsored by Drinksflow
Brewery
Product
ABV
Gold
Quantock Brewery
We're Gonna Need A Bigger Boat
6.3
Silver
Stannary Brewing Co.
Hare Trigger IPA
6.8
Bronze
Dawkins Ales
Ultra
6.3
Bronze
South Hams Brewery
Sherman
6.4
Bronze
Brewhouse & Kitchen Bristol
Yankee Cabot KV
6
Keg Double & Triple IPA
Sponsored by Nichesolutions
Brewery
Product
ABV
Gold
Stannary Brewing Co.
Repeat Offender
8.1
Keg Speciality IPA
Brewery
Product
ABV
Bronze
Hop Union Brewery & Taproom
Bloody Nora
4.7
Keg Amber, Brown & Red Ale
Brewery
Product
ABV
Gold
Stannary Brewing Co.
Fathead 'American Brown Ale'
7.4
Keg Stout & Porter
Brewery
Product
ABV
Gold
Epic Beers – 3D Beer
Ebon
4.6
Silver
Salcombe Brewery Co.
Island Street Porter
5.9
Keg Imperial & Strong Ale
Brewery
Product
ABV
Silver
Roam Brewing Company
Wonder, Excitement & Wonder
6.9
Keg Sour & Wild Ale
Brewery
Product
ABV
Silver
Firebrand Brewing
Pink Lemon
6
Keg Speciality & Flavoured Beer
Brewery
Product
ABV
Gold
Dawkins Ales
Foresters Black
4.8