Eight Arch Brewing Co & Yonder Brewing named Champions of the South West in SIBA Independent Beer Awards 2023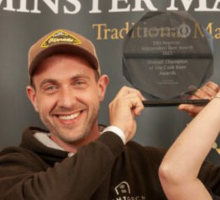 Eight Arch Brewing Co and Yonder Brewing have taken home the two Overall Champion awards in the Society of Independent Brewers (SIBA) South West Independent Beer Awards, which took place last night at the MaltingsFest beer festival in Newton Abbot.
Square Logic by Eight Arch, an aromatic and fruity pale ale using buckets of American hops, was named the best cask beer in the competition after a final round jugding against all other beer style catgeory winners. In the seperate keg beer competition it was Yonder Brewing's Raspberry Gose that took the top spot, wowing judges with huge fruit flavours, subtle sourness and a refreshing, balanced finished.
"These awards recognise the very best independent craft breweries in the South West and the quality of beers today was truly outstanding. A massive well-done to the brewers and to our hosts at the MaltingsFest who have ensured all of the beers were served in absolute peak condition. To win your category in these awards is incredibly tough, so I'd like to give particular congratulations to our two Overall Champion winners who were named by the expert judging panel as the very best of the best." Neil Walker, SIBA Head of Comms.
The awards, which were presented at MaltingsFest opposite Tucker's Maltings site, are judged by beer sommeliers, master brewers and other expert beer judges from across the industry.
Steve Farrell, Owner and founder of Eight Arch Brewing in Dorset was on hand to collect this prestigious award,
"Absolutely over the moon to win the overall cask champion at SIBA South West. Just did not excpect it, as a 4.2% beer going up against some of the regions bigger beers is always tough, so an amazing feeling to win. The beer itself is a really easy drinking pale, there's oats and wheat to give great body, but also loads of citra and mosaic hops too giving great aroma and flavour. The whole aim of this beer is that people can just enjoy it and drink pints and pints of it, and obviously the judges enjoyed it today!"
Members of the public will get a chance to taste the best beers in the South West at the MaltingFest Beer Festival which continues today and this weekend, with tickets available on the door.