Obituary: Pete Martin 1963 – 2020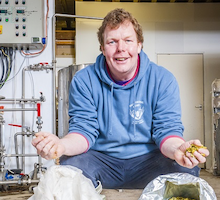 Pete (Fluffy) Martin, 1963 – 2020
Driftwood Spars Brewery & SIBA South West Regional Director

Pete sadly passed away on 10th January after a brief stay in hospital; all are very shocked at his untimely death.  Our thoughts and condolences go out to Sarah his partner, his siblings Irene, Andrew and Isabel, his many friends and all those who worked with him at Driftwood Spars.   His funeral and wake afterwards at Driftwood Spars was on 1st February where many came from across the country to remember the legend that was Pete the Brewer and to drink his beers.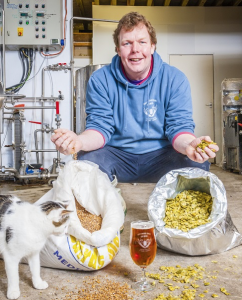 Fluffy, as many knew him because of the garish fluffy jumpers and fleeces that he was seen in at beer festivals, was a passionate home brewer whilst in Cheltenham working in computing.  He gave up his well-paid job to move to Weymouth where he started sculpting and also met Sarah and then about 20 years ago he moved to Cornwall, starting the Bathtub Brewery at the Seven Stars in Stithians which unfortunately had to close when the pub changed hands.   But a chance meeting at the St Austell Beer Festival with Louise the owner of The Driftwood Spars resulted him becoming the Head Brewer there.
Pete was also a very talented artist, sculptor and wood carver.   When he tore himself away from the brewery, he could be found creating carvings from wood, stone and slate; his sculptures are to be found throughout Cornwall, perhaps the best-known ones being the pineapple at the entrance to The Eden Project and Neptune in Charlestown which has raised thousands of pounds for Children's Hospice South West over the years.
He put the Driftwood Spars beers on the map and won well deserved awards with them, the latest with Alfie's Revenge which won the Barley Wine / Strong Old Ale  in the CAMRA South West Regional CBOB in Exeter just a few days after Pete's death.  He was very proud that his beers 'crafted in the cove' were all brewed using British malt and English hops.  A few years ago, he started experimenting with gluten-free beers, initially using sorghum, but latterly opting to use enzymes to make all the beers brewed by Driftwood Spars gluten-free, the first brewery in Cornwall to do so.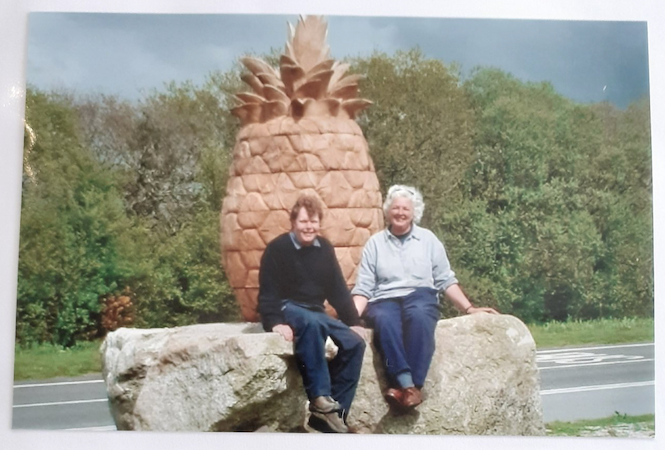 Pete was always a friendly face at beer festivals, it was not unknown for him to get pleasantly oiled at them; on one occasion after the St Austell Beer Festival he was due to get the train back to Redruth and be picked up from there, however he fell asleep and ended up at Penzance, the end of the line and luckily for him Sarah drove all the way there to take him home.  When he was next allowed out, it was with a label tied to his fleece 'My name is Peter Martin, please return to.…'
Pete was very willing to help and support fellow brewers and always encouraging; for him the pot was always half full and never half empty.  Many have enjoyed a beer or three with him in a pub or at a festival and the atmosphere was always convivial with a good smattering of fun.  For the last three years he had represented the South West Region on the SIBA Board and always made sure that the voice of the working brewer was heard.   He will be greatly missed.