GIPSY HILL BREW CO SNATCH TOP PRIZE AT INAUGURAL 'LOVE BEER LONDON' BEER AWARDS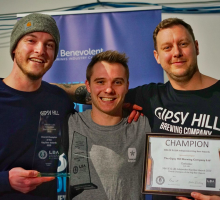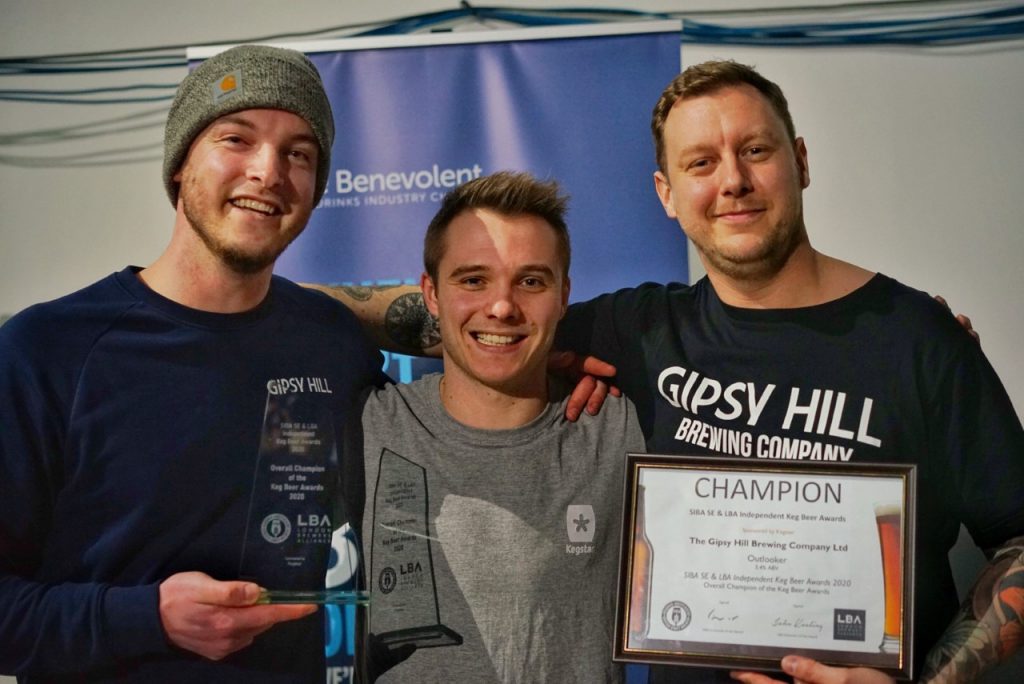 A triple fruited sour beer by Gipsy Hill Brewing Co has taken home the Overall Champion Award at the 'Love Beer London' Beer Awards, making it the Official best craft keg beer in London.
'Outlooker' features blackberry, raspberry, and lingonberry on top of a tart, lightly sour base beer, and is part of a range of fruited sours from the popular London brewer Gipsy Hill. Sales Director Patrick Thompson was on hand to collect the award with his team, and had this to say on the win.

"We really push our triple-fruited sour beers to be the absolute best they can be and we're really proud of Outlooker, we think it's our best yet. We want to be known for the quality of our beers so to win this award in the South East where we're being judged against such a high calibre of beers means a huge amount to the team. The beer is being released to the public next week so we can't wait for people to try it, especially now!"
The Love Beer London awards – officially titled the 'SIBA South East & LBA Independent Keg Beer Awards 2020' – are a landmark collaboration between Craft Beer Cares, the Society of Independent Brewers (SIBA), and the London Brewers Alliance (LBA) – who joined forces to create a competition featuring all of the best independent breweries in the capital across a broad range of international beer styles. Jaega Wise from Wildcard Brewery organised the competition,
"The standard of beer in London and the South East has hit new highs over the last few years and we wanted to showcase an event which brought all of these amazing beers and breweries together under one roof, and judged them against each other using experienced beer judges and beer sommeliers. Massive congratulations to Gipsy Hill on taking home the Overall Champion Award, the standard of entries was extremely high and this really is a world-class beer."
The Love Beer London craft beer festival continues today (14th) and tomorrow (15thFebruary), at The Cause in Tottenham Hale. The festival brings together around 100 breweries from London and the south east to raise money for The Benevolent, the charity that provides help and support to current and former employees of the drinks industry and their families.
Tickets are priced at £12.50 per person and will grant beer lovers entry to the festival and their own Love Beer London branded glass. Beers will then cost £2 for a half pint (with strong beer over 8.1% served as a 1/3 pint for the same price). Attendees can visit Love Beer London over a selection of sessions on Friday from 11:30-16:30 and 18:00-23:00, and Saturday from 11:30-16:30 and 18:00-23:00.
SIBA SE & LBA  Independent Keg Beer Awards 2020
                    
DATE   OF JUDGING & ANNOUNCEMENT           13thFebruary
Overall Champion of the Keg Competition
Sponsored by Kegstar
Brewery
Product
ABV
Champion
 The Gipsy Hill Brewing Company Ltd
 Outlooker
5.4
Amber & Dark Lager
Brewery
Product
ABV
Champion
 London Brewing Company
Mash-Up
4.8
Amber, Brown & Red Ale
Brewery
Product
ABV
Champion
 Dorking Brewery
 Red India IPA
5
Belgian, French & Trappist Ale
Sponsored by Crisp Malt
Brewery
Product
ABV
Champion
 Burning Sky brewery
Petite Saison
3.5
Bitter
Sponsored by Murphys
Brewery
Product
ABV
Champion
 West Berkshire Brewery
 Good Old Boy
4
Flavoured Beer
Brewery
Product
ABV
Champion
 The Gipsy Hill Brewing Company Ltd
Outlooker
5.4
IPA
Sponsored by Simply Hops
Brewery
Product
ABV
Champion
 Neckstamper Brewing
 Little Mizzle
4.5
Lager
Sponsored by Willis European
Brewery
Product
ABV
Champion
 By The Horns Brewing Co.
West End Pils
4
Non Alcoholic & Low ABV
Brewery
Product
ABV
Champion
 Wild Card Brewery
 Table Beer
2.7
Pale Ale
Sponsored by Festival Glass
Brewery
Product
ABV
Champion
 BOXCAR
Native Place
4.6
Porter & Stout
Brewery
Product
ABV
Champion
 Hammerton
 City Of Cake
5.5
Sour & Wild Ale
Sponsored by Muntons
Brewery
Product
ABV
Champion
 ORA brewing
Italian grape ale
7
Speciality Beer
Sponsored by Nichesolutions
Brewery
Product
ABV
Champion
 Hammerton
 Crunch
5.4

Strong Ale & Lager
Sponsored by Simpsons Malt
Brewery
Product
ABV
Champion
 Wild Card Brewery
DDH IPA
7.5
Wheat Beer
Brewery
Product
ABV
Champion
 Solvay Society
 Superposition
3.8
Wood Aged & Smoked Beer
Brewery
Product
ABV
Champion
 CRATE Brewery
Bourbon Barrel Aged Imperial Sout
11.4