Bedlam & Hammerton Brewery named best in the South East at SIBA Independent Beer Awards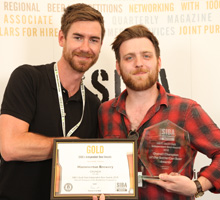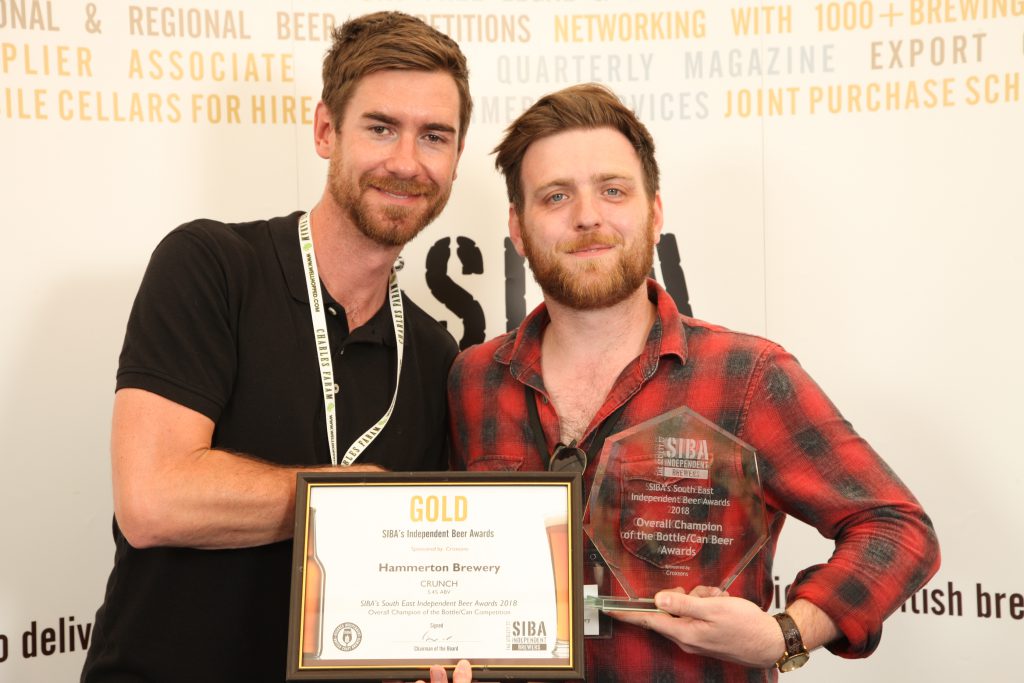 Bedlam Brewery's 'Phoenix' and Hammerton Brewery's 'CRUNCH' have been named the top beers in the SIBA South East Independent Beer Awards.
Bedlam took home Overall Gold in the cask competition with their American hopped 'Phoenix' Pale Ale, whereas it was Hammerton's 'CRUNCH' Peanut Butter milk stout that beat the competition to be named the Overall Gold in the Bottle & Can competition.
"The SIBA South East Independent Beer Awards are a highlight of the calendar for brewers in the region – taking home overall Gold in these 'brewers choice' competition is extremely tough and something that the winners should be hugely proud of. I'd like to congratulate all the winners and in particular Bedlam and Hammerton who won with two fantastic modern beers." Guy Sheppard, SIBA Competitions Chairman
The awards are held prior to the opening of the SIBA South East Beer Festival at Tonbridge Rugby Club, which continues today. 'Crunch' by Hammerton Brewery was entered into the Specialty Dark Beers category of the Bottle & Can competition, then went on to beat off the competition from every other category. According to the brewer it's a beer which was perfected over an unusually long period of time.
"It feels really great to win – getting the recognition for Crunch. This beer is the result of 37 different experiments on our pilot brewing kit over the course of 3 months, in an effort to get it right and it's great that all of that effort has come off. We've always wanted to do a specialty stout as we've always been a fan of this style – which is why we put so much effort into getting this right." Joshua Drake, Hammerton Brewery.
Overall Champion of the Cask Beer Awards
 Sponsored by
SPASoft

Ltd

Brewery
Product
ABV
Gold
Bedlam Brewery
Bedlam Phoenix
3.9
Silver
Andwell Brewing Company
King John
4.2
Bronze
Whitstable Brewery
Pearl of Kent
4.5
Cask British Dark Beers (up to 4.4%)
 
Brewery
Product
ABV
Gold
West Berkshire Brewery
Maggs' Magnificent Mild
3.8
Silver
Long Man Brewery
Old Man
4.3
Bronze
Bowman Ales Limited
Meon Valley Bitter
3.9
Cask British Dark Beers (4.5% to 6.4%)
  
 
Brewery
Product
ABV
Gold
Bedlam Brewery
Bedlam Porter
5.0
Silver
Brumaison Ltd
1770 London Porter
4.7
Bronze
Tonbridge Brewery
Firebrick
4.5
Cask British Bitter (up to 4.4%)
 Sponsored by

Rastal GmbH & Co. KG

 
Brewery
Product
ABV
Gold
Andwell Brewing Company
King John
4.2
Silver
Ramsgate Brewery Ltd
Gadds' No5
4.4
Bronze
Tonbridge Brewery
Countryman
4.0
Cask British Premium Bitter (4.5% to 6.4%)
 Sponsored by

Rankin Brother & Sons

 
Brewery
Product
ABV
Gold
Whitstable Brewery
Pearl of Kent
4.5
Silver
New River Brewery Ltd
Isle of Rye
5.2
Bronze
Langham Brewery
Langham Special Draught
5.2
Cask Session IPA (up to 4.3%)
 Sponsored by

QCL Scientific

 
Brewery
Product
ABV
Gold
Bedlam Brewery
Bedlam Phoenix
3.9
Silver
The Wimbledon Brewery
SW19 Summer Ale
4.0
Bronze
Redemption Brewing Company
Rock the Kazbek
4.0
Cask Premium PAs (4.4% to 5.4%)
 Sponsored by

Murphy & Son Ltd

 
Brewery
Product
ABV
Gold
Bedlam Brewery
Bedlam Amagansett
5.0
Silver
Hammerton Brewery
N7
5.2
Bronze
One Mile End
Juicy 4pm
4.9
Cask IPA (5.5% to 6.4%)
Sponsored by

Charles Faram & Co. Ltd

Brewery
Product
ABV
Gold
Tap East
IPA
6.0
Silver
The Wimbledon Brewery
Quartermaine IPA
5.8
Bronze
Holler Brewery
Loot
5.5
Cask Speciality Light Beers
Brewery
Product
ABV
Gold
Windsor and Eton Brewery
Molotov
4.0
Silver
Signature Brew
Festival Saison
4.5
Bronze
Flack Manor Brewery
Romsey Gold
4.0
Cask Speciality Mid to Dark Beers
Brewery
Product
ABV
Gold
Hammerton Brewery
CRUNCH
5.4
Silver
Tap East
Smokestack Porter
6.0
Bronze
Brewhouse and Kitchen Portsmouth
Flaming Cow
5.0
Cask Strong Beers (6.5% and Over)
 Sponsored by

Crisp Malting Group

Brewery
Product
ABV
Gold
The Wimbledon Brewery
XXXK Vintage Ale
10.0
Silver
Gun Brewery
Zamzama
6.5
Bronze
Signature Brew
Anthology
10.0
Overall Champion of the Bottle/Can Competition
 Sponsored by

Croxsons

Brewery
Product
ABV
Gold
Hammerton Brewery
CRUNCH
5.4
Silver
Zerodegrees
Time Warp Session IPA
4.3
Bronze
Signature Brew
Backstage IPA
5.6
Bottle/Can British Dark Beers (up to 4.4%)
 
Brewery
Product
ABV
Gold
Reunion Ales
Pia
4.4
Silver
Gun Brewery
Parabellum
4.1
Bronze
Hammerpot Brewery
Red Hunter
4.3
Bottle/Can British Dark Beers (4.5% to 6.4%)
  
 
Brewery
Product
ABV
Gold
East London Brewing Company Ltd.
Quadrant Oatmeal Stout
5.8
Silver
Red Cat Brewing
Murmuration
6.0
Bronze
Andwell Brewing Company
Porter
5.2
Bottle/Can British Bitter (up to 4.4%)
  
 
Brewery
Product
ABV
Gold
Long Man Brewery
Copper Hop
4.2
Silver
East London Brewing Company Ltd.
Peacock
4.2
Bronze
Old Dairy Brewery
Copper Top
4.1
Bottle/Can British Premium Bitter (4.5% to 6.4%)
 Sponsored by

Saxon Packaging

 
Brewery
Product
ABV
Gold
Bowman Ales Limited
Quiver Bitter
4.5
Silver
Whitstable Brewery
Kentish Reserve
5.0
Bronze
The Crafty Brewing Company
Laughing Wolf
4.5
Bottle/Can Session IPA (up to 4.3%)
  
 
Brewery
Product
ABV
Gold
Zerodegrees
Time Warp Session IPA
4.3
Silver
Truman's Brewery
Pale Ale
4.1
Bronze
Reunion Ales
Jump-start
4.0
Bottle/Can Premium PA (4.4% to 5.4%)
 Sponsored by

Beatson Clark Ltd

 
Brewery
Product
ABV
Gold
Old Dairy Brewery
Blue Top
4.8
Silver
One Mile End
Juicy 4pm
4.9
Bronze
Long Man Brewery
Wild Man
5.2
Bottle/Can IPA (5.5% to 6.4%)
  
 
Brewery
Product
ABV
Gold
Signature Brew
Backstage IPA
5.6
Silver
CRATE Brewery
CRATE IPA
6.0
Bronze
Arundel Brewery
Uptown NEIPA
6.2
Bottle/Can Imperial IPA (6.5% and over)
  
 
Brewery
Product
ABV
Gold
Brick Brewery
DIPA
8.6
Silver
Gun Brewery
Zamzama
6.5
Bronze
The Five Points Brewing Company
Five Points IPA
7.1
Bottle/Can Session Lager & Pilsner (up to 4.4%)
  
 
Brewery
Product
ABV
Gold
Fourpure Brewing Company
Indy Lager
4.4
Silver
By The Horns Brewing Co.
Lager
4.0
Bronze
Holler Brewery
Bunko
4.2
Bottle/Can Premium Lager & Pilsner (4.5% to 6.4%)
Brewery
Product
ABV
Gold
Upham Brewery
UB5
5.0
Silver
Brick Brewery
Peckham Pils
4.8
Bronze
Fourpure Brewing Company
Pils Lager
4.7
Bottle/Can Speciality Light Beers
Brewery
Product
ABV
Gold
Flack Manor Brewery
Romsey Gold
4.5
Silver
Windsor and Eton Brewery
Uprising's White Riot
5.5
Bronze
Red Cat Brewing
Art of T
3.6
Bottle/Can Speciality Mid to Dark Beers
Brewery
Product
ABV
Gold
Hammerton Brewery
CRUNCH
5.4
Silver
Sambrook's Brewery
Battersea Rye
5.8
Bronze
Tap East
Coffee In The Morning
5.6
Bottle/Can Sours/Spontaneous
Brewery
Product
ABV
Gold
Brick Brewery
Citrus Sour
4.3
Bottle/Can Strong Beers (6.5% and Over)
Brewery
Product
ABV
Gold
The Wimbledon Brewery
XXXK Vintage Ale
10.0
Silver
Loud Shirt Brewing Co Ltd
Ecstasy Stout
6.6
Bronze
By The Horns Brewing Co.
Russian Imperial Stout
10.5