Navigation & Thornbridge Brewery named best brewers in Midlands at Independent Beer Awards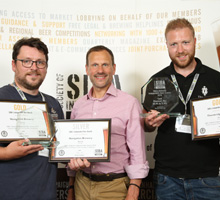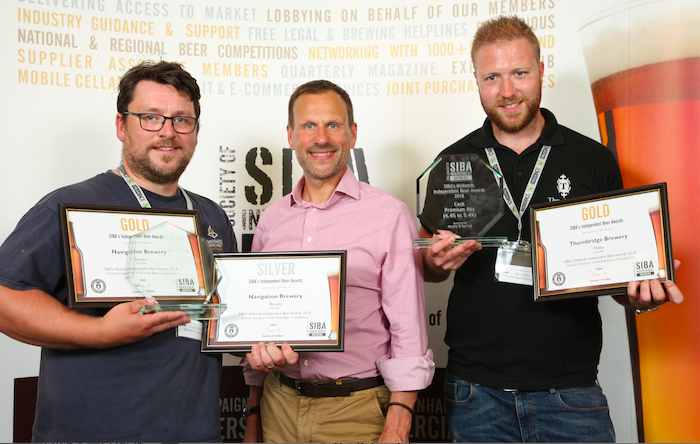 Navigation Brewery in Nottingham and Thornbridge Brewery in Bakewell have taken home the two top spots at the SIBA Midlands Independent Beer Awards, taking home overall Gold in the cask and small pack competitions respectively.
The prestigious awards, run by the Society of Independent Brewers (SIBA), held at Nottingham Rugby Club prior to their beer festival, are judged by brewers and beer experts and seen very much as the 'brewers choice' awards in the industry.
Navigation Brewery's 'Saviour' took home the overall Gold in the cask competition and Thornbridge brewery's 'Melba' was named overall bottle and can winner.
Commenting on the competition was SIBA Chief Executive Mike Benner, who presented the awards,
"I'd like to congratulate all of this year's winners and in particular Navigation and Thornbridge, who beat stiff competition to be named the best brewers in the Midlands. These breweries are at the top of their game and should be very proud of their achievement in winning these prestigious awards." 
Collecting the award for Navigation Brewery was Head Brewer Dominic Flynn,
"It says a lot about the British beer community when beers of this style are getting more recognition. People's tastes are changing. A few year's ago a grapefruity American IPA people weren't ready for, but it's great people are enjoying these awesome beers now. We took an American style and brewed it for the British market – with a cask serve and fuller mouthfeel – and it's a beer that has really struck a chord with drinkers."
Navigation Brewery's beer 'Blonde' also took home the overall Silver in the cask competition, with Titanic Brewery's Plum Porter taking the Bronze.
Collecting the award for Thornbridge brewery, whose 'Melba' peach IPA was named the top bottled or canned beer, was Marvyn White who said,
"This means a lot, it brings out the hard work everyone at the brewery does to make our beers the absolute best they can be. It's a beer we're very proud of as it is just a mouthful of flavour, it's packed full of peach flavour but it still drinkable and the hop flavour comes through too – it's a really interesting beer."
The competition took place immediately before the opening of the SIBA Midlands Beer Festival 2018, taking place at Nottingham Rugby Club, which continues today and saturday from 12 noon until 11pm. For more information visit www.nottinghamrugby.co.uk
Date : 28th June 2018
Overall Champion of the Cask Competition
 Sponsored by
SPASoft

Ltd

Brewery
Product
ABV
Gold
Navigation Brewery
Saviour
5.5
Silver
Navigation Brewery
Blonde
5.0
Bronze
Titanic Brewery
Plum Porter
4.9
Cask
Cask British Dark Beers (up to 4.4%)
 Sponsored by

Simpson Malt

Brewery
Product
ABV
Gold
Shiny Brewery
Wrench
4.4
Silver
Fownes Brewing Company
Korvak's Saga: Chapter II – Burden
4.4
Bronze
The Grainstore Brewery
Rutland Panther
3.4
Cask British Dark Beers (4.5% to 6.4%)
  
 
Brewery
Product
ABV
Gold
Weal Ales Brewery
Centwealial Milk Stout
4.9
Silver
The Grainstore Brewery
Rutland Beast
5.3
Bronze
Froth Blowers Brewing Co.
Riverside Stout
4.8
Cask British Bitter (up to 4.4%)
 Sponsored by

Rastal GmbH & Co. KG

 
Brewery
Product
ABV
Gold
Purity Brewing Company
Mad Goose
4.2
Silver
Great Oakley Brewery
Egret
3.8
Bronze
The Chiltern Brewery
Beechwood Bitter
4.3
Cask British Premium Bitter (4.5% to 6.4%)
 Sponsored by

Rankin Brother & Sons

 
Brewery
Product
ABV
Gold
Great Oakley Brewery
Gobble
4.5
Silver
Castle Rock Brewery
Elsie Mo
4.7
Bronze
Titanic Brewery
Captain Smiths
5.2
Cask Session IPA (up to 4.3%)
  
 
Brewery
Product
ABV
Gold
Great Oakley Brewery
Tiffield Thunderbolt
4.2
Silver
Purity Brewing Company
Bunny Hop
3.5
Bronze
Dancing Duck Brewery
Ay Up
3.9
Cask Premium PAs (4.4% to 5.4%)
 Sponsored by

Murphy & Son Ltd

 
Brewery
Product
ABV
Gold
Thornbridge Brewery
Crackendale
5.2
Silver
Charnwood Brewery
American Pale Ale
4.8
Bronze
The Backyard Brewhouse Ltd
Gold
4.5
Cask IPA (5.5% to 6.4%)
Sponsored by

Charles Faram & Co. Ltd

Brewery
Product
ABV
Gold
Navigation Brewery
Saviour
5.5
Silver
Derby Brewing Company
You Had Me At IPA
6.0
Bronze
Loddon Brewery
Forbury Lion IPA
5.5
Cask Speciality Light Beers
Sponsored by

Brewology

Brewery
Product
ABV
Gold
Navigation Brewery
Blonde
5.0
Silver
Milestone Brewery
Raspberry wheat beer
5.6
Bronze
Derventio Brewery
Cleopatra
5.0
Cask Speciality Mid to Dark Beers
Brewery
Product
ABV
Gold
Titanic Brewery
Plum Porter
4.9
Silver
Old Sawley Brewing Company
Plummeth The Hour
4.5
Bronze
Milestone Brewery
Chocoholic
4.8
Cask Strong Beers (6.5% and Over)
Sponsored byBulk Storage & Process Systems Ltd
Brewery
Product
ABV
Gold
The Grainstore Brewery
Nip
7.3
Silver
Birmingham Brewing Company
Strong Brummie
7.2
Bronze
Fownes Brewing Company
Hand of Doom
8.2
Overall Champion of the Bottle/Can Competition
 Sponsored by

NFU Mutual

Brewery
Product
ABV
Gold
Thornbridge Brewery
Melba
5.2
Silver
Thornbridge Brewery
Coco Cocoa
5.5
Bronze
The Chiltern Brewery
Bodger's Barley Wine
8.5
Bottle/Can British Dark Beers (up to 4.4%)
 
Brewery
Product
ABV
Gold
Great Oakley Brewery
Welland Valley Mild
3.6
Silver
Shiny Brewery
Wrench
4.4
Bronze
Brampton Brewery
Impy Dark
4.3
Bottle/Can British Dark Beers (4.5% to 6.4%)
  
 
Brewery
Product
ABV
Gold
Loddon Brewery
Hocus Pocus
5.0
Silver
Derby Brewing Company
Midnight Raven
4.8
Bronze
Brampton Brewery
Brampton Mild
4.9
Bottle/Can British Bitter (up to 4.4%)
  
 
Brewery
Product
ABV
Gold
Loddon Brewery
Night Of The Stag
4.4
Silver
The Backyard Brewhouse Ltd
blonde
4.1
Bronze
The Chiltern Brewery
Gold
3.8
Bottle/Can British Premium Bitter (4.5% to 6.4%)
 Sponsored by

Saxon Packaging

 
Brewery
Product
ABV
Gold
Great Oakley Brewery
Gobble
4.5
Silver
Navigation Brewery
Rebel
4.7
Bronze
Rebellion Beer Company
Red
4.5
Bottle/Can Session IPA (up to 4.3%)
 Sponsored by

Simpson Malt

 
Brewery
Product
ABV
Gold
Gun Dog Ales
Jack's Spaniels
3.8
Silver
Shiny Brewery
Fallout
4.2
Bronze
Slater's Ales
Top Totty
4.0
Bottle/Can Premium PA (4.4% to 5.4%)
 Sponsored by

Beatson Clark Ltd

 
Brewery
Product
ABV
Gold
Shiny Brewery
Disco Balls
5.3
Silver
Great Oakley Brewery
Tailshaker
5.0
Bronze
Weal Ales Brewery
Weller Weal
4.6
Bottle/Can IPA (5.5% to 6.4%)
 Sponsored by

Beer Box Shop

 
Brewery
Product
ABV
Gold
Dhillons Brewery
Red IPA
6.2
Silver
Navigation Brewery
Saviour
5.5
Bronze
Brampton Brewery
Speciale
5.8
Bottle/Can Imperial IPA (6.5% and over)
 
 
Brewery
Product
ABV
Gold
The Loose Cannon Brewing Company Ltd
Double IPA
7.5
Bottle/Can Session Lager & Pilsner (up to 4.4%)
  
 
Brewery
Product
ABV
Gold
Thornbridge Brewery
Lukas
4.2
Silver
Birmingham Brewing Company
Stirchley Lager
4.4
Bronze
Charnwood Brewery
Liska
4.0
Bottle/Can Premium Lager & Pilsner (4.5% to 6.4%)
Brewery
Product
ABV
Gold
Purity Brewing Company
Lawless Lager
4.5
Silver
Freedom Brewery
Freedom Organic Helles Lager
4.8
Bronze
The Loose Cannon Brewing Company Ltd
Oxford PILS
5.0
Bottle/Can Speciality Light Beers
Brewery
Product
ABV
Gold
Thornbridge Brewery
Melba
5.2
Silver
Milestone Brewery
Raspberry Wheat Beer
5.6
Bronze
Navigation Brewery
Font Craftworks GPA – Grapefruit Pale Ale
4.0
Bottle/Can Speciality Mid to Dark Beers
Brewery
Product
ABV
Gold
Thornbridge Brewery
Coco Cocoa
5.5
Bottle/Can Sours/Spontaneous
Brewery
Product
ABV
Gold
Thornbridge Brewery
Tart
6.0
Bottle/Can Strong Beers (6.5% and Over)
Brewery
Product
ABV
Gold
The Chiltern Brewery
Bodger's Barley Wine
8.5