SIBA posthumously award the Lifetime Achievement Award to Roger Ryman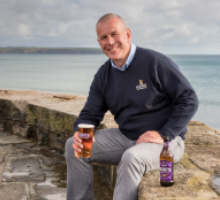 The Society of Independent Brewers (SIBA) have today ​announced that they have posthumously awarded the SIBA 'Silver Tankard' Lifetime Achievement Award to Roger Ryman, for his services to the British brewing industry.
Roger is credited with turning ​independent St Austell Brewery in Cornwall into a nationally recognised brand, as well as developing and successfully launching Tribute and Proper Job – beers which are now household names and have been pivotal in the success of the brewery where he worked for over 20 years.
Ian Fozard, SIBA Chairman:
"​Brewers from across the UK have been unanimous in their praise of Roger for his huge contribution to the British ​independent brewing industry over the last two decades. Whilst Roger's passing comes as a huge shock and is met with great sadness by the industry, I am very proud to be able to ​announce,on behalf of the SIBA Board of Directors, that this year's  SIBA's Lifetime Achievement Award ​is posthumously awarded to Roger . We hope that this small tribute to a great brewer will make clear the impact he had on his peers within the brewing family."
James Calder, SIBA Chief Executive: 
"Roger's passion and knowledge of brewing was clear to anyone who was lucky enough to work with him during his influential career in the brewing industry. I was ​privileged to meet Roger last year following a fascinating and impassioned talk he gave at the Brewers Congress and it was immediately clear the enjoyment he took in his work, and the insight he had to share with others in brewing. He was a titan of the industry who will be sorely missed and long remembered."
Kevin Georgel, St Austell Brewery Chief Executive: 
"Roger was a world-class brewer and a leader in his field, who we were incredibly lucky to work alongside. Passionate about people, he played a huge role in nurturing and developing young talent – both at St Austell Brewery and throughout the brewing industry.
"The growing reputation and quality of our beers, since Roger joined our business in 1999, is testimony to his talent, hard work, leadership and passion. He has left a huge legacy and is sorely missed by all who knew him and worked with him.
"On behalf of everybody at St Austell Brewery, and Roger's friends and family, I'd like to thank SIBA for honouring Roger with this year's lifetime achievement award – a thoroughly deserved recognition."
Roger Ryman sadly passed away on the 28th May 2020 following a battle with cancer. He is survived by his wife Toni, his father, two sisters, and wider family. ​The presentation of the award to his family will be made in due course.