John Keeling of Fuller's awarded SIBA's Lifetime Achievement Award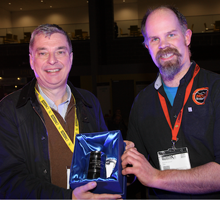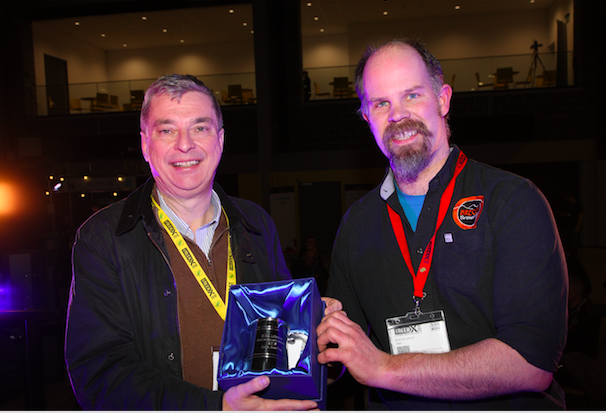 Fuller's Brewery's John Keeling has been awarded SIBA's 'Silver Tankard' Lifetime Achievement Award at the organisation's flagship event, BeerX in Liverpool.
The former Head Brewer and now Global Ambassador at the much-loved Chiswick brewery was presented the award by Buster Grant, Chairman of the Society of Independent Brewers (SIBA). Introducing the award he was full of praise for Keeling,
"John Keeling's commitment and passion for quality beer is evident to anyone that meets him, and his work for one of the UK's most iconic brewers over the last 40 years has seen him dust off the brewing records and revive historic recipes as well as look to the future, inviting some of Britain's finest independent brewers to join him at the mash tun. A fervent defender of the lunchtime pint, the winner of this year's lifetime achievement award is not only an extremely worthy recipient, but someone we'd recommend you grab a beer with."
The prestigious award, which is not presented every year and only goes to those deemed truly worthy, has in the past gone to beer and brewing legends such as Beer Author Roger Protz, and George Philliskirk, former Director of the Beer Academy, who both won in 2015.
This year's winner John Keeling has earned a place for himself as one of the most respected and trusted voices in brewing in the UK, helping Fuller's to continue to innovate and experiment with new beer styles, formats and flavours – something which has helped cement Fuller's popularity with beer enthusiasts and casual drinkers alike.
John Keeling said: "I've dedicated my life to brewing great beer – and I've loved every second of it – so being recognised for doing something you enjoy is a double delight. I'd like to think that in some small way I've helped and inspired a number of the craft brewers who are producing such interesting beers today. It's over 40 years since I first set foot in a Brewery and some 37 years since I joined Fuller's. Reg Drury, the legendary former Fuller's Head Brewer, was instrumental in my success and I hope, and am confident, that I have passed the same degree of knowledge and passion on to Georgina Young and the next generation of brewers at Fuller's."
John Keeling joined the brewing industry as a laboratory technician for Wilson's Brewery in Newton Heath, Manchester in 1974 and, inspired by what he saw, left in 1977 to study for a degree in Brewing and Distilling at Heriot-Watt University in Edinburgh. January, 1981 saw him join Fuller's as a Junior Brewer. He has since held various positions at Fuller's culminating in his promotion to Brewing Director in April 1999. During his time as Director, over £60 million has been invested in developing the brewery. In January 2017, he handed over the reins to Georgina Young, Fuller's first ever female Head Brewer, but remains a Global Ambassador for the company.
John is an acclaimed judge and speaker at many beer competitions around the world including several Beer World Cups and the Australian International Beer Awards. Fuller's has won many medals for their beer during his time as a brewer including the CAMRA Beer of the Year and Gold medals at the Beer World Cup.
In December 2017, John was appointed to the role of Chairman of the London Brewers' Alliance. He has been instrumental in supporting the craft beer movement and is the inspiration for many of today's young brewers.
The presentation of the award was made by SIBA Chairman Buster Grant at the UK's biggest beer and brewing trade event, BeerX in Liverpool, which is attended by thousands of British independent brewers and industry representatives.