Focus Feature: Purity Brewing Co, Marketing Implementation of the Year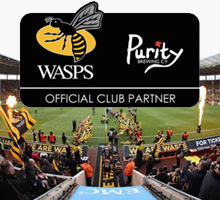 We will be running a series of 'Focus Features' highlighting the previous winners of SIBA's Business Awards in the run up to the launch of the 2018 SIBA Business & Industry Awards on 1st November 2017.

Purity Brewing Co / Wasps Rugby Club Sponsorship
Winner of SIBA's Marketing Implementation of the Year 2017
Purity Brewing Cos efforts to make the most of their sponsorship of Wasps Rugby club through effective social media marketing and consumer engagement was highlighted by judges as the key reason for naming them winners in what was a very tight-run category.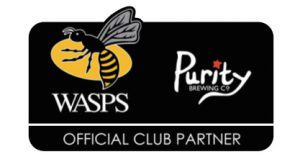 Judges also felt that the effort taken to promote independent craft beer within an environment typically dominated by the Global brewers was worthy of praise and that Purity had seen real, measurable marketing success through this initiative.
"The marketing implementation category is all about innovation and impact, coming up with an interesting and engaging marketing idea and then implementing it effectively. Whilst sponsoring a Rugby club may be out of the reach of many small brewers, many of the principles Purity used in this campaign – such as engaging through social media – could be applied to much smaller marketing activities and run on any budget." Neil Walker, Judging Chair of SIBA Business Awards.
Purity on developing the partnership:
The partnership developed through a desire to integrate a local craft beer offering into the stadium that would improve the quality of the beer dispense, ale range and as a mechanism to help Wasps Rugby integrate into their new home in the Midlands. Wasps Rugby identified the need for a real ale offering for match days was strong and felt as a premium club that Purity brands matched their philosophy and spoke to their demographic and complemented what they were offering in other aspects of the stadium.
There are now five Purity kiosks on the stadium concourse, a permanent bar in the Ericsson Hall and ten hospitality bars serving draught real ale via a hand-pull. There are now over 40 hand-pulls in the stadium serving Purity, which is believed to be a world record for the number of hand-pulls serving real ale in one location. We felt that using hand-pulls was something that gives sports fans the best possible experience on match day and brings the atmosphere of a pub into the stadium environment. Perfect for increasing dwell time and making sure that fans return for more.
Purity on utilising Social Media: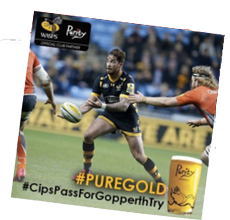 We wanted to become part of the match day experience across the whole game-day and not just the traditional pre match pint. Our aim was to become a key link between Wasps Rugby fans and Purity that incorporates us as an integral part of the match day experience.
#PureGold Moments is where 3 images are chosen from the game and fans vote on Twitter for their winner and have the chance to win a pair of tickets for the next home game. These posts have been the most engaging tweets Wasps have done since they have moved to the Ricoh.
Due to the success of #PureGold moments , we will be using some of the winning images to brand up some of the stadium access doors to further embed #PureGold as part of the overall match day experience.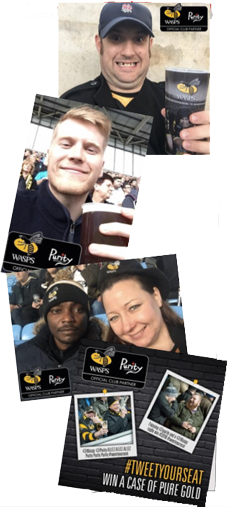 We have also launched #TweetYourSeat. The reason for this was to develop more user generated content and allow Wasps Rugby and away fans to play their part and engage with both Wasps Rugby and ourselves.
The mechanic of the campaign is relatively straight forward and relatively common in stadia environments, whereby rugby fans attending the Ricoh are encouraged to tweet both Purity and Wasps Rugby a selfie from their seat in the stadium bowl with their pint of Purity using the hashtag #TweetYourSeat. Then post game and after the #PureGold moments are published we chose a winning selfie which is then posted on our social channels. The winner is then sent a case of Pure Gold bottles to follow the theme of the #PureGold moments.
What has also been great is people are encompassing their selfie with their beer as a key part of their match day routine. We have even seen Wasps Rugby fans tag us in their selfies at away games and European home games!
What can be learned from this Focus Feature?
Purity have clearly invested heavily in creating a lasting partnership with Wasp's Rugby Club, but what is most impressive is their clear, engaging social media and how this integrates perfectly with the environment of a Rugby match.
The #tweetyourseat social media campaign takes advantage of the fact Rugby fans will already be taking photos and gives them a reason to engage with the campaign, and in turn with Purity. It's a perfect example of using existing customer behavior to your advantage in a fun and engaging way and would work equally well at a beer festival, tap-room event or a smaller event – something brewers of all sizes can do with little or no cost via social media.
SIBA's Business Awards 2018 will open for entries on the 1st November 2017. For more information on the categories, or to see a list of previous winners, click here.