'Craft Beer Experience' schedule for the European Pizza & Pasta Show 2018 revealed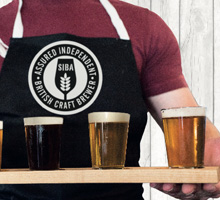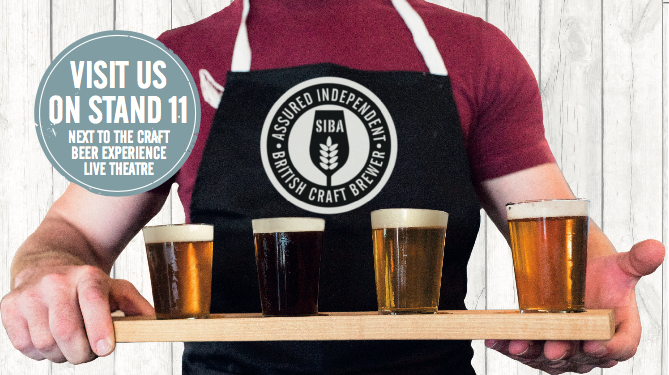 Craft beer is the most exciting and value adding development within the drinks industry in decades, but are restaurants making the most of the consumer trend towards independent craft-brewed beers?
This year for the first time ever the European Pizza & Pasta Show will include 'The Craft Beer Experience' in association with the Society of Independent Brewers (SIBA).
As well as an exciting craft beer bar where you can try award-winning beers by independent brewers from across the UK, SIBA are also curating the content for our 'Craft Beer Experience Live' theatre, which will feature a series of inspirational, educational and motivational sessions including tutored craft beer tastings, beer & food matching sessions, and presentations on easy ways to establish and improve your craft beer offering.
Utilising some of the best beer sommeliers and speakers the UK has to offer this is set to be a must-attend event for anyone looking to offer their customers something, new exciting and profitable.
To apply for a trade ticket for the show click here.
Craft Beer Experience Live Theatre – Seminar Schedule
Wednesday November 15th

Thursday November 16th

11:00 – 11:45 am

An introduction to craft beer:

The biggest thing to happen to the drinks world this decade and a huge opportunity for the restaurant and hospitality industry – this seminar explains what craft beer is and why your restaurant needs it.

Stocking today's must-have craft beers:

As with wine and spirits, consumer preferences change over time and it is important you are moving with the times. This seminar outlines the must-have beers in 2017.

Presenter:
Pete Brown
Sophie Atherton

12.00 – 12.45 pm

How to choose your craft beer menu:

Recent research shows that consumers are increasingly on the lookout for craft beer when selecting a restaurant. This seminar outlines the basics of selecting beers for your menu and the key styles in demand right now.

The importance of independence in craft beer:

More people than ever are seeking out flavoursome, independent craft beer. As drinkers become more discerning it's important you choose genuine craft beers and not the products from Global brewers which are beginning to flood the market.

Presenter:
Lauren Watkins – There's a Beer For That
Mike Benner

01.00 – 01.45 pm

Supplier solutions for independent British craft beer

The Society of Independent Brewers (SIBA) set out the simple way to ensure your restaurant/s anywhere in the UK can provide consumers with the flavoursome craft beers they are looking to accompany their meals.

Beer & Pasta Matching Masterclass

The huge array of flavours that are showcased in craft beer lend themselves so well to be paired with a range of cuisines. In this tasting session we'll be matching a range of pasta dishes with some amazing independent craft beer.

With food from Surgital

Presenter:
Ian Ward – SIBA
Jacopo Mazzeo

02.00 – 02.45 pm

Beer & Pizza Matching Masterclass

Beer & Pizza are a match made in heaven, this informal tasting seminar will showcase the fantastic independent craft beers that match so well with the pizzas already on your menu.

With food from Prestige Food & Wine

Supplier solutions for independent British craft beer

The Society of Independent Brewers (SIBA) set out the simple way to ensure your restaurant/s anywhere in the UK can provide consumers with the flavoursome craft beers they are looking to accompany their meals.

Presenter:
Mike Mason – CRATE Brewery
Ian Ward – SIBA

3.00 – 03.45 pm

Small beers are big business

The consumer trend in recent years for stronger beers and bigger flavour has led to more and more breweries adopting smaller craft can and 330ml  bottles to package their beers. Not only does it allow drinkers to try more beers, but it gives restaurants much better margins on sales. This seminar is why small beers are big business.

Meet the craft beer brewers & taste their beers!

Independent craft beer is brewed by real people, with real care and attention. This very special tasting will allow you to try some award-winning independent craft beers, introduced by the brewers who made them!

Presenter:
John Porter

SIBA Brewers
All beer for the tasting sessions (Beer & Pizza Matching Masterclass, Small Beers are Big Business, Beer & Pasta Matching Masterclass, Meet the Brewers) are supplied by SIBA Member Breweries.

Pizzas will be served from Prestige Food and Wine, which supplies Italian food products and wines right across the catering industry – specializing however, in pizzerias. www.prestigeitalianwines.co.uk.

Pasta will be served from Surgital, who are the leading producers of fresh frozen pasta for high-end restaurants, catering, bars, hotels and fast food outlets in Italy and other countries. www.surgital.it
---
Craft Beer Experience Live Theatre – Speaker Bios
Pete Brown
Pete Brown is a British author, journalist, broadcaster and consultant specialising in food and drink, especially the fun parts like beer and cider. His broad, fresh approach takes in social history, cultural commentary, travel writing, personal discovery and natural history, and his words are always delivered with the warmth and wit you'd expect from a great night down the pub.
He writes for newspapers and magazines around the world and is a regular contributor to BBC Radio 4's Food Programme. He was named British Beer Writer of the Year in 2009, 2012 and 2016, and Fortnum and Mason Online Drinks Writer of the Year in 2015.
Lauren Watkins
With over 10 years' experience in alcohol and FMCG brands, Lauren helped to launch the multi-million pound consumer beer campaign 'There's A Beer For That' in 2014 and is now their go to digital guru.
Currently in preparation for her beer sommelier accreditation, Lauren regularly designs creative, writes and presents about beer & food to consumers and the trade, and is always looking for new ways to help people discover and enjoy the diversity, versatility and quality of beer.
Ian Ward
The man behind Amber Drinks Consultancy and current Commercial Manager for the Society of Independent Brewers, Ian knows how to build a brand, rather than just sell beer.
With extensive experience of the UK beer market, Ian offers clear insight of the UK drinks consumer categories, specialising in beer, and is currently helping to deliver the Society of Independent Brewers commercial craft beer solutions to the restaurant and hospitality sector.
Mike Mason
Mike Mason is a craft beer enthusiast and UK Sales Manager for CRATE Brewery & Pizzeria, Hackney Wick.
As well as hosting brewery tours, tastings, and Beer / Cheese pairing evenings, Mike also conducts the in-house beer quality control program. With an established background in hospitality, having trained as a sommelier, flavour and customer experience is alway in the forefront of his mind.
John Porter
John Porter has more than 20 years' experience as a food and drink writer and journalist, and is accredited as a Beer Sommelier by the Beer Academy and the Institute of Brewing & Distilling.
John has hosted tastings, seminars and beer & food matching sessions at a wide range of industry, corporate and consumer events, in venues ranging from local pubs to the Playboy Club. John's varied food & drink judging experience spans everything from the CAMRA Champion Beer of Britain and the Tesco Drinks Awards to the Fish & Chip Shop of the Year and Britain's Best Pub Sausage.
Sophie Atherton
Freelance journalist Sophie Atherton was the first woman in the UK to be accredited as a beer sommelier. Her work appears regularly in the UK national press and various magazines such as the Campaign for Real Ale's BEER and trade publication The Morning Advertiser, in which she writes a monthly column.
She is an accomplished beer judge in both the UK and USA, at competitions including the World Beer Cup and SIBA's National Beer Competition. As well as being a beer writer she is also a consultant and PR adviser with clients throughout the beer and pub industry.
Mike Benner
As Chief Executive of the Society of Independent Brewers (SIBA) and former Chief Executive of the Campaign for Real Ale (CAMRA), Mike has an in-depth knowledge of the challenges and opportunities within the UK's independent beer market, and the knowledge and experience to help SIBA deliver deliver the future of British beer.
At SIBA Mike also masterminded the launch of the hugely successful "Assured Independent British Craft Brewer" campaign, which has helped to differentiate beer from truly independent craft breweries from the mass-produced products created by the global brewers.
Jacopo Mazzeo
Food and drink matching expert Jacopo Mazzeo is the Head Sommelier at THE PIG Hotel & Restaurant in Brockenhurst, New Forest. He is also a beverage consultant, writer and international wine and beer judge and won the Young Beer Writer of the Year 2016 award.
His passion is for pairing the diverse range of aromas and flavours available within independent craft beer with a variety of dishes, creating new and exciting flavour combinations for diners.