'Kegstar' and 'Star Pubs & Bars' announced as BeerX UK 2018 Main Headline Sponsors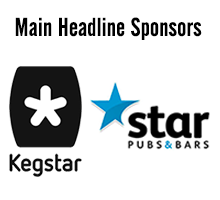 The UK's biggest craft brewing trade show, SIBA BeerX UK 2018, has today announced their Main Headline Sponsors as smart keg and cask rental company Kegstar and pub and bar company Star Pubs & Bars.
Organised by the Society of Independent Brewers (SIBA), the event last year recorded its biggest attendance ever and will this year take place at the Exhibition Centre, Liverpool on 14th and 15th March.
With over 2,500 delegates expected from the UK's best independent craft brewers and the rest of the beer industry, BeerX 2018 is set to be the biggest craft brewing trade event ever seen in the UK.
Tony Jerome, SIBA's Membership & Marketing Director said: "SIBA would like to thank both Kegstar and Star Pubs & Bars for agreeing to be Main Headline Sponsors at BeerX this year."
"BeerX gives sponsors a great opportunity to promote goods and services to the more than 2500 craft brewing delegates who attend the event. These visitors require cask & keg solutions and many will be interested in hearing about opportunities to run their very own pubs, that allow craft brewers to market and sell their own beers directly to consumers, so this sponsorship partnership works for both parties."
This will be Kegstar's 3rd outing at BeerX, coinciding with the company's 2nd birthday. Christian Barden, Kegstar's General Manager for the UKI & Global Brand, said "BeerX has given us a great springboard to learn, meet good industry people, taste great beer and it has quickly become one of our must attend flagship events in the Kegstar calendar.We're delighted to attend this year as a headline sponsor and further develop our support and relationships with SIBA and its members."
The Kegstar stand will be easy to spot, with its keg and cask wall and ping pong table, so drop by for a friendly game of table tennis (okay, it could get competitive), a beer and a chat about their smart keg and cask rental and collection.
Star Pubs & Bars this year joined the Society of Independent Brewers' (SIBA's) Beerflex scheme in order to offer their licensees a wider choice of independently brewed cask ales and are keen to engage with independent craft brewers at this years' BeerX,
"As a passionate supporter of the Great British Pub, we're in the perfect position to be a craft brewery's new business partner. We believe in working closely with our licensees, offering industry-leading retail support and advice whenever you need it.
Our sponsorship of BeerX is part of our commitment to the independent brewing sector, and we hope to encourage more brewers to get involved with running our pubs, opening up a viable route to market for their beers." said Zara Costello, Lessee Recruitment Manager for Star Pubs & Bars.
BeerX 2017 saw an impressive turnout with delegate attendance up by 59% compared to 2016.
SIBA BeerX 2018 promises a packed agenda hosting a trade exhibition seminars, panel discussions, brewing and business seminars debates, SIBA's Business and Retail Awards, SIBA's National Independent Beer Awards and its AGM.
For up to date information of the programme of events please visit beerx.org
Who are Kegstar?

Kegstar is a smart keg and cask rental & collections company. Our aim is simple; to help free up valuable time and money spent maintaining, tracking and collecting kegs and casks.
Using app enabled technology (free to download from your app store) each of our clever containers are scanned with a smart device, allowing them to be tracked through the supply chain to the venue. All the producer needs to do is fill, deliver, scan and repeat.
When the time comes for empty kegs and casks to be collected, venue staff simply scan for collection or alternatively phone or email the Kegstar team and they collect within five working days.
Who are Star Pubs & Bars?
Star Pubs & Bars has been creating great British pubs for over 200 years, and have premises across England, Scotland and Wales. We're big enough to negotiate the best deals with suppliers but get to know our operators well enough to offer the individual support every pub business needs.
What we offer is based on a choice of quality properties, flexibility to get the right deal for you and your pub, and high quality of business support. You'll have a choice of great pubs to let, all backed by a major capital investment programme. We offer the ideal partnership to take your business to the next level and open your very own brewery tap.