The Future of the Small Independent Craft Brewing is in the hands of the Chancellor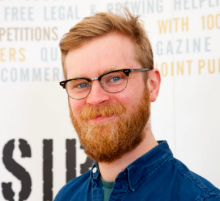 This article by James Calder, Chief Executive of SIBA, was reported in the Morning Advertiser
We're a beer loving nation, with a whopping 8 billion pints sold every year. Whether it's IPAs, stouts, lagers or bitter, beer remains the nations favourite drink. Yet how much of that do you think was made by local independent brewers?
Would it surprise you to learn that only 7% of all the beer we drink is from small independent craft brewers? We now have in the region of two thousand small independent breweries, the highest since the 1930s, but nearly 90% of the beer consumed is still dominated by four global mega breweries.
It may seem to the average consumer that craft beer is booming, but increasingly small brewers are finding it harder and harder to compete with the clout of these four global mega giants as they start to imitate our 'craft' credentials. It's a real David and Goliath story.
This is something that the Society of Independent Brewers is working to change, but we need Government help to level up the craft beer industry.
There's many ways that the new Chancellor Rishi Sunak can turbocharge the independent craft beer market. But he should start with positive reform of Progressive Beer Duty (PBD), often known in the industry as Small Breweries' Relief.
Introduced in 2002, Progressive Beer Duty was a game changer for the craft brewing industry. PBD cut beer tax in half for those local brewers producing up to 5,000hl of beer a year, which is about 900,000 pints. That may sound like a lot, but when you consider Heineken alone are around 2000 times bigger than a brewer at this size, it puts this into perspective.
But the rate at which beer tax increases above 5,000hl isn't a smooth curve, and as such a 'squeezed middle' has emerged, where breweries would see their tax bill rocket overnight if they continue to grow. This can't be right. This is now holding back the sector and acts as a significant barrier to growth.
By smoothing out the curve of beer tax as a brewery grows, making it fairer , it would mean that more breweries can have the confidence to invest in their people, equipment and beers. This would equate to an estimated £10 million of investment in the economy and create around 750 new jobs in the craft beer industry.
The first question for any new Chancellor has to be – but what will it cost? Smoothing the curve of beer tax out would cost the Chancellor around £9 million, but it's a downpayment on longer term economic benefits. Over time these positive reforms will more than offset the costs as our industry grows and employs more people.
But protecting the duty relief we have now is also vital. If the Chancellor were to cut the relief given to the UK's small brewers below 5,000hl, it would directly threaten around 250 small independent breweries. 40% of our members are based in the 'red wall' of the Midlands, North East and North West.
If the Chancellor wants to give our beer industry a further boost, he could also go further and give the industry certainty over its tax bill. While the Government has in recent years frozen beer duty, it still remains one of the highest in Europe. Germany pay only 5p for a pint of 5.4% beer compared to 54p in the UK. By announcing a freeze for the next four years, for the duration of the next Parliament, the Government could boost the confidence of the sector.
And as we leave the EU, there's plenty of opportunity to consider the future. Unshackled from the Alcohol Structures Directive which governs how we can tax alcohol in the UK there is the possibility of re-structuring the duty system so that it suits our economy and supports our small businesses.
On 11 March, the Chancellor can stand at the dispatch box and be remembered for unlocking the small independent craft brewing industry's potential, enabling brewers to go for growth, and giving one of our most successful manufacturing industries the stability it needs to succeed. That would be something we can all raise a glass to.