Earl Soham Brewery & Elgoods named top Independent Craft Brewers in East of England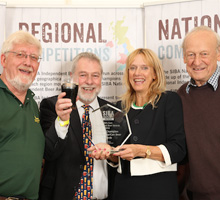 Earl Soham Brewery in Suffolk and Elgoods Brewery in Cambridgeshire have taken home the two top spots at the SIBA East Independent Beer Awards, taking home overall Gold in the "cask" and "bottled & canned" beer competitions respectively.
The prestigious awards, run by the Society of Independent Brewers (SIBA), and held at Elgood's Brewery in Wisbech prior to their beer festival opening last night, are judged by brewers and beer experts and seen very much as the brewers' choice awards in the industry.
Earl Soham Brewery's "Albert Ale" took home the overall Gold in the cask competition and is a traditional best bitter with delicate bitterness from the British Fuggles hops and a delicious balance of malt and hop character. Elgoods brewery's "QE Cherry Wheat" is a very different beer altogether – a cloudy wheat beer infused with cherry juice for a sweet, fruity flavour and slight tartness – showing the diversity of these exciting awards
Commenting on the competition was SIBA Competitions Committee Chair Guy Sheppard, who presented the awards,
"The SIBA East Independent Beer Awards judge the very best cask, bottled and canned beers from the region and the overall winners can be considered the very best of the best in terms of independent craft beers from the area. The winners will now go on to the National finals in Liverpool next year and I wish them all the best of luck, with particular praise due to our overall Champions Earl Soham and Elgoods."
Collecting the award for Elgood's brewery was Head Brewer Alan Pateman, who said, "This award is recognition of the hard work that has gone into developing our new-style beers which come from a completely new style of brewing. Our unique, spontaneously fermented sour beers and fruited wheat beers are a new thing for many British drinkers but our Cherry wheat is sweeter and fruity and proving really popular thanks to its approachable, full fruity flavor."
The competition took place immediately before the opening of the Elgood's Brewery Beer Festival 2018, taking place at Elgood's Brewery in Wisbech, which continues today, Friday 21st 5-10.30pm and Saturday 22nd 12 midday until 10.30pm. The festival features over 150 beers from Independent Craft Breweries and will give the chance to be the first to try the regions newly award-winning beers.
SIBA's East Independent Beer Awards 2018 
FULL RESULTS
Overall Champion of the Cask Competition
Sponsored by
SPASoft

Ltd

Brewery
Product
ABV
Gold
The Earl Soham Brewery Ltd
Albert Ale
4.4
Silver
Tring Brewery
Pale Four
4.6
Bronze
Oakham Ales
Green Devil IPA
6.0
Cask
Cask British Dark Beers (up to 4.4%)
Brewery
Product
ABV
Gold
Brewster's Brewery
Aromatic Porter
4.4
Silver
The Earl Soham Brewery Ltd
Sir Rogers Porter
4.2
Bronze
Wolf Brewery
Sirius Dog Star
4.4
Cask British Dark Beers (4.5% to 6.4%)
Brewery
Product
ABV
Gold
Green-Jack Brewing Co.
lurcher
4.8
Silver
Mauldons Brewery
Black Adder Stout
5.3
Bronze
Grain Brewery Ltd
Slate
6.0
Cask British Bitter (up to 4.4%)
Sponsored by

Rastal GmbH & Co. KG

Brewery
Product
ABV
Gold
The Earl Soham Brewery Ltd
Albert Ale
4.4
Silver
Tydd Steam Brewery Ltd
Dr Foxs Bush Wax
4.2
Bronze
Lacons Brewery
Encore
3.8
Cask British Premium Bitter (4.5% to 6.4%)
Sponsored by

Rankin Brother & Sons

Brewery
Product
ABV
Gold
Milton Brewery
Minerva
4.6
Silver
Elgood & Sons Ltd
Greyhound Strong Bitter
5.2
Bronze
Green-Jack Brewing Co.
trawlerboys
4.6
Cask Session IPA (up to 4.3%)
Sponsored by

Crisp Malting Group

Brewery
Product
ABV
Gold
Leigh on Sea Brewery
Legra Pale
3.8
Silver
Adnams
Mosaic
4.1
Bronze
Brewster's Brewery
Aromantica
4.2
Cask Premium PAs (4.4% to 5.4%)
Sponsored by

Murphy & Son Ltd

Brewery
Product
ABV
Gold
Tring Brewery
Pale Four
4.6
Silver
Adnams
Ghost Ship
4.5
Bronze
Shortts Brewery
Indie
4.8
Cask IPA (5.5% to 6.4%)
Sponsored by

Charles Faram& Co. Ltd

Brewery
Product
ABV
Gold
Oakham Ales
Green Devil IPA
6.0
Silver
Leigh on Sea Brewery
Crowstone
5.5
Bronze
Brewhouse and Kitchen Bedford
Invarsity
6.0
Cask Speciality Light Beers
Brewery
Product
ABV
Gold
Ferry Ales Brewery Ltd
Farmhouse Ale
5.0
Silver
Turpin's Brewery Cambridge
Strawberry Haze
3.9
Bronze
Grain Brewery Ltd
Weizen
5.0
Cask Speciality Mid to Dark Beers
Sponsored by

Bulk Storage & Process Systems

Brewery
Product
ABV
Gold
Mauldons Brewery
Blackberry Porter
4.8
Silver
Green-Jack Brewing Co.
red herring
5.0
Bronze
Elgood & Sons Ltd
Plum Porter
4.5
Cask Strong Beers (6.5% and Over)
Brewery
Product
ABV
Gold
Tring Brewery
Death or Glory
7.2
Silver
Green-Jack Brewing Co.
ripper
8.5
Bronze
Ferry Ales Brewery Ltd
Cossack
8.0
Overall Champion of the Bottle/Can Competition
Brewery
Product
ABV
Gold
Elgood & Sons Ltd
Cherry Wheat Beer
3.6
Silver
Oakham Ales
Green Devil IPA
6.0
Bronze
Nethergate Brewery
Old Growler
5.5
Bottle/Can British Dark Beers (up to 4.4%)
Brewery
Product
ABV
Gold
Wolf Brewery
Sirius Dog Star
4.4
Silver
The Earl Soham Brewery Ltd
Sir Rogers Porter
4.2
Bronze
Shortts Brewery
Two Tone
3.8
Bottle/Can British Dark Beers (4.5% to 6.4%)
Brewery
Product
ABV
Gold
Nethergate Brewery
Old Growler
5.5
Silver
Mauldons Brewery
Black Adder Stout
5.3
Bronze
Turpin's Brewery Cambridge
Cambridge Black
4.6
Bottle/Can British Bitter (up to 4.4%)
Brewery
Product
ABV
Gold
Brentwood Brewing Company
Brentwood Gold
4.3
Silver
Nethergate Brewery
Venture
3.7
Bronze
Lacons Brewery
Encore
3.8
Bottle/Can British Premium Bitter (4.5% to 6.4%)
Sponsored by

Packaging for Retail

Brewery
Product
ABV
Gold
Woodforde's Brewery
Nelson's Revenge
4.5
Silver
Leigh on Sea Brewery
Two Tree Island
4.5
Bronze
Leighton Buzzard Brewing Co
Restoration
4.6
Bottle/Can Session IPA (up to 4.3%)
Sponsored by

CFB Boilers Ltd

Brewery
Product
ABV
Gold
Calvors Brewery Limited
Calvors Session ipa
4.2
Silver
Farr Brew Ltd
Wildside
4.1
Bronze
Woodforde's Brewery
Norada
4.3
Bottle/Can Premium PA (4.4% to 5.4%)
Sponsored by

Beatson Clark Ltd

Brewery
Product
ABV
Gold
Ferry Ales Brewery Ltd
Golden Fleece
4.5
Silver
Green-Jack Brewing Co.
jester
4.4
Bronze
Elmtree Beers Ltd
golden pale
5.0
Bottle/Can IPA (5.5% to 6.4%)
Sponsored by

Saxon Packaging

Brewery
Product
ABV
Gold
Oakham Ales
Green Devil IPA
6.0
Silver
St. Peter's Brewery Co. Ltd
India Pale Ale
5.5
Bronze
Brewster's Brewery
IPA
6.0
Bottle/Can Session Lager & Pilsner (up to 4.4%)
Brewery
Product
ABV
Gold
Calvors Brewery Limited
3point8
3.8
Silver
The Norfolk Brewhouse
DewHopper
4.0
Bronze
Adnams
Dry Hopped Lager
4.2
Bottle/Can Premium Lager & Pilsner (4.5% to 6.4%)
Brewery
Product
ABV
Gold
Calvors Brewery Limited
Calvors Premium Pilsner
5.0
Silver
Turpin's Brewery Cambridge
Underback Pilsner
4.6
Bronze
The Norfolk Brewhouse
No 1 Norfolk Lager
4.5
Bottle/Can Speciality Light Beers
Brewery
Product
ABV
Gold
Elgood & Sons Ltd
Cherry Wheat Beer
3.6
Silver
Adnams
Triple Knot
10.0
Bronze
Leighton Buzzard Brewing Co
Barrel-Aged 2016
9.0
Bottle/Can Speciality Mid to Dark Beers
Brewery
Product
ABV
Gold
Wibblers Brewery (Farms) Ltd
Port infused Imperial Stoat.
9.0
Silver
Elgood & Sons Ltd
Plum Porter
4.5
Bronze
Mauldons Brewery
Blackberry Porter
4.8
Bottle/Can Sours/Spontaneous
Brewery
Product
ABV
Gold
Elgood & Sons Ltd
Coolship Mango
5.0
Silver
Bronze
Bottle/Can Strong Beers (6.5% and Over)
Brewery
Product
ABV
Gold
Tring Brewery
Death or Glory
7.2
Silver
Lacons Brewery
Audit
8.0
Bronze
Elmtree Beers Ltd
terra firma
7.8