Craft Brewing's Best: SIBA Business Awards 2018 Finalists revealed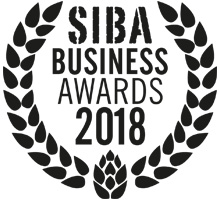 The UK's top craft beer and brewing businesses have been named as Finalists in the SIBA Business Awards 2018, with winners due to be announced on the 14th March at BeerX in Liverpool.
The prestigious awards received a huge 60% increase in entries this year and include a wide range of categories across Marketing Implementation, Green Business, Business Innovation and Commercial Achievement, as well as design awards and industry awards which highlight the best pubs, bars, restaurants and retailers for independent craft beer in the UK.
"I would like to congratulate all of the finalists that have been shortlisted for the SIBA Business Awards 2018, making it this far is a huge achievement as the quality and quantity of entries this year was extremely high. The brewery awards name the very best brewing businesses – whether it is fantastic can or bottle design, efforts to be more environmentally friendly or innovative – and the industry awards were introduced to congratulate those companies doing the most in the UK to sell, promote or serve fantastic independent craft beer. This year's awards are set to be our biggest ever and take place in our new home at Exhibiton Centre Liverpool." Mike Benner, SIBA Chief Executive

The SIBA Business Awards 2018 will be presented at an evening ceremony on the 14th March 2018 at BeerX UK 2018, the UK's biggest beer and brewing trade event, being held in its new home at Exhibition Centre Liverpool.
The awards are being presented by Radio 2 broadcaster and resident foodie Nigel Barden (above) and are set to be one of the highlights of SIBA's flagship event, alongside their Independent Beer Awards which take place the next evening, Thursday 15th March.
Business Awards 2018 Finalists
Marketing Implementation
Fourpure Brewing Co.
Signature Brew
Wood's Brewery
Green Business
Bun Dubh
Clarkshaws
Farr Brew
Hobsons
Business Innovation
Clarkshaws Brewing Co.
North Brewing Co .
Veterans Brewing
Commercial Achievement
Boss Brewing
Fourpure Brewing Co.
North Brewing Co.
Best Individual Design
Brick brewery
Loch Lomond
Signature Brew
Best Concept Design
Boss Brewing
Fyne Ales
Leigh-on-Sea Brewery
Signature Brew
Stewarts
Supplier Associate of the year
Beer Box Shop
Byworth Boilers
Brewing Services & Consultancy
Lemon Top Creative
Saxon Packaging
UK's Best Independent Craft Beer Retailer – Multiple
Pivovar
Real Ale
Waitrose
UK's Best Independent Craft Beer Retailer – Single
Beer 52
Hop Burns & Black
House of Trembling Madness
The Epicurean
UK's Best Independent Craft Beer Restaurant
Ceabhar, Isle of Tiree
Pavement Vaults, York
The Scran & Scallie, Edinburgh
Best Independent Craft Beer Promotion – On-trade
Beer Day Britain
Wetherspoons
UK's Best Independent Craft Beer Bar or Pub – City
North Bar, West Yorkshire
The Box Social, Newcastle-upon-Tyne
Wigan Central, Lancashire
Sheffield Tap, South Yorkshire
UK's Best Independent Craft Beer Bar or Pub – Rural
The Bailey Head, Shropshire
The Cove, Devon
Geese & Fountain, Lincolnshire
Red Lion Inn, Wiltshire