Sinclair & Drygate named best independent craft brewers in Scotland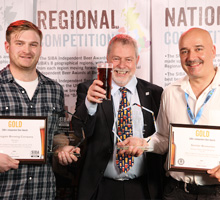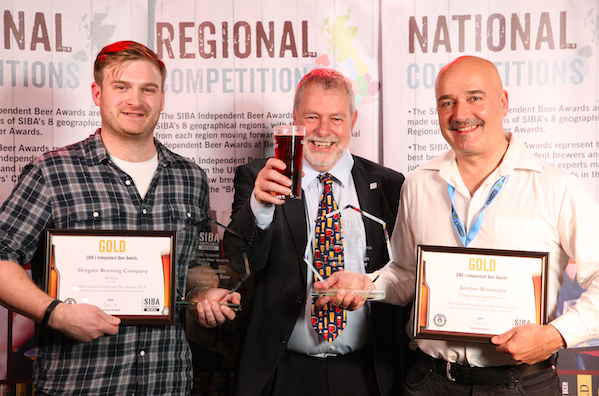 Sinclair Breweries and Drygate have been named the best independent craft brewers in Scotland after taking home the two top spots in SIBA Scotland Independent Beer Awards.
The prestigious awards, run by the Society of Independent Brewers (SIBA) at the Drygate Brewery and Taproom in Glasgow, are judged by brewers and beer experts and seen very much as the 'brewers choice' awards in the industry.
Sinclair's 'Orkney Dark Island Reserve', a formidable barrel-aged 10% imperial stout with rich chocolate and whisky-like flavours took home the overall Gold in the cask competition and another stout, this time Drygate's silky smooth 6% milk stout 'Orinoco', claimed the Overall Gold in the bottle and can competition.
SIBA Competitions Committee Chair Guy Sheppard presented the awards,
"The Scottish independent beer awards name the very best craft beers in the country and the standard of entries in 2018 was some of the best we have ever seen. I'd like to congratulate all of the winners and in particular our Overall Golds, who fought off tough competition to be named the very best of the best." 
Collecting the Overall Cask Gold award for Sinclair Breweries was Commercial Manager Craig Steven,
"This is a fantastic achievement and we're delighted to get the recognition for the hard work that goes into making this beer. It's a really delicious, complex beer but what makes it so special we think is the balance of flavours that has been achieved. It's very refined, not too bitter not too sweet, and surprisingly easy drinking for the strength. We're delighted."
Collecting the Overall Gold in the bottle and can competition was Drygate brewing's Operations Director Sam Cordon,
"It means a huge amount to win this award, it's the second time we've won with this stout and it shows how well it's received by brewers and beer drinkers. This beer is as complex as it is accessible – it's got coffee, chocolate, vanilla, and some roasted bitterness – so people who aren't usually into dark beers love it as it tastes a lot like an espresso Martini, which everybody loves. It's on the bar right now in the Taproom and we even have a peanut butter version for people to try!"
Full Winners List
Cask
Overall Champion of the Cask Competition
Brewery
Product
ABV
Gold
Sinclair Breweries
Orkney Dark Island Reserve
10
Silver
Loch Lomond Brewery
Southern Summit
4
Bronze
Loch Lomond Brewery
Lost in Mosaic
5
Cask British Dark Beers (up to 4.4%)
Brewery
Product
ABV
Gold
Sinclair Breweries
Orkney Red MacGregor
4
Silver
Strathaven Ales
Craigmill Mild
3.5
Bronze
Fyne Ales Ltd
Vital Spark
4.4
Cask British Dark Beers (4.5% to 6.4%)
Brewery
Product
ABV
Gold
Windswept Brewing Co Ltd
Wolf
6
Silver
Loch Lomond Brewery
Silkie Stout
5
Bronze
Keith Brewery Ltd.
Stout Keith
5
Cask British Bitter (up to 4.4%)
Sponsored by
Rastal GmbH & Co. KG
Brewery
Product
ABV
Gold
Fyne Ales Ltd
Hurricane Jack
4.4
Silver
Loch Lomond Brewery
Bonnie n Blonde
4
Bronze
Sinclair Breweries
Orkney Raven
3.8
Cask British Premium Bitter (4.5% to 6.4%)
Sponsored by
Rankin Brother & Sons
Brewery
Product
ABV
Gold
The Ferry Brewery Co. Ltd.
Ferry Witches Brew
4.5
Silver
Born in the Borders
Dark Horse
4.5
Bronze
Fyne Ales Ltd
Highlander
4.8
Cask Session IPA (up to 4.3%)
Brewery
Product
ABV
Gold
Loch Lomond Brewery
Southern Summit
4
Silver
Beath Brewing
Secret Coming over
4
Bronze
Hybrid Brewing
Groat
3.8
Cask Premium PAs (4.4% to 5.4%)
Sponsored by
Murphy & Son Ltd
Brewery
Product
ABV
Gold
Loch Lomond Brewery
Lost in Mosaic
5
Silver
Windswept Brewing Co Ltd
Hurricane
4.5
Bronze
Spey Valley Brewery
Stillman's IPA
4.6
Cask IPA (5.5% to 6.4%)
Sponsored by
Charles Faram & Co. Ltd
Brewery
Product
ABV
Gold
Loch Lomond Brewery
Bravehop
6
Silver
Ride Brew Co.
Glasgow Pale
6.4
Bronze
Arran Brewery
Arran ID
6
Cask Speciality Light Beers
Brewery
Product
ABV
Gold
Windswept Brewing Co Ltd
Weizen
5.2
Silver
Jaw Brew
Wave
4.6
Bronze
Williams Bros Brewing Co.
Birds & Bees
4.3
Cask Speciality Mid to Dark Beers
Brewery
Product
ABV
Gold
Sinclair Breweries
Orkney Dark Island Reserve
10
Silver
Loch Lomond Brewery
Lost monster
10
Bronze
Windswept Brewing Co Ltd
Werewolf
6
Cask Strong Beers (6.5% and Over)
Sponsored by
Bulk Storage & Process Systems Ltd
Brewery
Product
ABV
Gold
Loch Lomond Brewery
Outlander
6.5
Silver
Sinclair Breweries
Orkney Skullsplitter
8.5
Bronze
Five Kingdoms Brewery
Dark Storm
6.9
Bottle/Can
Overall Champion of the Bottle/Can Competition
Brewery
Product
ABV
Gold
Drygate Brewing Company
Orinoco
6
Silver
Fyne Ales Ltd
Mills & Hills
9.5
Bronze
Loch Lomond Brewery
Bravehop
6
Bottle/Can British Dark Beers (up to 4.4%)
Brewery
Product
ABV
Gold
Jaw Brew
Fathom
4
Silver
Merchant City Brewing
Unit 1 Red Ale
4
Bronze
Strathaven Ales
Mild
3.5
Bottle/Can British Dark Beers (4.5% to 6.4%)
Brewery
Product
ABV
Gold
Windswept Brewing Co Ltd
Wolf
6
Silver
Spey Valley Brewery
Spey Stout
5.4
Bronze
Sulwath Brewers Ltd
Knockendoch
5
Bottle/Can British Bitter (up to 4.4%)
Brewery
Product
ABV
Gold
Sinclair Breweries
Orkney Raven
3.8
Silver
Cairngorm Brewery
Stag
4.1
Bronze
Harviestoun Brewery
Bitter and Twisted
4.2
Bottle/Can British Premium Bitter (4.5% to 6.4%)
Brewery
Product
ABV
Gold
Fyne Ales Ltd
Highlander
4.8
Silver
Five Kingdoms Brewery
Wee McAsh Bitter
4.5
Bronze
Harviestoun Brewery
Broken Dial
4.5
Bottle/Can Session IPA (up to 4.3%)
Brewery
Product
ABV
Gold
Cross Borders Brewing Company Ltd
Wee Braw
4
Silver
Barney's Beer Ltd
Vital Juices
3.8
Bronze
Fyne Ales Ltd
Jarl
3.8
Bottle/Can Premium PA (4.4% to 5.4%)
Sponsored by
Beatson Clark Ltd
Brewery
Product
ABV
Gold
Drygate Brewing Company
Seven Peaks
5
Silver
Cross Borders Brewing Company Ltd
Braw
5.2
Bronze
Merchant City Brewing
Moteuka Pale Ale
4.4
Bottle/Can IPA (5.5% to 6.4%)
Brewery
Product
ABV
Gold
Loch Lomond Brewery
Bravehop
6
Silver
Fyne Ales Ltd
Workbench
5.5
Bronze
Williams Bros Brewing Co.
Impale IPA
5.5
Bottle/Can Imperial IPA (6.5% and over)
Brewery
Product
ABV
Gold
Swannay Brewery
Muckle
6.6
Silver
Fyne Ales Ltd
Remote Parts
7
Bronze
Top Out Brewery LLP
The Cone
6.8
Bottle/Can Session Lager & Pilsner (up to 4.4%)
Brewery
Product
ABV
Gold
Swannay Brewery
Magnus Blonde
4.3
Silver
Drygate Brewing Company
Bearface Lager
4.4
Bronze
Merchant City Brewing
Klassisches Pilsner
4
Bottle/Can Premium Lager & Pilsner (4.5% to 6.4%)
Brewery
Product
ABV
Gold
Keith Brewery Ltd.
Larger Keith
4.5
Silver
Windswept Brewing Co Ltd
Lighthouse
4.7
Bronze
Knops Beer Company
Cold Fury
5.2
Bottle/Can Speciality Light Beers
Brewery
Product
ABV
Gold
Inner Bay Brewery Ltd
Pearl
6
Silver
Top Out Brewery LLP
Copperheid
3.4
Bronze
Williams Bros Brewing Co.
Birds & Bees
4.3
Bottle/Can Speciality Mid to Dark Beers
Brewery
Product
ABV
Gold
Drygate Brewing Company
Orinoco
6
Silver
Loch Lomond Brewery
Lost monster
10
Bronze
Harviestoun Brewery
Ola Dubh 12 year old
8
Bottle/Can Sours/Spontaneous
Brewery
Product
ABV
Gold
Drygate Brewing Company
Take Me To The River
3.9
Silver
Cross Borders Brewing Company Ltd
Autumn
5
Bronze
Keith Brewery Ltd.
Frank
4
Bottle/Can Strong Beers (6.5% and Over)
Brewery
Product
ABV
Gold
Fyne Ales Ltd
Mills & Hills
9.5
Silver
Loch Lomond Brewery
Outlander
6.5
Bronze
Williams Bros Brewing Co.
Alba
7.5