Brewers in the Community: Supporting local communities and creating jobs across the UK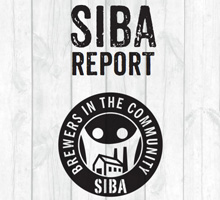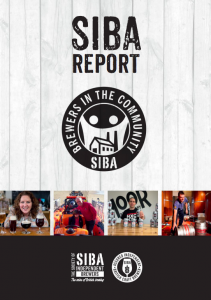 A new report, released by the Society of Independent Brewers (SIBA), highlights the important role independent craft brewers are now playing in communities across Britain – creating jobs for local people, opening brewery tap rooms to help fill the void left by unfortunate community pub closures and raising hundreds of thousands of pounds for numerous local charities.
Click here to view the 'Brewers in the Community' report
84% of independent breweries support charities, with 21% supporting more than 5 charities
The 'Brewers in the Community' report, which is compiled from results of SIBA's Annual Members' Survey (almost 500 of the 850 brewery members completed the survey), shows 84% of independent craft breweries have supported at least one charity within the last 12 months, with 21% supporting more than five charities during this period.
A number of case studies of the amazing support are included in the report. This includes Cullercoats Brewery in Tyne & Wear, who have raised over £30,000 in the last five years for the lifeboat charity RNLI, by donating 3p from every pint they sell – just recently reaching the 1 million pint mark needed to achieve their target of £30,0000.
Owner and brewer Bill Scantlebury said: "We're proud to have reached the £30,000 milestone, it's been a lot of hard work but very satisfying. We hope our fundraising achievement helps to highlight the benefits of corporate giving through permanent charitable donations. Our aim for the future, as well as raising even more money for RNLI, is to be a firm favourite for local drinkers, and publicans. We value our strong community ties and work hard to promote other local businesses and community events." 
As well as donating money from beer sold, many brewers encourage their local community to come and visit them for open days and special charity events at the brewery itself. Pembrokeshire brewer Bluestone hosts an annual choir competition which last year raised £1,100 for the Air Ambulance and Cancer Research. A second special event at the brewery then raised £4,400 towards treatment for a 2-year-old neighbour of the brewery who had been diagnosed with cancer that year.
Mike Benner, SIBA's Managing Director said, "Charity and community events such as these amazing fundraisers by Bluestone are constantly being organised by independent brewers across the UK and we felt it was time to shine a light on the fantastic work being done, which often goes unnoticed even to the surrounding area of the brewery."
Independent Breweries employ mainly local people

Although it is staggering that the beer and pub sector is responsible for creating a staggering 900,000* jobs in the UK and that one single job in brewing creates one in agriculture, one in the supply chain, one in general retail and 18 jobs in the pub sector*, so other sectors benefit and thrive as independent brewing grows, the report highlights the key point that independent breweries mainly employee local people, with two thirds of the employment living within a 5 mile radius of the brewery and that 1 in 10 of these are aged between 16-24 years old.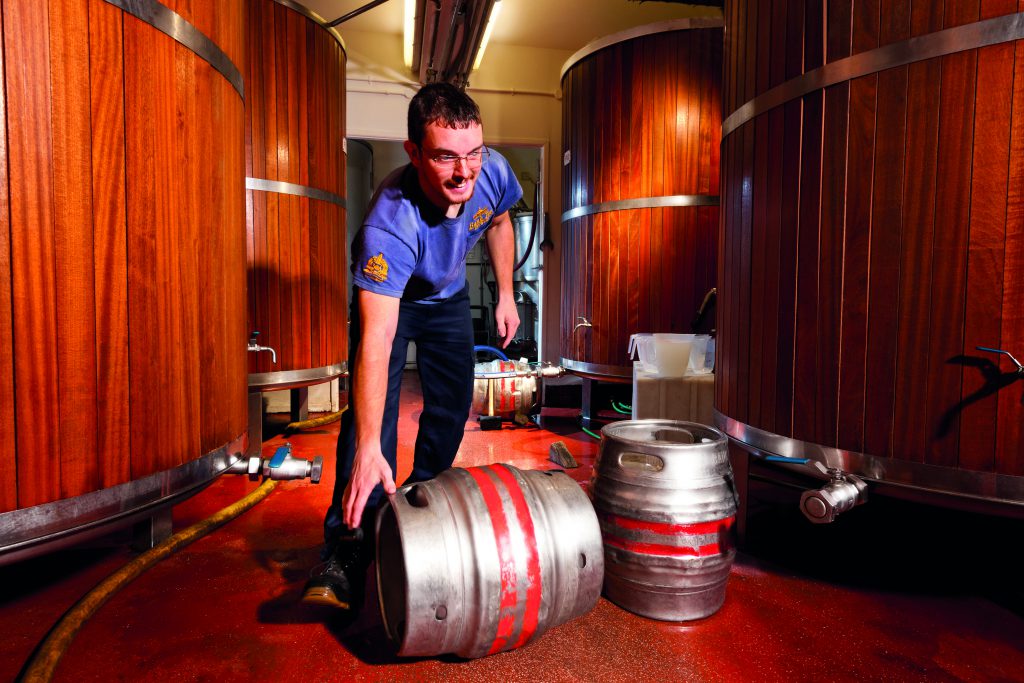 Brewers offering apprenticeships

Brewers across the UK are also a huge employer of young people and there have been some fantastic developments in the industry to attract and nurture the next generation of talented head brewers.
The recently launched 'Brewer Apprenticeship Trailblazer' initiative recently brought together brewers, trainers and professional bodies to create a cross-industry set of standards for a new Brewer Apprenticeship Scheme.
Hayley Connor, People and Development Manager at London brewery 'Brewhouse & Kitchen', who are a part of the initiative commented, "We have a significant need to internally grow our own brewers to keep pace with the development of Brewhouse & Kitchen, and with the new apprenticeship framework, which puts industry front and centre in setting the standards, we have a great opportunity to work with our peers large and small to create the programme, underpinned by a formal apprenticeship qualification. This October we plan to take on five new learners to trial the content of the developing standards over a 12 month period." 
Brewery Taps, Shop and Visitor Centres key to the independent brewer's business

Brewery taps, shops and visitor centres are becoming a very important part in the success of an independent brewer. With a lot of access to market issues, many independent brewers are creating their own revenue streams. Over 30% of those that own a brewery tap, shop or visitor centre at their brewery stated these local facilities accounted for over a quarter of their trade.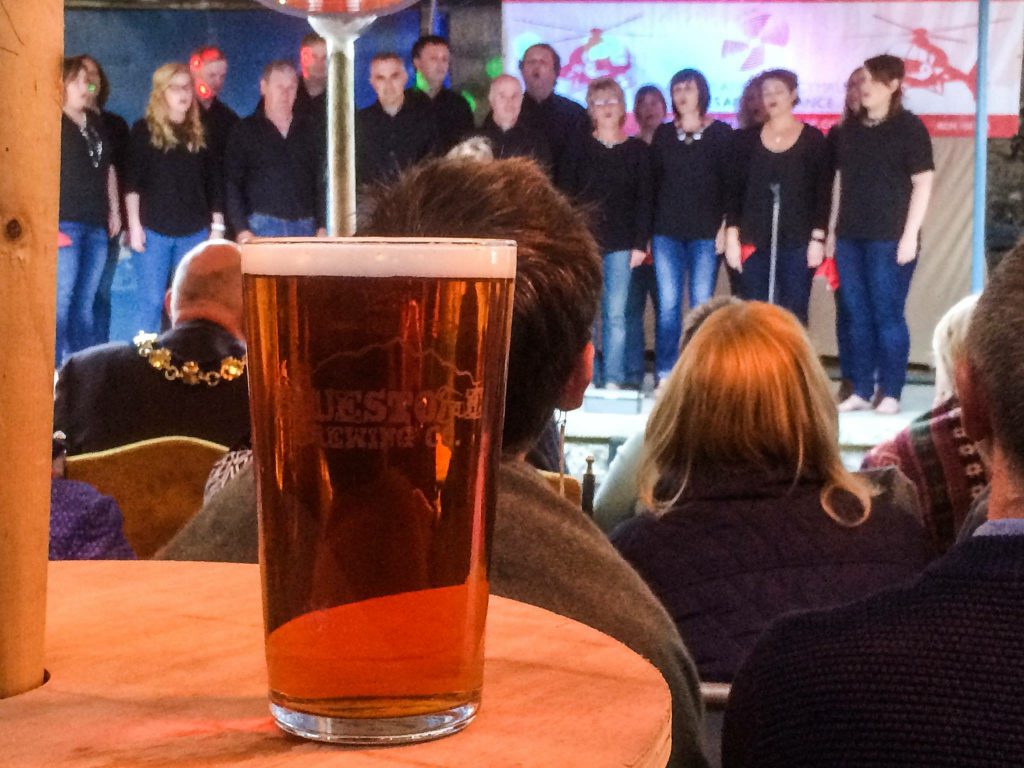 The 'Brewers in the Community' report also highlights the harrowing statistic that 10,000 pubs have closed in the last 15 years and many of these are rural and suburban community pubs. SIBA say brewery tap rooms can fill a void for a community to socialise in, particularly where the last village pub has sadly closed.
One brewery which has seen huge success with their rural brewery taproom is Unity Brewhouse, located on the the Worcestershire / Herefordshire border on a working hop farm. Brewer and Co-Founder Sarah Saleh says the taproom has become a focal point of their countryside community,
Sarah Saleh, Unity Brewhouse Brewer & Co-Founder said, "I think on site brewery tap rooms are popular because people love being able to drink beer direct from the source and our brewery has the added benefit of also being the location where the hops are grown and processed. A lot of our customers are not pub goers, but love having somewhere to meet where they can share a drink with friends and neighbours.
"Being in a rural community, people are keen to support local business and are interested in the provenance of what they consume and we are now getting a good crowd on Friday evenings, sometimes over 100 people. Our tap room has also been an excellent vehicle to spread awareness of our brand, including to local landlords who have been subsequently interested in serving our beer in their pubs." 
It's a similar story all across the UK, with taprooms popping up in breweries of all shapes and sizes – from something as simple as a few benches in the brewery served by a couple of keg fonts, to elaborate tasting rooms that rival any modern craft beer bar. Brixton Brewery are one of a growing number of railway-arch breweries in London opening their doors on a Saturday to beer lovers looking for something a bit different.
"Having a Saturday tap room is a great way for people to see what we're about. People really like the experience of sitting among the tanks and equipment of a working brewery. You get a proper sense of where your pint came from." Xochitl Benjamin, Brewer at Brixton Brewery.
Relationship with the local community is important to 84% of independent breweries
The 'Brewers in the Community' report shows 84% of their independent brewing members regard their relationship with their local community as 'important' or 'extremely important' to their business. SIBA say the increase in the number of brewers building tap-rooms to serve fresh beer to local people direct from the brewery has helped cement brewers place as centres of their communities across the UK.
"Britain's small brewers are now a common feature of communities across Britain and are just as much a part of the local social and economic fabric of the communities they serve as pubs – creating jobs, supporting local charities and providing a place for the community to come together in the brewery tap." Mike Benner, SIBA Managing Director
Click here to view the report in full.
Click here to view supporting images
*Figure taken from the BBPA 'The Beer Story' report 2016