Fourpure named Society of Independent Brewers' Brewery Business of the Year 2017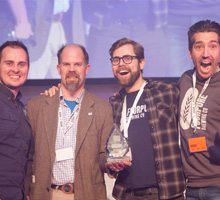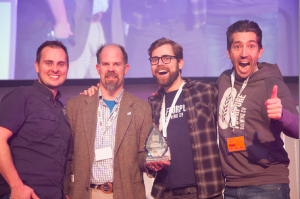 London-based Fourpure has been named the the Society of Independent Brewers "Brewery Business of the Year" in their annual Business Awards 2017.
The awards, which took place at SIBA's BeerX event in Sheffield last night, seek to congratulate the top brewery businesses in the UK across a variety of categories, as well as naming retailers, pubs, bars and restaurants who have made an outstanding contribution to the promotion of independent craft beer in the UK.
"In a year when the number and calibre of entries was higher than ever before, Fourpure's huge commitment to staff training, innovative business strategies and clear commercial vision, hugely impressed the business awards judges. In particular it was the company's sensory beer training scheme which the judges felt went above and beyond in ensuring every single member of the Fourpure team is inspired by independent craft beer and working for Fourpure." Mike Benner SIBA Managing Director.
Fourpure also won SIBA's Business Innovation award category for their innovative sensory training scheme which put all their staff through rigorous beer training in order to drive quality throughout the business.
"It's absolutely fantastic to win, we are so shocked and humbled to receive this award and it feels like confirmation of a job well done after we have been working so hard to grow over the last few years. This is a brilliant win for the whole team and we are absolutely over the moon." Adrian Lugg, Head of Marketing at Fourpure.
Other winners on the night included Tiny Rebel brewery from Wales, who took home gold in the Commercial Achievement category for their meteoric growth over recent years and their bold export operations.
360 Degree Brewing won SIBA's coveted Concept Design Award for their range of sleek, minimalist cans, and Beavertown Brewery took home the individual design category for the bottle design for their Tempus Project Applelation saison.
Swan Brewery won the Green Business award, which judges commented was for their efforts to "Not only make their brewhouse and business activities as economically friendly as possible, but to engage their local community in this activity through their 'Green Saturday' open days, was a perfect example of what can be achieved by a small brewery. Judges felt that the practical, thoughtful methods employed by the Swan brewery showed that being Green is something within the reach of every brewery and not just those with large amounts of money to invest."
Purity won the Marketing Implementation category for their innovative Social Media and marketing activities which maximised the sponsorship of Wasps Rugby Club. Crookham travel also won SIBA's Supplier Associate of the Year.
SIBA introduced the industry section of their awards to congratulate the bars, restaurants and businesses going above and beyond in their promotion of independent craft beer in the UK.
Booma in Brixton won SIBA's Best Independent Craft Beer Restaurant, with judges being 'unanimous in their praise of Booma's commitment to making the pairing of craft beer with indian food central to their menu in a simple yet engaging way. With easy to follow suggestions of which beers worked well with different dishes, backed up by an exciting range of independent craft-brewed beers, Booma was a clear winner in an extremely strong category.'
Other winners included Tapped Leeds in the city pub/bar category, the Salutation Inn in the rural pub/bar category, We Brought Beer in the Multiple Retailer category and the House of Trembling Madness in the single independent craft beer retailer category.
Beer Day Britain won the on-trade promotion category, with Sheffield Beer Week Highly Commended, and 'There's a Beer For That' won in the Off-Trade Independent Craft Beer Promotion category.
Full Awards Winners List
Marketing Implementation
Purity Brewing Co, Warwickshire
Green Business
Swan Brewery, Herefordshire
Business Innovation
Fourpure, London
Commercial Achievement
Tiny Rebel, Newport
Best Individual Design
"Tempus Project – Applelation" – Beavertown, London
Best Concept Design
"360 Degrees Brand" – 360 Degrees Brewing, Sussex
Brewery Business of the Year
Fourpure, London
Supplier Associate of the Year
Crookham Travel
UK's Best Independent Craft Beer Retailer – Multiple
We Brought Beer, 3 stores in London
UK's Best Independent Craft Beer Retailer – Single
The House of Trembling Madness, York (Winner)
Hop Burns & Black, Peckham (Highly Commended)
UK's Best Independent Craft Beer Bar or Pub – City
Tapped Leeds, Leeds, West Yorkshire
UK's Best Independent Craft Beer Bar or Pub – Rural
The Salutation Inn, Ham, Gloucestershire
UK's Best Independent Craft Beer Restaurant
Booma, Brixton, London
Best Independent Craft Beer Promotion – On-trade
Beer Day Britain (Winner)
Sheffield Beer Week (Highly Commended)
Best Independent Craft Beer Promotion – Off-trade
There's a Beer for That