Deposit Return Schemes are coming and small brewers need to be ready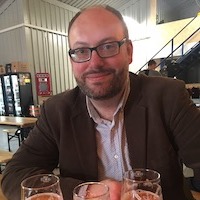 In this article, SIBA Head of Policy and Public Affairs, Barry Watts explores the forthcoming Deposit Return Schemes and the impact on small brewers
Over the next decade or so, governments across the UK have ambitious plans to introduce measures which aim to tackle climate change. With the COP26 conference taking place later this year never has there been more focus on sustainability.
We know that there are some leading the way and all brewers want to play their part. SIBA, as your trade association, intends to help you at every step along this path and environmental impact is a key part of our future strategy. But simultaneously, where Government go too far, or introduce things which don't make sense or threaten your businesses, we will push back in your interests.
One immediate aspect that our governments are focusing on is the packaging we use for our beer and they intend to introduce Deposit Return Schemes (DRS) as a form of producer responsibility to increase recycling rates and reduce littering.
In Scotland DRS is being introduced next year (although this could be delayed) and a separate scheme is due to be rolled out in England, Wales and Northern Ireland (NI) in 2024. This means that if you sell beer in Scotland – even if it's through a wholesaler or online – you need to be aware and start to prepare now.
The vast majority of SIBA members' beer is usually packaged into reusable and sustainable casks and kegs, with about 20% normally placed into cans and bottles – although during the Covid pandemic small pack has become for many the only means of making any money. While this is a tiny number of containers compared to the UK total – small breweries account for about 1.4% of the 7.7 billion cans and 5.5 billion bottles sold every year – DRS will have a significant and disproportionate impact on small brewers.
So how will DRS work?
If you're a customer, it's pretty straight forward – you pay a small deposit which is refunded when you return the empty to the retailer or to a reverse vending machine. These empties are collected, broken down and sold to be recycled with the aim to increase recycling rates up to 90% and similar schemes have been introduced in around 40 different countries worldwide.

But if you're a brewer, it's a bit more complex
In Scotland they are introducing an "all in" scheme which includes plastic, glass, steel and aluminium cans of up to 3 litres. It doesn't include reusable containers like growlers but will include crowlers if you use them. We don't know the full details of the England, Wales and NI scheme yet as there's a consultation (which you can respond to and that closes in June), but they are also looking at an "all in" scheme.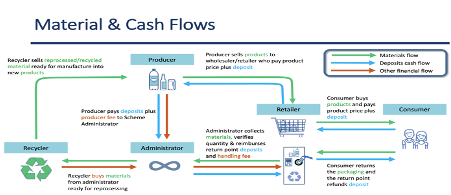 Each container in scope will carry a 20p deposit. These deposits (as the picture above shows) go round in a big circle with a brewer charging the retailer 20p and then the retailer charging the customer 20p.
When these empty containers have been returned to the retailer they need to be collected so they can be recycled. In Scotland brewers have a choice to fulfil this responsibility themselves or to do it through a Scheme Administrator (SA), that will collect and manage this, reimburse retailers for deposits, pay a handling fee and meet the annual collection targets. Given the additional burdens It is likely that most brewers will opt to join the SA (unless you only sell on a market stall and a couple of shops) and Circularity Scotland has been appointed for this in Scotland. In the rest of the UK there will be a Deposit Management Organisation and you'll be required to join it if you sell small pack in England, Wales and NI.
Obviously there's a cost to managing this process; sending out vans to pick up empty containers and monitoring returns is not cheap. Therefore brewers will have to pay a charge to cover this. In Scotland there's an annual administration fee of £360 (its free if your turnover is below £85,000) and a producer fee per container. This fee hasn't yet been sent but early work has suggested it could be 2.8-3.8p per can and bottle – a significant amount which if applied to the whole of the UK beer industry equates to an annual cost of £200m, or a 6% increase in beer duty.
You'll also have to provide information such as barcodes/ EAN numbers, unique ID and data capture markers and SKUs. Those reverse vending machines normally require barcodes and anti-fraud measures will probably lead to common identifiers. This will inevitably mean you'll need a separate label (and SKU) for small pack sold in Scotland. In the rest of the UK, labelling will be mandatory.
Brewery webshops
If you sell beer via your website then you'll have to make changes to the webshop to charge the deposits. You'll also have to provide a takeback service – the option to have the empties collected from the place they were delivered.  This means that a brewer in Somerset who sells beer online into Scotland will have to register and pay the fees, charge the deposit and offer this takeback service.
Pubs, taprooms and brewery shops
For those operating a taproom or a pub there will be a closed-loop system if the items are consumed on the premises. If you also offer takeaway you'll have to charge deposits and operate a return point – either manually over the counter or by hosting a reverse vending machine. You'll get a handling fee for these costs and there is an opportunity to apply for an exemption.
SIBA concerns
If you've read all the way to here, you can understand that DRS is rather complex and costly. SIBA is concerned that DRS will impose significant costs, reduce the choice and availability of independent craft beer and create uncertainty for businesses. We're working to raise these concerns with politicians, Ministers and officials and push for more proportionate costs for small brewers, safeguards on the rules and impact and assurances on how the separate schemes will work together.
You can read our recent submission to the Government here on the challenges for small brewers and you can watch my recent BeerX presentation to learn more.