Burning Sky brewery halt Scottish hat-trick in SIBA independent beer awards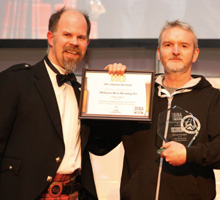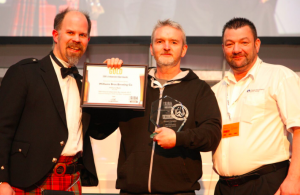 Burning Sky brewery in East Sussex have stopped a potential Scottish hat-trick in the Society of Independent Brewers (SIBA) National Independent Beer Awards, by taking home Gold in the Keg competition. The awards, the biggest of their kind ever seen in the UK with hundreds of cask, keg, bottled and canned beers judged across 5 days, were announced at SIBA's BeerX event in Sheffield last night.
With 400 beers in the keg competition it was Burning Sky Brewery's' Easy Answers IPA that wowed judges and won them the top spot after Williams Brothers in Scotland took home the much coveted Supreme cask Gold award for their traditional dark mild 'Black', before another Scottish brewer, Fyne Ales, won the bottle and can competition with 'Mills & Hills', a hefty imperial stout of almost 10% ABV.
"It is fantastic to see such high quality beers across a range of formats in this years biggest ever beer competition. With hundreds of entries across cask, keg, bottle and can this really was the cream of the crop in terms of independent craft beers from the UK and each of the three Supreme Champion Gold Winners should be extremely proud of their achievement. It's also clear fantastic tasting beer is being produced by our members across the length of Britain, but that Scotland brewers have proved to be a particular hit with judges in 2017, with both Fyne Ales and Williams Brothers taking home top spots." Mike Benner, SIBA Managing Director.
It is the second year running that a Scottish brewer has won the best cask beer in the country award, following Loch Lomond taking home the Silverware in 2016 for their citrussy Southern Summit pale ale.
"This a fantastic win and hugely exciting for us as this was one of our very first beers we ever brewed, so for it to still be winning awards is amazing. Mild has an image as an older, more old-fashioned style but it's a great beer. Maybe Mild is the new IPA!" Scott Williams, Co-founder Williams Bros.
SIBA say the awards have also highlighted the diversity of independent craft beer that is now being brewed in the UK, with three very different beers taking home the top spots. From the traditional dark mild 'Black' from Williams Brothers winning in the cask competition, to the heavily hopped, aromatic 'Easy Answers' IPA from Burning Sky winning in Keg, as well as the rich, dark and strong 9.5% Imperial Stout 'Mills & Hills' from Fyne Ales winning in bottle.
"It's amazing to win this award as it's judged by our peers, by other Brewers in the industry as well as the hop and malt merchants that are so important to what we do. It's a massive result for our whole team and we are so proud to accept this award from SIBA." Mark Tranter, Head Brewer Burning Sky Beer
SIBA's Smallpack competition can be entered by both canned and bottled beers, but it was the 330ml bottled stout from Fyne Ales, brewed in collaboration with De Molen in the Netherlands, that came out on top this time around.
"A lot of fantastic beers were up for this award so even to be amongst them is amazing for us. This was the fifth brew we ever did and is special as it was a collaboration with De Molen in the Netherlands where we just decided to have a play on our brand new kit, to really push to see what it could do. 3 years later and people still love it!" Jamie Delap, Owner Fyne Ales
Click here to download excel spreadsheet of Full Winners list for SIBA Independent Beer Awards 2017
Brewery
Beer
ABV
CLASS
Award

Williams Bros Brewing Co

Williams Black

4.2

Supreme Champion of the Cask Beer Competition

GOLD

Swannay Brewery

Island Hopping

3.9

Supreme Champion of the Cask Beer Competition

SILVER

Eight Arch Brewing Co.

Corbel

5.5

Supreme Champion of the Cask Beer Competition

BRONZE

Williams Bros Brewing Co

Williams Black

4.2

Champion Cask Standard Mild & Brown Ales

GOLD

Earl Soham brewery Ltd

Sir Rogers porter

4.2

Champion Cask Standard Mild & Brown Ales

SILVER

Blackedge Brewing Company Ltd

Dark MIld

3.9

Champion Cask Standard Mild & Brown Ales

BRONZE

Swannay Brewery

Island Hopping

3.9

Champion Cask Standard Bitters & Pale Ales

GOLD

York Brewery Ltd

Blonde

3.9

Champion Cask Standard Bitters & Pale Ales

SILVER

Combined Brewers Ltd

Nibley Ale

3.8

Champion Cask Standard Bitters & Pale Ales

BRONZE

Wantsum Brewery Ltd

Montgomery

4.0

Champion Cask Best Bitters & Pale Ales

GOLD

Barngates Brewery

Tag Lag

4.4

Champion Cask Best Bitters & Pale Ales

SILVER

Black Sheep Brewery

Special Ale

4.4

Champion Cask Best Bitters & Pale Ales

BRONZE

Alechemy Brewing Ltd

Bad Day At The Office

4.5

Champion Cask Premium Bitters & Pale Ales

GOLD

Salopian Brewery

Hoptwister

4.5

Champion Cask Premium Bitters & Pale Ales

SILVER

Cullercoats Brewery Ltd

Pilot

4.8

Champion Cask Premium Bitters & Pale Ales

BRONZE

Eight Arch Brewing Co.

Corbel

5.5

Champion Cask Strong Bitters & Pale Ales

GOLD

Slater's Ales

Haka

5.2

Champion Cask Strong Bitters & Pale Ales

SILVER

Daleside Brewery

Monkey Wrench

5.3

Champion Cask Strong Bitters & Pale Ales

BRONZE

St Austell Brewery

Big

 

Job

7.2

Champion Cask Premium Strong Beers

GOLD

Harrogate Brewing Company

Kursaal Imperial Stout

7.5

Champion Cask Premium Strong Beers

SILVER

Black Cat Brewery

Tzar Imperial Stout

6.8

Champion Cask Premium Strong Beers

BRONZE

New Lion Brewery

Totnes Stout

4.4

Champion Cask Porters, Stouts, Old Ales, Strong Milds & Strong Brown Ales

GOLD

Great Newsome Brewery

Liquorice Lads Stout

4.3

Champion Cask Porters, Stouts, Old Ales, Strong Milds & Strong Brown Ales

SILVER

Bespoke Brewing Co Ltd

Money for Old Rope

4.8

Champion Cask Porters, Stouts, Old Ales, Strong Milds & Strong Brown Ales

BRONZE

RCH Brewery

Chocolate Slug

4.5

Champion Cask Speciality Beers

GOLD

Blackedge Brewing Company Ltd

Ginger

4.5

Champion Cask Speciality Beers

SILVER

Northern Monk Brewing Co

Northern Star

5.9

Champion Cask Speciality Beers

BRONZE

Fyne Ales

Mills & Hills

9.5

Supreme Champion of the Small Pack Competition

GOLD

Loch Lomond Brewery

Silkie Stout

5.0

Supreme Champion of the Small Pack Competition

SILVER

Hawkshead Brewery

Lakeland Lager

5.0

Supreme Champion of the Small Pack Competition

BRONZE

Strathaven Ales

Craigmill Mild

3.5

Champion Small Pack Standard Mild & Brown Ales

GOLD

The Loose Cannon Brewing Company

Abingdon Bridge

4.1

Champion Small Pack Standard Mild & Brown Ales

SILVER

Wolf Brewery

Sirius Dog Star

4.4

Champion Small Pack Standard Mild & Brown Ales

BRONZE

Idle Valley Brewery Ltd

Vacant gesture

3.8

Champion Small Pack Standard Bitters & Pale Ales

GOLD

Gloucester Brewery Ltd

Gloucester Gold

4.1

Champion Small Pack Standard Bitters & Pale Ales

SILVER

Hawkshead Brewery

Windermere Pale

4.0

Champion Small Pack Standard Bitters & Pale Ales

BRONZE

Thornbridge Brewery

AM:PM

4.5

Champion Small Pack Premium Bitters & Pale Ales

GOLD

Woodfordes

Nelsons Revenge

4.5

Champion Small Pack Premium Bitters & Pale Ales

SILVER

Liberation Brewery

Liberation IPA

4.8

Champion Small Pack Premium Bitters & Pale Ales

BRONZE

Purity Brewing Company

Longhorn IPA

5.0

Champion Small Pack Strong Bitters & Pale Ales

GOLD

Irwell Works Brewery

Mad Dogs & Englishmen

5.5

Champion Small Pack Strong Bitters & Pale Ales

SILVER

Hambleton Ales LLP

Thoroughbred Pale Ale

5.0

Champion Small Pack Strong Bitters & Pale Ales

BRONZE

Fyne Ales

Mills & Hills

9.5

Champion Small Pack Premium Strong Beers

GOLD

Lacons Brewery

Audit

8.0

Champion Small Pack Premium Strong Beers

SILVER

Windsor and Eton Brewery

Uprising's Treason

6.0

Champion Small Pack Premium Strong Beers

BRONZE

Brass Castle Brewery

Helles Lager

4.4

Champion Small Pack Standard Lager & Pilsners

                                                         

GOLD

The Norfolk Brewhouse

DewHopper Norfolk Lager

4.0

Champion Small Pack Standard Lager & Pilsners

                                                         

SILVER

Charnwood Brewery

Liska

4.0

Champion Small Pack Standard Lager & Pilsners

                                                         

BRONZE

Hawkshead Brewery

Lakeland Lager

5.0

Champion Small Pack Premium Lager & Pilsners

                                                                 

GOLD

The Norfolk Brewhouse

StubbleStag

5.0

Champion Small Pack Premium Lager & Pilsners

                                                                 

SILVER

Edinburgh Beer Factory

Paolozzi

5.2

Champion Small Pack Premium Lager & Pilsners

                                                                 

BRONZE

Loch Lomond Brewery

Silkie Stout

5.0

Champion Small Pack Porters, Stouts, Old Ales, Strong Milds & Strong Brown Ales

GOLD

Salopian Brewery

Midnight Express

5.2

Champion Small Pack Porters, Stouts, Old Ales, Strong Milds & Strong Brown Ales

SILVER

Bristol Beer Factory

MIlk Stout

4.5

Champion Small Pack Porters, Stouts, Old Ales, Strong Milds & Strong Brown Ales

BRONZE

Swannay Brewery

Barrel Aged Orkney Porter (2014 Arran Ed)

10.5

Champion Small Pack Speciality Beers

GOLD

Elgood & Sons Ltd

Q E Cherry Wheat

3.6

Champion Small Pack Speciality Beers

SILVER

The Five Points Brewing Company

London Smoke

7.8

Champion Small Pack Speciality Beers

BRONZE

Burning Sky Brewery Limited

Easy Answers

6.0

Supreme Champion of the Keg Competition

GOLD

Grain Brewery

Slate

6.0

Supreme Champion of the Keg Competition

SILVER

Grain Brewery

Weizen

5.0

Supreme Champion of the Keg Competition

BRONZE

Arran Brewery

Arran Dark

4.3

Champion Keg Standard Mild & Brown Ales

GOLD

Everards Brewery

Tiger

4.2

Champion Keg Standard Mild & Brown Ales

SILVER

Elgoods Brewery Ltd

Black Dog

3.6

Champion Keg Standard Mild & Brown Ales

BRONZE

Stewart Brewing

Jack Back

3.7

Champion Keg Standard Bitters & Pale Ales

GOLD

Red Squirrel Brewing Company

Hopfest

3.8

Champion Keg Standard Bitters & Pale Ales

SILVER

Acorn Brewery

Barnsley Bitter

3.8

Champion Keg Standard Bitters & Pale Ales

BRONZE

Charnwood Brewery

American Pale Ale

4.8

Champion Keg Premium Bitters & Pale Ales

GOLD

New Lion Brewery

Pandit

4.9

Champion Keg Premium Bitters & Pale Ales

SILVER

The Dark Star Brewing Co Ltd

American Pale Ale

4.7

Champion Keg Premium Bitters & Pale Ales

BRONZE

Charnwood Brewery

India Pale ale

5.8

Champion Keg Strong Bitters & Pale Ales

GOLD

Salopian Brewery

Kashmir

5.5

Champion Keg Strong Bitters & Pale Ales

SILVER

Grain Brewery

Pale

5.0

Champion Keg Strong Bitters & Pale Ales

BRONZE

Burning Sky Brewery Limited

Easy Answers

6.0

Champion Keg Premium Strong Beers

GOLD

Saltaire Brewery Ltd

Kala Black IPA

6.2

Champion Keg Premium Strong Beers

SILVER

St. Peter's Brewery

Black IPA

7.0

Champion Keg Premium Strong Beers

BRONZE

Coniston Brewery

Oliver's Lager

3.4

Champion Keg Standard Lager & Pilsners

                                                         

GOLD

Williams Bros Brewing Co

Caesar Augustus

4.1

Champion Keg Standard Lager & Pilsners

                                                         

SILVER

Daleside Brewery

Daleside Larger

4.0

Champion Keg Standard Lager & Pilsners

                                                         

BRONZE

Barngates Brewery

Vienna

5.2

Champion Keg Premium Lager & Pilsners

                                                                 

GOLD

Calvors Brewery Limited

Calvors Premium Pilsner Lager

5.0

Champion Keg Premium Lager & Pilsners

                                                                 

SILVER

St Austell Brewery Co Ltd

Korev

4.8

Champion Keg Premium Lager & Pilsners

                                                                 

BRONZE

Grain Brewery

Slate

6.0

Champion Keg Porters, Stouts, Old Ales, Strong Milds & Strong Brown Ales

GOLD

Thornbridge Brewery

Baize

6.0

Champion Keg Porters, Stouts, Old Ales, Strong Milds & Strong Brown Ales

SILVER

Hardknott Brewery

Dark Energy

4.9

Champion Keg Porters, Stouts, Old Ales, Strong Milds & Strong Brown Ales

BRONZE

Grain Brewery

Weizen

5.0

Champion Keg Speciality Beers

GOLD

The London Beer Factory

Fruit Loop

4.1

Champion Keg Speciality Beers

SILVER

Purple Moose Brewery

Chocolate Moose

4.5

Champion Keg Speciality Beers

BRONZE