Five Points Release "Green-Hop" Small Batch English Bitter In Cask!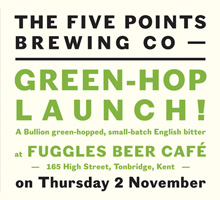 A Bullion hop, green-hopped, small-batch English bitter.
Launch Party: Fuggles Beer Cafe, 165 High Street, Tonbridge TN9 1BX, Kent Thursday 2nd November.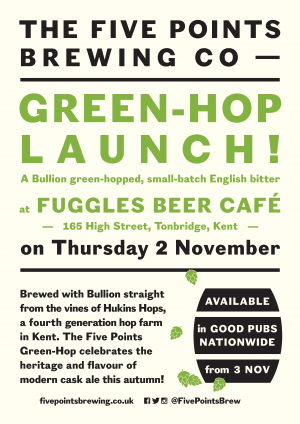 The Five Points Brewing Company is celebrating cask ale brewing and our commitment to flavour, provenance and independence this Autumn. Our new Green-Hop Bitter is brewed with fresh, unprocessed Bullion hops picked straight from the vines of Hukins Hops, a fourth generation independently owned hop farm in Kent. The Five Points Green-Hop celebrates both the UK cask ale tradition and the flavour of fresh English hops this autumn.
Bullion hops are known for their "New World" characteristics, and zesty citrus and blackcurrant flavours, and have returned to the hop farming landscape after a thirty year hiatus. And, after an afternoon's picking in the hop gardens of Kent, 70 kilos of fresh, green hops went straight into the copper, capturing that late-summer, spicy-grass aroma which makes green-hopped beers so unique.
In a changing landscape of beer which has seen a number of high profile and acclaimed breweries cease cask ale production, The Five Points wants to reiterate our long-standing commitment to cask ale, and put it very much at the forefront of what we're doing this autumn. We make modern cask beer, which looks to the future as well as drawing on the brewing heritage of the past. Cask Parties are on the horizon across the country, including Whitelocks Ale House in Leeds and The Free Trade Inn in Newcastle.
Five Points Green-Hop launches at Fuggles Beer Cafe in Tonbridge, Kent, on Thursday 2nd November, and will be on sale in other awesome cask ale pubs across the UK from Friday, 3rd November. Fuggles Beer Cafe has won a host of awards for its commitment to great beer, including most recently West Kent Camra Pub of the Year 2017.
Tasting Notes: Five Points Green Hop is a 3.7% ABV English Bitter, brewed with freshly picked "green" Bullion Hops straight from the vines, and low colour British Maris Otter malt, which allow the hop notes to shine through. Expect zesty citrus and blackcurrant aroma notes.
Brewery Notes: The Five Points Brewing Company is an independent craft brewery based in Hackney, London, brewing with a commitment to quality and the community since 2013. We champion flavour, provenance, consistency and quality, and our range of award winning beers are unfiltered and unpasteurised for a better flavour and aroma. Our beers are inspired by the founders' passion for both the British real ale tradition and the best of the international craft beer movement."