Session IPAs take the two overall top spots at SIBA South East Independent Beer Awards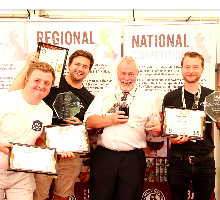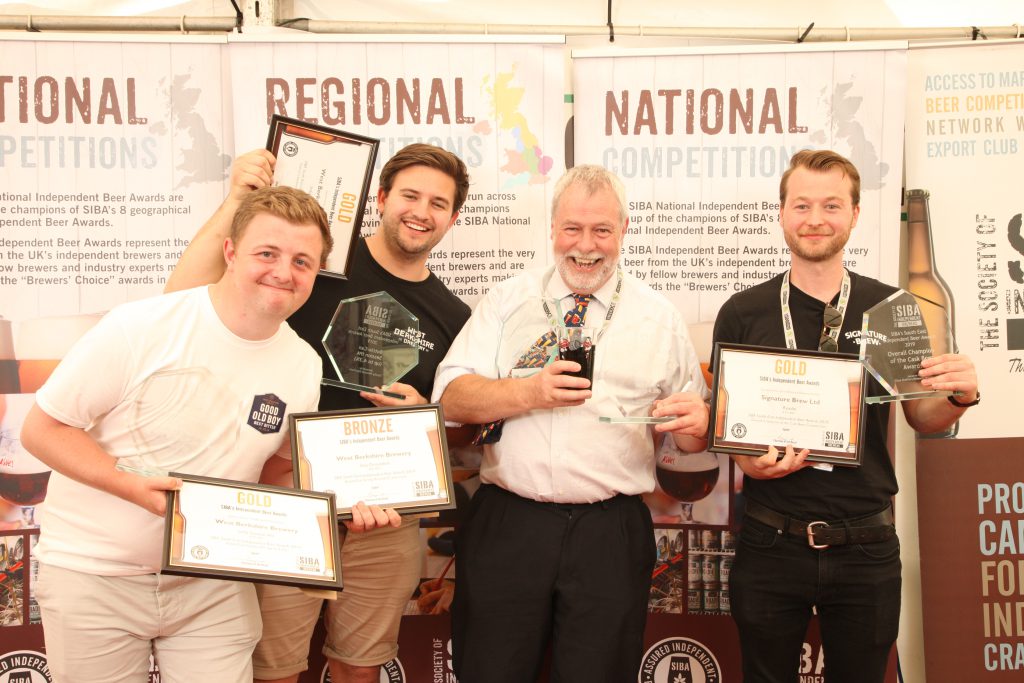 Two session strength beers have surpassed stronger rivals at a flagship beer competition in the South East. Signature Brew's 'Roadie' has been named the best cask beer in the South East, with West Berkshire Brewery's 'India Session Ale' being awarded best bottle and can beer, at the Society of Independent Brewers' (SIBA) South East Independent Beer Awards.
Both beers are Session IPAs, meaning they have to be 4.3% or under as apposed to the regular 'IPA' category where beers can be up to 6.4%, or the 'Imperial IPA' category where the brews are even stronger still.
Signature Brew won the cask competition Session IPA category and West Berkshire won the same category in the bottle and can competition, before both beers went on to take overall Gold in the final judging, which pits various beer styles of all strengths against each other.
Commenting on the awards was Guy Sheppard, SIBA Competitions Chair,
"Both of these beers are aromatic, inviting and hugely drinkable and were tasting on fantastic form at the South East Independent Beer Awards held once again at the excellent Juddians Beer Festival in Tonbridge. I'd like to say a huge well done to Signature Brew and West Berkshire and also to all of the other brewers who took home awards this year – the South East is an exciting region for beer and the quality of entries was impressively high, you should be very proud of your achievement." 
George from Signature Brew was there to accept their Overall Gold Award, "Thanks so much, it means a lot, we really believe in cask beer and love how this beer is tasting right now. Roadie is our flagship beer, it's the one that people know us for so it's great that people are loving it so much."
Describing the beer George added, "It's a citra single hop beer with a light malt bill, which makes it really quaffable. It's the only beer we do on cask at the moment and we do it because we believe in it so much, it's a great cask beer and we're really proud of it."
Aiden & Will were there representing West Berkshire Brewery, and accepted the award on behalf of the whole team, "Everyone at the brewery will be celebrating tonight with a couple of session ales! This beer is one of our favourites from our new rang,e which has expanded quite a bit recently so we're delighted to win with it."
Describing their Indian session pale ale, Aiden added "It's a light IPA, a session version of an india pale ale, 4.2% and nice and hoppy but very drinkable. We love it."

The SIBA South East Independent Beer Awards took place over the weekend ahead of the SIBA Juddians Beer Festival in Tonbridge. The competition is one of eight regional competitions run by the Society of Independent Brewers across the UK, with winners going on to the National finals held at BeerX UK 2020 in Liverpool.
Full Winners List
SIBA North East Independent Beer Awards 2019
OVERALL Champion of the Cask Competition
Sponsored by Close Brothers Brewery Rentals
Brewery
Product
ABV
Gold
 Signature Brew Ltd
 Roadie
4.3
Silver
 Bedlam Brewery
 Amagansett American Pale Ale
5
Bronze
 Gun Brewery
 Zamzama
6.5
Cask British Dark Beers (up to 4.4%)
Brewery
Product
ABV
Gold
 Long Man Brewery
Old Man
4.3
Silver
 Gun Brewery
Parabellum
4.1
Bronze
 Canterbury Brewers & Distillers
Canterbury Stout
4.1
Cask British Dark Beers (4.5 to 6.4%)
Brewery
Product
ABV
Gold
 The Five Points Brewing Company
Railway Porter
4.8
Silver
 Pilgrim Brewery
Saracen Stout
4.5
Bronze
 Brumaison
1770 London Porter
4.7
Cask British Bitters (up to 4.4%)
Sponsored by Charles Faram & Co. Ltd
Brewery
Product
ABV
Gold
 Pilgrim Brewery
Progress
4
Silver
 Andwell Brewing Company Ltd
King John
4.2
Bronze
 New River Brewery Ltd
Twin Spring
4
Cask Premium Bitters (4.5 to 6.4%) 
Sponsored by Rankin Brother & Sons
Brewery
Product
ABV
Gold
 Westerham
 Audit Ale
6.2
Silver
 Sambrook's Brewery
 Junction Ale
4.5
Bronze
 New River Brewery Ltd
 Isle of Rye
5.2
Cask Session IPA (up to 4.3%)
Sponsored by Rastal GmbH & Co. Ltd
Brewery
Product
ABV
Gold
 Signature Brew Ltd
Roadie
4.3
Silver
The Wimbledon Brewery Company LTD
SW19 Blonde Ale
4
Bronze
 The Five Points Brewing Company
Five Points XPA
4
Cask Premium PAs (4.4 to 5.4%)
Sponsored by Crisp Malt
Brewery
Product
ABV
Gold
 Bedlam Brewery
Bedlam Amagansett American Pale Ale
5
Silver
 Long Man Brewery
American Pale Ale
4.8
Bronze
 Tonbridge Brewery Limited
American Pale
5
Cask IPA (5.5 to 6.4%)
Sponsored by Close Brothers Brewery Rentals
Brewery
Product
ABV
Gold
 Stratford International Brewhouse (T/A Tap East)
IPA
6
Silver
 The Park Brewery
Spankers IPA
6
Bronze
The Wimbledon Brewery Company LTD
Quartermaine IPA
5.8
Cask Speciality Light Beers
Brewery
Product
ABV
Gold
 Flack Manor Brewery
Romsey Gold
4
Silver
 Red Cat Brewery
Art of T
3.6
Bronze
 By The Horns Brewing Co.
Tropika
4.5
Cask Speciality Mid to Dark Beers
Brewery
Product
ABV
Gold
 BEXLEY BREWERY
Black Prince Rum Porter
5
Silver
 Mad Cat Brewery Ltd
Cat-ro
4
Bronze
 Stratford International Brewhouse (T/A Tap East)
Coffee In The Morning
5.6
Cask Strong Beers 6.5% and over
Brewery
Product
ABV
Gold
 Gun Brewery
Zamzama
6.5
OVERALL Champion Bottle/Can Beers
Sponsored by Croxsons
Brewery
Product
ABV
Gold
 West Berkshire Brewery
 India Session Ale
4.2
Silver
 Redemption Brewing Company
 Hopspur
4.5
Bronze
 Westerham
 Wally Winkers Death By Chocolate
4.5
Bottle/Can British Dark Beers (up to 4.4%)
Brewery
Product
ABV
Gold
 Gun Brewery
Parabellum
4.1
Silver
 The Crafty Brewing Co. Limited
Dunsfold Best
4
Bronze
 Bowman Ales Limited
Meon Valley Bitter
3.9

Bottle/Can British Dark Beers (4.5 to 6.4%)
Brewery
Product
ABV
Gold
 The Cronx Brewery
 Entire
5.2
Silver
 East London Brewing Company
 Quadrant Oatmeal Stout
5.8
Bronze
 By The Horns Brewing Co.
 Lambeth Walk
5.1
Bottle/Can British Bitters (up to 4.4%)
Brewery
Product
ABV
Gold
 Andwell Brewing Company Ltd
Gold Muddler
4.2
Silver
 Whitstable Brewery Co Ltd
East India Pale Ale
4.1
Bronze
 Long Man Brewery
Copper Hop
4.3
Bottle/Can Premium Bitters (4.5 to 6.4%)
Brewery
Product
ABV
Gold
 Redemption Brewing Company
 Hopspur
4.5
Silver
 Whitstable Brewery Co Ltd
 Kentish Reserve
5
Bronze
 Andwell Brewing Company Ltd
 King John
4.6
Bottle/Can Session IPA (up to 4.3%)
Sponsored by Totally Natural Solutions
Brewery
Product
ABV
Gold
 West Berkshire Brewery
India Session Ale
4.2
Silver
 Reunion Ales Ltd
Air Supply
4
Bronze
 Hammerton Brewery
N1
4.1
Bottle/Can Premium PAs (4.4 to 5.4%)
Sponsored by Beatson Clark Ltd
Brewery
Product
ABV
Gold
 Wild Card Brewery
 NEIPA
5.4
Silver
 Pilgrim Brewery
 Pioneer
4.5
Bronze
 The Park Brewery
 Small Riot
4.5
Bottle/Can Can IPA (5.5 to 6.4%)
Sponsored by QCL Scientific
Brewery
Product
ABV
Gold
The Wimbledon Brewery Company LTD
Wimbledon IPA
6.2
Silver
 Redemption Brewing Company
Big Chief
5.5
Bronze
 Wild Card Brewery
India Pale Ale
5.5
Bottle/Can Can Imperial IPA (6.5% and over)
Brewery
Product
ABV
Gold
 Wild Card Brewery
DDH IPA
7.5
Silver
 Signature Brew Ltd
Double Roadie – Gyle 500
8.6
Bronze
 Gun Brewery
Zamzama
6.5
Bottle/Can Session Lager & Pilsners
Brewery
Product
ABV
Gold
 By The Horns Brewing Co.
Lager
4
Silver
 Gun Brewery
Numb Angel
4
Bronze
 Whitstable Brewery Co Ltd
Kentish Lager
4.1
Bottle/Can Premium Lager & Pilsners
Brewery
Product
ABV
Gold
 Whitstable Brewery Co Ltd
Whitstable Pilsner
4.9
Silver
 Windsor and Eton Brewery
Republika Lager
4.8
Bronze
 Andwell Brewing Company Ltd
Pilsner
4.8
Bottle/Can Speciality Light Beers 
Brewery
Product
ABV
Gold
 Windsor and Eton Brewery
Uprising's Caught By The Fuzz
5
Silver
 Laine Brew Co
MANGOLICIOUS
4.7
Bronze
 Signature Brew Ltd
Festival Saison
4.8
Bottle/Can Speciality Mid to Dark Beers 
Brewery
Product
ABV
Gold
 Westerham
 Wally Winkers Death By Chocolate
4.5
Silver
 Hammerton Brewery
 Crunch
5.4
Bronze
 Signature Brew Ltd
 Nightliner
5.7
Bottle/Can Sours/Spontaneous
Brewery
Product
ABV
Gold
 The Park Brewery
Lemon Sour IPA
5.8
Silver
 Red Cat Brewery
Beach Towels in Paradise
4.5
Bronze
 CRATE Brewery
CRATE Citra Sour
3.6
Bottle/Can Strong Beers 6.5% and over
Brewery
Product
ABV
Gold
 Signature Brew Ltd
Anthology
10
Silver
The Wimbledon Brewery Company LTD
XXXK Vintage Ale
10
Bronze
 West Berkshire Brewery
Stay Grounded
10