Five Points brew a beer for Poppies Fish & Chips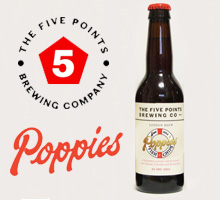 Poppies Pale Ale x The Five Points Brewing Co: A match made in East End heaven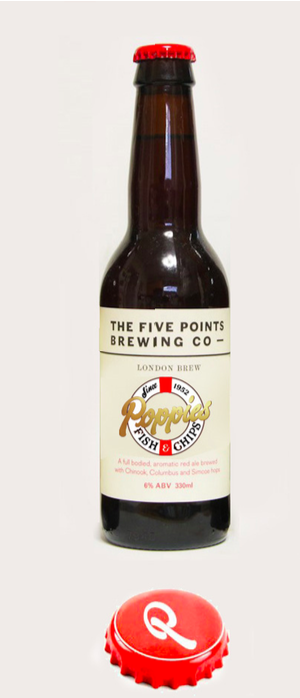 Award winning Poppies Fish & Chips and The Five Points Brewing Company are collaborating for the first time to create the ultimate beer to accompany the nation's most loved supper – fish & chips. Poppies Pale Ale will officially launch at Poppies Soho site in celebration of National Fish and Chip Day on Friday 2nd June 2017.
Poppies
Poppies is renowned for it's authentic, award-winning fish and chips. From fresh seafood delivered daily by third-generation Billingsgate fishmongers, to Poppies in-house filleting, the shop buzzes with tradition and passion.
It's this winning formula which has earned Poppies cult-status. A combination of ethical awareness, care and precision, mixed with decades of experience, jellied eels, and a hefty dose of East End charm.
"We've had great fun collaborating with The Five Points team on Poppies Pale Ale. It's an excellent brew with a nod to our East End heritage, and we can't wait to see the reaction to it" – Ural Hassan – Poppies Co- owner
The Brewery
The Five Points Brewing Co is based in Hackney, East London, brewing flavoursome craft beer in a Victorian railway arch underneath Hackney Downs Railway Station. Founded December 2012, they have a commitment to the local community, were the first UK brewery to be an accredited Living Wage employer and were instrumental in establishing a local Apprenticeship scheme for school leavers in the brewing industry. All their beer is unfiltered and unpasteurised.
The brewery's Owner & Founder Ed Mason worked with Head Brewer and co- founder Greg Hobbs to develop a unique recipe for the Poppies Pale Ale Brew.
"We loved the challenge of developing a unique recipe to pair with Fish & Chips, and working with an independent local business wit similar business values to ourselves helped seal the deal!" – Ed Mason, Owner & Founder, The Five Points Brewing Company
"Working together with Boutique Bar Brands and the Poppies team to create the perfect beer for fish & chips has been a really exciting and unusual project. We are passionate about beer and food matching, and delighted with the result of the Poppies Pale Ale" – Greg Hobbs, Head Brewer at The Five Points Brewing Co
The Beer
Poppies Pale Ale has been brewed and developed over many months at The Five Points brewery in Hackney Downs, along with expert beer sommeliers from drinks agency Boutique Bar Brands. From the keg to the bottle, the beer has been attentively brewed to perfectly partner with delicious battered fish and hot chips.
Classified as an English Pale Ale, Poppies Pale Ale uses 100% British malt and hops, grown in Kent. Created with fish & chips in the forefront, the brew combines the perfect elements and flavours to compliment and balance this much-loved British food paring:
1) Dryness – A refreshingly dry bitter finish to cut the fats in the dish and clean the palate
2) Citrus – A lemony hop character to bring a zesty flavour to each mouthful and tie everything together with a 'zing'
3) Biscuit – A pronounced biscuity malt character to complement the crispy batter
"At Boutique Bar Brands, we are always looking for innovative ways to promote independent beer and encourage beer and food matching. From an initial get- together over a plate of Poppies fish and chips, to the finished result, it has been fantastic to be part of the development of this authentic new beer" – Charlie Poutney, Marketing Director & Accredited Beer Sommelier