The Chiltern Brewery donate £300 to Horatio's Garden at Stoke Mandeville Hospital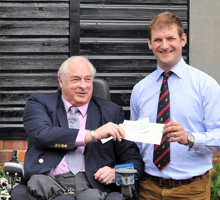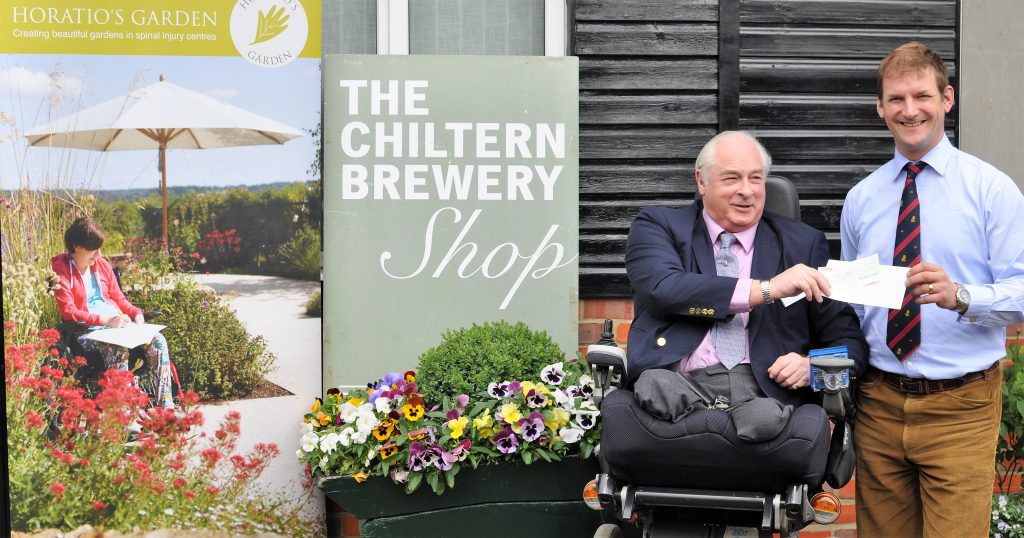 New Charity Ale Raised 5p for Every Pint Sold

Buckinghamshire and the Chiltern's oldest independent brewery, The Chiltern Brewery based in Terrick near Wendover, presented a cheque for £300 to charity, Horatio's Garden on Friday 19th May for their project to create and care for an accessible garden sanctuary in the spinal injuries unit at Stoke Mandeville Hospital. The donation comes from money raised from every pint sold of their special limited edition ale from earlier this year – Pride of Bucks & Berks.
Head Brewer Tom Jenkinson said. "This is a proud moment. Our bucolic setting here in the beautiful Chiltern Hills is a constant inspiration and reassurance to us – from the tastes and names of the ales to our logo and branding. We really hope that the creation of a peaceful green space at the hospital can act as an important solace and stimulus to patients and their relatives and friends."
Mike Mackenzie, Patron of Horatio's Garden was delighted to accept the cheque on behalf of Executive Trustee, Treasurer of Horatio's Garden, Victoria Holton, who said "The funds raised will help bring to fruition a beautiful garden sanctuary to patients with spinal cord injuries and we're hugely grateful to The Chiltern Brewery for supporting Horatio's Garden at Stoke Mandeville".
Brothers George and Tom Jenkinson and The Chiltern Brewery team were voted 'The Pride of Buckinghamshire and Berkshire Life' last year in the prestigious annual Food and Drink Awards from leading regional magazine title Buckinghamshire & Berkshire Life. This special award recognises individuals and businesses which actively and proudly promote the great local food and drink produce that Buckinghamshire and Berkshire offer, so they decided to launch a beer – Pride of Bucks & Berks – in tribute.
Dark amber with a smooth roast malt taste and a citrussy aroma, the ale used the best Class A Maris Otter, Crystal and Roast Barley malts combined with Goldings, Fuggles and Cascade hops to produce a classic English best bitter.
About
The Chiltern Brewery is a second generation family business based in Terrick, near Wendover, Buckinghamshire and started brewing in 1980. George and Tom and their team take terrific inspiration from their beautiful rural surroundings and the geography and history of the county. A fox and beech tree feature on the company logo and beer names for their fine English Ales include John Hampden's Golden Harvest Ale 4.8%, Beechwood Bitter 4.3% and Three Hundred's Dark Old Ale 5.0%.
From its inception 37 years ago, the ethos at The Chiltern Brewery has been to brew natural, wholesome beers using 100% British ingredients – the best malt and hops with great provenance and to mirror age old brewing methods.
Horatio's Garden is named after Horatio Chapple – a schoolboy who wanted to be a doctor and volunteered at the spinal centre in Salisbury. Joe Swift has designed the third Horatio's Garden at The National Spinal Injuries Centre at Stoke Mandeville Hospital. The spinal centre cares for 150 newly injured patients each year including teenagers and children. The capital appeal for £850,000 will create a main garden, a garden room, greenhouse and a children's area for young people with spinal cord injuries. The build is due to start later this year and will take approximately six months to create.