'American IPA' from Navigation Brewery named best beer in the Midlands at SIBA Independent Beer Awards 2021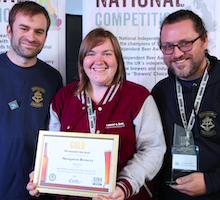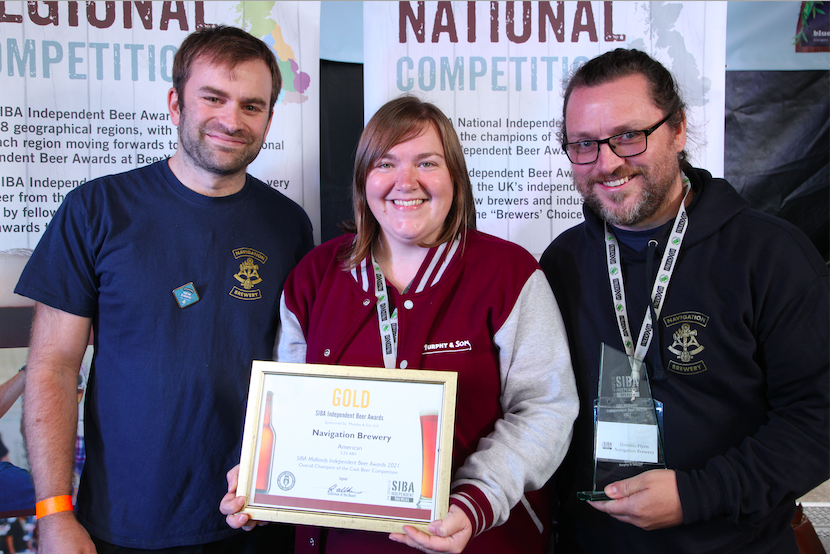 Navigation Brewery have taken home the Overall Champion Cask Beer Award at the Society of Independent Brewers (SIBA) Midlands Independent Beer Awards 2021, which took place at the Robin Hood Beer & Cider Festival.
Their Gold-winning beer 'American IPA' proved a huge hit with the expert judges, described as 'a light and fragrant ale which is dominated by the scents of spring – cherry blossom and acacia, with a delicate balance of floral notes and bitterness'.
The Overall Silver award winner continued the international theme, with Loose Cannon winning with their Belgian style Tripel – coming in at a hefty 8.5%. The Overall Bronze was snapped up by Blue Monkey brewery with their speciality 'Guerilla Chocolate Ameretto' Stout.
The awards took place ahead of the Robin Hood Beer & Cider Festival (organised by CAMRA) at Trent Bridge Cricket Ground, which continues today and over the weekend. Separate to CAMRA's own awards the SIBA Independent Beer Awards are run by the brewers themselves and are judged by fellow brewers from elsewhere in the UK, as well other representatives from the industry and expert beer judges – making these the much coveted 'brewers' choice' awards in the Midlands.
Accepting the top cask beer award for Navigation was Head Brewer Dominic Flynn,
"It's amazing that two years ago we won this same Award with Saviour, which this beer was based on, and it's good to know it is tasting as good as ever. There were some amazing beers in this competition so we really are blown away to win. It's hard work making beer and we just try to make the best examples and styles as possible. We're delighted and very proud."

The Society of Independent Brewers (SIBA) represents independent craft brewers across the UK, and all the winners of the Midlands Independent Beer Awards will now go on to the National Finals at the BeerX UK event in Liverpool, March 2022.
Hosting the awards on behalf of SIBA was Neil Walker, Chair of SIBA's Competitions Committee.
"The quality of beer in the competition was really exceptional and all kept in absolutely perfect condition by the expert cellar team at Nottingham CAMRA Beer Festival. Huge thanks to them and massive congratulations to all of the winners in this year's awards – anyone taking home a category Gold has beaten some incredibly tough competition and should be very proud of their achievement. Particular congrats of course goes to the Overall Gold winner Navigation, who were worthy winners and whom I would wish the best of luck in the National Finals early next year!"
Robin Hood Beer & Cider Festival at Trent Bridge Cricket Ground continues today and
over the weekend, where all of the award-winning beers below will be on sale.
SIBA Midlands Independent Beer Awards 2021 – FULL WINNERS LIST
                    
DATE  OF JUDGING  13th October
Overall Champion of the Cask Competition
Sponsored by Murphy & Son Ltd
Brewery
Product
ABV
Gold

 Navigation Brewery 

 American 

5.2

Silver

 Loose Cannon Brewery 

 Reunion Tripel 

8.5

Bronze

 Blue Monkey Brewery 

 Guerrilla Chocolate Amaretto 

4.9
Cask British Dark Beers (up to 4.4%)
Brewery
Product
ABV

Gold

 Littleover Brewery 

The Panther Stout

4.2

Silver

 Navigation Brewery 

Eclipse Stout

4.1

Bronze

 Shipstones Beer Company 

Nut Brown

4
Cask British Dark Beers (4.5 to 6.4%)
Brewery

Product

ABV

Gold

 Dancing Duck Brewery 

Dark Drake

4.5

Silver

 Loose Cannon Brewery 

Robust British Porter

5

Bronze

 Weal Ales Brewery 

Centwealial Milk Stout

4.9
Cask British Bitters (up to 4.4%)
Brewery

Product

ABV

Gold

 Rebellion Beer Co. Ltd 

 Overthrow 

4.3

Silver

 Brampton Brewery 

 Brampton Best 

4.2

Bronze

 Dancing Duck Brewery 

22

4.3
Cask Premium Bitters (4.5 to 6.4%) 
Sponsored by Charles Faram & Co Ltd

Brewery

Product

ABV

Gold

 Towcester Mill Brewery 

 Steam Ale 

4.5

Silver

 Brampton Brewery 

 Wasp Nest 

5

Bronze

 The Chiltern Brewery  

 Three Hundreds Old Ale  

4.9
Cask Session IPA (up to 4.3%)
Sponsored by Beer Box Shop

Brewery

Product

ABV

Gold

 Dancing Duck Brewery 

DCUK

4.3

Silver

 Charnwood Brewery 

Blue Fox

4.2

Bronze

 Brampton Brewery 

Terminus

4.2
Cask Premium PAs (4.4 to 5.4%)
Brewery
Product
ABV
Gold

 Navigation Brewery 

 American 

5.2

Silver

 Blue Monkey Brewery 

 Infinity IPA 

4.6

Bronze

 Weal Ales Brewery 

 Weller Weal 

4.6
Cask IPA (5.5 to 6.4%)
Sponsored by Premier Systems Ltd
Brewery
Product
ABV
Gold

 Blue Monkey Brewery 

 Infinity Plus 1 

5.6

Silver

 Brampton Brewery 

 Speciale 

5.8

Bronze

 Derby Brewing Company 

 Quintessential 

5.8
Cask Speciality Light Beers
Brewery
Product
ABV
Gold

 Milestone Brewery 

 Raspberry Wheat Beer 

5.6

Silver

 Hollow Stone Brewing Co. 

 Sorbeto – Grapefruit IPA 

6

Bronze

 Weal Ales Brewery 

 Lemon and Ginger Weal 

5.5
Cask Speciality Mid to Dark Beers
Brewery
Product
ABV
Gold

 Blue Monkey Brewery 

Guerrilla Chocolate Amaretto

4.9

Silver

 Old Sawley Brewing Company 

Plummeth The Hour

4.5

Bronze

 Hollow Stone Brewing Co. 

Krubera Stout

5.2
Cask Strong Beers 6.5% and over
Brewery
Product
ABV
Gold

 Loose Cannon Brewery 

 Reunion Tripel 

8.5

Silver

 Backyard Brewhouse 

 Bad Santa 

6.8

Bronze

 Grainstore Brewery 

 Nip 

7.3