Concerned Scottish Brewers write open letter to Cabinet Secretary Roseanna Cunningham on Deposit Return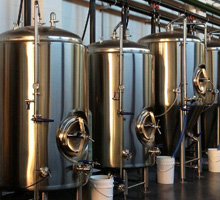 A group of small brewers from across Scotland have today (10 December 2019) written an open letter to the Scottish Government on the proposed Deposit Return Scheme (DRS).
This comes as the consultation for the regulations on DRS is due to close today. As currently designed the Scottish DRS will have major implications for small breweries selling independent craft beer in Scotland.
Commenting on the letter, Barry Watts, Head of Public Affairs at SIBA said:
"Small independent brewers are conscious of their environmental impact and are constantly looking for ways to increase their sustainability. But they have real concerns about how the Scottish DRS is currently designed.
"Breweries fear it will impose unsustainable costs, threaten the future of their businesses and ultimately reduce the choice and availability of independent craft beer in Scotland; now is the chance for the Scottish Government to make changes to the scheme before it is too late."
The 26 small independent brewers based in Scotland have signed the following joint letter to Roseanna Cunningham, Cabinet Secretary for Environment, Climate Change and Land Reform.
A Deposit Return Scheme for Scotland
Dear Roseanna
As small independent brewers we make some of the best beer available in Scotland which is enjoyed by drinkers across our country and beyond.
Our breweries are an important part of our local communities. We care about our country and its future and want Scotland to be a sustainable place to live and work. We also care about the environment and want to do our part to improve it.
However, we are deeply concerned that the deposit return scheme (DRS) as it is currently designed will have major implications for the future of our small businesses and the choice of beer available in Scottish communities. Without changes it will threaten our livelihoods, local jobs and the pubs, bars and shops that we serve.
DRS needs to take account of the size of the business because a scheme designed for global brands cannot work for the small producer. We urge you to consider tiered registration fees and producer fees along with de-minis thresholds. This could be based on the methodology used for the Small Breweries' Relief which provides support for small independent brewers in the UK.
For DRS to be successful, it is likely that a Scottish only SKU will be required on the label. Producing small runs of different labels is very costly for small brewers and we would urge you to consider what support can be provided. We would like to see a cost-effective way to avoid having to place expensive labels of small runs of cans and bottles.
The Scottish Government has established an ambitious timetable for the introduction of DRS in 2021. The proposed implementation period is a short time for small businesses such as ourselves to prepare. If DRS is implemented quickly, it may result in business failure and reduced consumer choice. Given that Westminster is planning to introduce its own scheme it would be sensible to delay the implementation so that there can be one scheme for the whole of the UK.
This is a critical time for small businesses in Scotland, who are facing a multitude of uncertainty from Brexit and other issues. We do not want the DRS to be the tipping point for our businesses and want to work with you to ensure it is a success.
We would welcome the opportunity to meet with you to discuss this matter further or for you to visit one of our breweries to see for yourself the challenges we face.
Yours sincerely
John Anderson
Owner, Red Castle Brewery
Andrew Barnett
Director, Barneys Beer
Tim Butler
Director, St Andrews Brewing Company
Stuart Cail
Master Brewer, Harviestoun Brewery
Jamie Delap
Managing Director, Fyne Ales
Nick Fleming
Managing Director, Ovenstone 109
Kathryn Herculson
Brewery Manager, Lerwick Brewery
Lucy Hicks
Director, Glenspean Brewing
Rob Hill
Head Brewer, Swannay Brewery
Dave Lannigan
Head Brewer, Ride Brewing Co
Fiona Maceachern
Managing Director, Loch Lomond Brewery
Tommy Martin
Black Wolf Brewery
Bob Masson
Director, Dog Falls Brewing Co
David McGowan
Director, Broughton Ales
Rob McKinnon
Director, Loomshed Brewery
Annika Meiklejohn
Director & Co-owner, Tempest Brewing Co
Gerald Michaluk
Director, Arran Brewery
Karen Moore
Office Manager, Kelburn Brewery
Bill Paterson
Director, Fintry Brewing Company
Allan Rimmer
Co-founder, Merchant City Brewing Co
Kate Russell
Director, Inner Bay Brewery
Alastair Scoular
Director, Five Kingdoms Brewery
Christie Slater
Director, Loch Leven Brewery
Jo Stewart
Co-founder, Stewart Brewing
Nigel Tiddy
Managing Director, Windswept Brewing Co
Kenny Webster
Managing Director, Isle of Skye Brewing Co