Salopian Brewery take Overall Gold in first ever Digital Beer Awards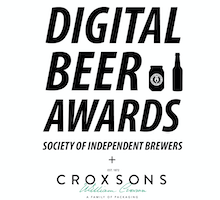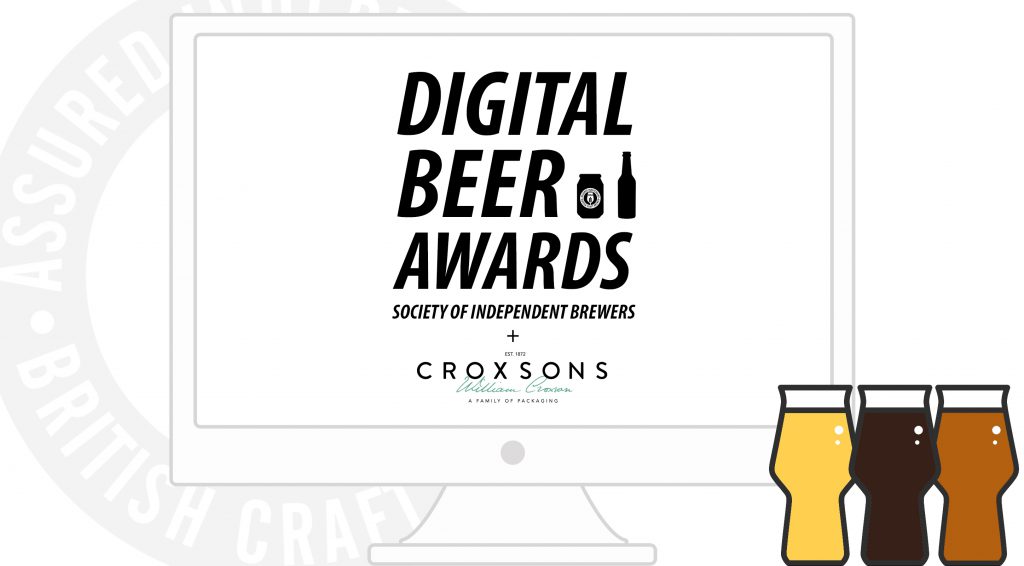 An English Bitter from a brewery in Shrewsbury has beaten almost 500 different beers from across the UK to be named overall Gold at the inaugural SIBA Digital Beer Awards 2020.
'Darwin's Origin' from Salopian Brewery is a copper coloured Bitter given an international twist with an eclectic mix of US, New Zealand and European hops – which give the beer its distinctive lemony aroma and dry finish.
Middlesbrough brewery Play Brew Co's 'Los Bandito', a hazy double-dry-hopped pale ale with big flavours of mango and stone-fruit, took the overall Silver having wowed judges in the Premium Pale Ales category. In the Bronze position overall was London Beer Lab's Session IPA, a wonderfully aromatic, fruity and bitter beer from the Brixton-based brewers which beat out rivals in the hotly contested Session IPA category.
Organised by the Society of Independent Brewers (SIBA) and open to all independent breweries in the UK, the Digital Beer Awards 2020 were a landmark competition, entered by over 180 British breweries. The awards saw almost 500 different beers judged by 50 expert tasters across two live video judging days.
Competition Chair Guy Sheppard, congratulated winners and praised the quality of entries overall
"Congratulations to our very worthy winners who really did have to beat stiff competition from the rest of the UK to take the top spots, the quality of entries was incredibly high and testament to the passion and talent of British brewers in these trying times. I'd like to thank all of the breweries who took the time to enter the competition and send in their beers for judging."
Salopian Brewery's Darwin's Origin, which achieved the highest overall score of any beer in the competition to take the Overall Gold in the National rankings, was first brewed in 2009 to celebrate the bicentennial of Charles Darwin's Birth in Shrewsbury, where the brewery is based. It is described by the brewer as being a "copper coloured beer that evolves with a pronounced hop character which leads to a refined malt finish".
Judges were hugely impressed by the beer's 'great lemony aroma' and commented that it was a 'very good example of a dry bitter with good drinkability'. The timing could also not be more apt – in a year when best bitters have been coming back into fashion with beer drinkers, Darwin's Origin fits snuggly into the resurgence.
Jake Douglas a Director at Salopian noted "the past few months have been a challenging time for Salopian, but we have adapted as many have had to and I am extremely pleased that one of the beers  we brewed and bottled  during lockdown has gone on to win such a prestigious award. Our bottling line has been creaking at the seams recently – earning it's keep – this award is testament to the hard work and diligence of all my team."
Expert beer judges, beer sommeliers and experienced brewers were used to judge beers for their flavour, aroma and quality, marking them against internationally recognised beer styles to determine which beers were most deserving of awards. The 'blind' tasting sessions took place via live video judging sessions across two days.
"The quality of beer in the UK has never been higher and the variety and flavour of beers submitted for the Digital Beer Awards was astounding. The UK is quite simply brewing some of the best beer anywhere in the World and in these awards showcased the full breadth of beer styles now available from independent craft breweries – from modern IPA and Pales Ales, Belgian style saisons and sour beers, to traditional British beers such as bitters, stouts and porters." Guy Sheppard added.
SIBA Digital Beer Awards 2020
National Rankings         
Champion Bottle/Can Beers
Sponsored by Croxsons
Brewery
Product
ABV
Gold
Salopian Brewery
Darwin's Origin
4.3
Silver
PLAY BREW co
LOS BANDITO
5.3
Bronze
London Beer Lab Ltd
Session IPA
4.2
Bottle/Can British Dark Beers (up to 4.4%)
Sponsored by Simpsons Malt
Brewery
Product
ABV
Gold
Black Sheep Brewery
Milk Stout
4.4
Silver
Stewart Brewing
Stewart's 80/-
4.4
Bronze
Dawkins Ales
East Bristol Session Porter
4.1

Bottle/Can British Dark Beers (4.5 to 6.4%)
Sponsored by Simpsons Malt
Brewery
Product
ABV
Gold
Star Wing Brewery
Stain Glass Blue
5.4
Silver
The Hop Shed Ltd
Phoenix Porter
5.2
Bronze
Palmers Brewery
Tally Ho!
5.5
Bottle/Can British Bitters (up to 4.4%)
Sponsored by Simpsons Malt
Brewery
Product
ABV
Gold
Salopian Brewery
Darwin's Origin
4.3
Silver
Southbourne Ales Limited
Southbourne Ales Headlander
4.2
Bronze
Abbeydale Brewery Ltd
Daily Bread
3.8
Bottle/Can Premium Bitters (4.5 to 6.4%)
Sponsored by Murphy & Son Ltd
Brewery
Product
ABV
Gold
Palmers Brewery
Palmers 200
5
Silver
Gower Brewery Co Ltd
Gower Power
5.5
Bronze
The Oaks Brewing Company
NZ Pale
4.6
Bottle/Can Session IPA (up to 4.3%)
Sponsored by Clearmark Solutions
Brewery
Product
ABV
Gold
London Beer Lab Ltd
Session IPA
4.2
Silver
Salopian Brewery
Keepsake
4.2
Bronze
Dog Falls Brewing Co
Colloidoscope
4.3
Bottle/Can Premium PAs (4.4 to 5.4%)
Sponsored by Clearmark Solutions
Brewery
Product
ABV
Gold
PLAY BREW co
LOS BANDITO
5.3
Silver
Purity Brewing Company
Session IPA
4.5
Bronze
Exmoor Ales
Exmoor Gold
5
Bottle/Can Can IPA (5.5 to 6.4%)
Sponsored by Rankin Brothers & Sons
Brewery
Product
ABV
Gold
Brew York Ltd
Big Eagle
6.4
Silver
Windsor and Eton Brewery
Uprising's Treason
6
Bronze
Thornbridge Brewery
Jaipur
5.9
Bottle/Can Imperial IPA (6.5% and over)
Sponsored by Lemontop Creative
Brewery
Product
ABV
Gold
Fallen Acorn Brewing Co.
Crystal Haze
7.2
Silver
Padstow Brewing Co
Sundowner 3.0
6.8
Bronze
Brass Castle Brewery Ltd
Disruptor
7.4
Bottle/Can Session Lager & Pilsners
Sponsored by Kegstar
Brewery
Product
ABV
Gold
Thornbridge Brewery
Lukas
4.2
Silver
Signature Brew
Studio Lager
4
Bronze
Weetwood Ales
Kuhl Lager
4.2
Bottle/Can Premium Lager & Pilsners
Sponsored by Core Equipment
Brewery
Product
ABV
Gold
Turpin's Brewery Cambridge
Underback Pilsner
4.6
Gold
Elusive Brewing Limited
Overflow
4.8
Bronze
Bays Brewery Ltd
Devon Rock Craft Lager
4.5
Bottle/Can Amber to Dark Lager
Sponsored by Simpsons Malt
Brewery
Product
ABV
Gold
Utopian Brewing
Vienna Keller
4.8
Silver
Zerodegrees Cardiff
The Beast Black Lager
4.6
Bronze
Bedlam Brewery Ltd
Bedlam BrouHaHa
4.4
Bottle/Can Speciality Light Beers 
Sponsored by Croxsons
Brewery
Product
ABV
Gold
London Beer Factory
Skin Contact
5.5
Silver
BLACK TOR BREWERY LTD
Saison
5.2
Bronze
Tyne Bank Brewery Ltd
Summer Breeze
3.9
Bottle/Can Speciality Mid to Dark Beers 
Sponsored by Croxsons
Brewery
Product
ABV
Gold
Salcombe Brewery Co.
Speyside barrel aged Porter
6.2
Silver
Hammerton Brewery
Crunch
5.4
Bronze
Boss Brewing
Wildfire
4.4
Bottle/Can Sours/Spontaneous
Sponsored by Croxsons
Brewery
Product
ABV
Gold
Ride Brew Co
Mojito Sour
6
Silver
Geipel Brewing
Aloha from Bala
4.4
Bronze
Deviant & Dandy
And The Beat Gose On
4
Bottle/Can Strong Beers 6.5% and over
Sponsored by Pattesons Glass
Brewery
Product
ABV
Gold
Utopian Brewing
Rainbock – Maibock Lager
7
Silver
Fyne Ales
Origins Brewing – Elegy
11.5
Bronze
The Chiltern Brewery
Bodgers Barley Wine
8.5