Gloucester, Swannay, and Wibblers Brewery take overall UK Gold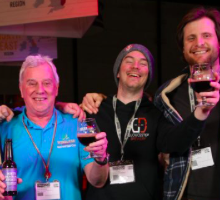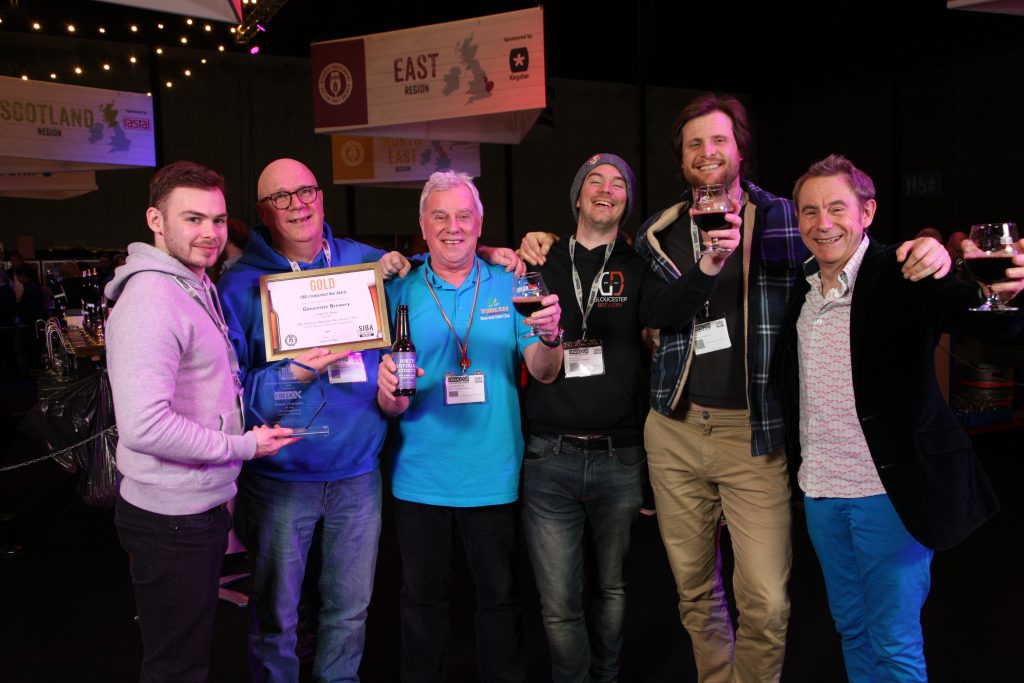 SIBA Independent Beer Awards 2019
Gloucester Brewery and Swannay Brewery have taken home Overall Champion Gold in the Cask and Keg Awards at the SIBA Independent Beer Awards 2019, with Wibblers Brewery being named the best bottled or canned beer.
Judged by brewers and industry experts and organised by the Society of Independent Brewers (SIBA) at their flagship BeerX UK event in Liverpool, the awards run across a huge range of beer style categories in cask, craft keg, bottle and can.
The Overall Champion Cask beer is Gloucester Brewery's 9% ABV 'Imperial Stout' – a punchy beer described as 'rich, smooth, and warming, with aromas of roasted coffee and sultanas.'
In the craft keg competition it was Scottish brewery Swannay that took home the Overall Gold with their 'Muckle IPA', explained by the brewers as such 'Muckle means big and this is one mighty IPA, breathe in the hops!'.
In the can and bottle competition it was Wibblers Brewery's 'Port Infused Imperial Stoat' which like the cask winner is another big and bold imperial stout, this time infused with the flavours of port, and also 9% abv.
Jared Brown, Founder of Gloucester Brewery accepted the award along with his team at BeerX UK,
"It means a lot to win this award amongst so many fantastic breweries and where the standard has been so high. Even to get [category] Gold was enough, but then to go on and win the overall Gold is amazing. It's a really complex beer and at nine per cent you can really pack in loads of flavour and make the beer deep and complex."
John Middleton was collecting the award on behalf of the Wibblers Brewery team, "To get two golds including the overall champion is a massive achievement and the team will be delighted. It's got a really complex recipe of malts which contribute hugely to it's flavour – it's a really superb beer."
The SIBA Independent Beer Awards at BeerX UK are the trade association's National finals and in order to earn a place at the competition brewers must first win at their regional competition – making these overall Champions very much the 'best of the best' when it comes to British independent craft beer.
SIBA Competitions Chair Guy Sheppard, a brewer himself at Exe Valley in the South West, congratulated the winners on their huge achievement:
"The SIBA Independent Beer Awards represent the culmination of a year's worth of regional awards in the run up to the National Finals held here at BeerX UK in Liverpool. These really are the best of the best independent craft beers in cask, keg, bottle and can, and I would like to congratulate all of the winners and in particular our overall golds. Very well done!"
Full Winners List
Overall Champion of the Cask Competition
Sponsored by Close Brothers Brewery Rentals
Brewery
Product
ABV
Gold
 Gloucester Brewery
 Imperial Stout
9.0
Silver
 Loch Lomond Brewery
 Lost in Mosaic
5
Bronze
 Shiny Brewery
 Wrench
4.4
Cask British Dark Beers (up to 4.4%)
Sponsored by IC Filling Systems Ltd
Brewery
Product
ABV
Gold
 Shiny Brewery
 Wrench
4.4
Silver
 West Berkshire Brewery
 Maggs' Magnificent Mild
3.8
Bronze
 Brewster's Brewery
 Aromatic Porter
4.4
Cask British Dark Beers (4.5 to 6.4%)
Sponsored by Rankin Bros & Sons
Brewery
Product
ABV
Gold
 Weal Ales Brewery
 Centwealial Milk Stout
4.9
Silver
 Windswept Brewing Co Ltd
 Wolf
6
Bronze
 Green-Jack Brewing Co.
 lurcher
4.8
Cask British Bitters (up to 4.4%)
Sponsored by Murphy & Son Ltd
Brewery
Product
ABV
Gold
 Fyne Ales Ltd
 Hurricane Jack
4.4
Silver
 The Earl Soham Brewery Ltd
 Albert Ale
4.4
Bronze
 Prescott Ales
 Hill Climb
3.8
Cask Premium Bitters (4.5 to 6.4%) 
Sponsored by Charles Faram & Co Ltd
Brewery
Product
ABV
Gold
 Great Oakley Brewery
 Gobble
4.5
Silver
 Whitstable Brewery
 Pearl of Kent
4.5
Bronze
 Milton Brewery
 Minerva
4.6
Cask Session IPA (up to 4.3%)
Sponsored by Thomas Fawcett & Sons Ltd
Brewery
Product
ABV
Gold
 Quantock Brewery
 QPA
4.0
Silver
 Loch Lomond Brewery
 Southern Summit
4
Bronze
 Great Oakley Brewery
 Tiffield Thunderbolt
4.2
Cask Premium PAs (4.4 to 5.4%)
Sponsored by Crisp Malting Group
Brewery
Product
ABV
Gold
 Loch Lomond Brewery
 Lost in Mosaic
5
Silver
 Ainsty Ales
 Cool Citra
4.4
Bronze
 Bedlam Brewery
 Bedlam Amagansett
5.0
Cask IPA (5.5 to 6.4%)
Sponsored by Rankin Bros & Sons
Brewery
Product
ABV
Gold
 Oakham Ales
 Green Devil IPA
6.0
Silver
 Loch Lomond Brewery
 Bravehop
6
Bronze
 Saltaire Brewery
 Unity
6
Cask Speciality Light Beers
Sponsored by Rankin Bros & Sons
Brewery
Product
ABV
Gold
 Avid Brewing Co Limited
 Raspberry Ripple Ice Cream Pale
4.6
Silver
 Moor Beer Company
 Do It Together
5.2
Bronze
 Ferry Ales Brewery Ltd
 Farmhouse Ale
5.0
Cask Speciality Mid to Dark Beers
Sponsored by NFU Mutual
Brewery
Product
ABV
Gold
 Gloucester Brewery
 Imperial Stout
9.0
Silver
 Hammerton Brewery
 CRUNCH
5.4
Bronze
 RedWillow Brewery Ltd
 Smokeless
5.7
Cask Strong Beers 6.5% and over
Sponsored by Bulk Storage & Process Systems Ltd
Brewery
Product
ABV
Gold
 Loch Lomond Brewery
 Outlander
6.5
Silver
 Exmoor Ales
 Exmoor Beast
6.6
Bronze
 Bowland Brewery
 Dragonglass
7.4
Overall Champion of the Bottle/Can Beers
Sponsored by Schoeller Allibert Limited
Brewery
Product
ABV
Gold
 Wibblers Brewery (Farms) Ltd
 Port infused Imperial Stoat.
9.0
Silver
 The Sheffield Brewery Company
 Berlin Black
5.7
Bronze
 Sonnet 43 Brew House
 Miss Scarlets Revolver Toasted Coconut Mocha Porter
6.8
Bottle/Can British Dark Beers (up to 4.4%)
Sponsored by Norriq Ltd
Brewery
Product
ABV
Gold
 Wolf Brewery
 Sirius Dog Star
4.4
Silver
 Stonehouse Brewery Limited
 Ballast
4.4
Bronze
 Cullercoats Brewery Limited
 Polly Donkin
4.3

Bottle/Can British Dark Beers (4.5 to 6.4%)
Sponsored by Cask Brewing Systems Inc
Brewery
Product
ABV
Gold
 The Sheffield Brewery Company
 Berlin Black
5.7
Silver
 Electric Bear Brewing Company
 Inspector Remorse
4.7
Bronze
 East London Brewing Company Ltd.
 Quadrant Oatmeal Stout
5.8
Bottle/Can British Bitters (up to 4.4%)
Sponsored by Napthens
Brewery
Product
ABV
Gold
 Liberation Brewery
 Liberation Ale
4.0
Silver
 Loddon Brewery
 Night Of The Stag
4.4
Bronze
 Acorn Brewery of Barnsley Ltd
 Yorkshire Pride
3.7
Bottle/Can Premium Bitters (4.5 to 6.4%)
Sponsored by Beatson Clark
Brewery
Product
ABV
Gold
 Wold Top Brewery
 Wold Gold
4.8
Silver
 Cheddar Ales Ltd
 Karst
4.9
Bronze
 Fyne Ales Ltd
 Highlander
4.8
Bottle/Can Session IPA (up to 4.3%)
Sponsored by Rastal GmbH X Co KG
Brewery
Product
ABV
Gold
 RedWillow Brewery Ltd
 Weightless
4.2
Silver
 Gun Dog Ales
 Jack's Spaniels
3.8
Bronze
 Calvors Brewery Limited
 Calvors Session ipa
4.2
Bottle/Can Premium PAs (4.4 to 5.4%)
Sponsored by Core Equipment Ltd
Brewery
Product
ABV
Gold
 Zerodegrees Cardiff
 Downtown Pale Ale
4.6
Silver
 Brewhouse and Kitchen Ltd Bournemouth
 Yankee Hack
4.8
Bronze
 north brewing
 Sputnik
5
Bottle/Can IPA (5.5 to 6.4%)
Sponsored by Vigo Ltd
Brewery
Product
ABV
Gold
 Eight Arch Brewing Co.
 Corbel
5.5
Silver
 Wye Valley Brewery Ltd
 Glorious IPA
6.0
Bronze
 Dhillons Brewery
 Red IPA
6.2
Bottle/Can ImperialIPA (6.5% & Over)
Sponsored by Saxon Packaging Ltd
Brewery
Product
ABV
Gold
 Allendale Brewery
 Wilderness
6.5
Silver
 Swannay Brewery
 Muckle
6.6
Bronze
 The Loose Cannon Brewing Company Ltd
 Double IPA
7.5
Bottle/Can Session Lager & Pilsners
Sponsored by Premier Systems Ltd
Brewery
Product
ABV
Gold
 Beer Monkey Brew Co.
 Evolution Pilsner
4.3
Silver
 Thornbridge Brewery
 Lukas
4.2
Bronze
 By The Horns Brewing Co.
 Lager
4.0
Bottle/Can Premium Lager & Pilsners
Sponsored by Makro Labelling UK Ltd
Brewery
Product
ABV
Gold
 Harbour Brewing Company
 Pilsner Lager
5.0
Silver
 Calvors Brewery Limited
 Calvors Premium Pilsner
5.0
Bronze
 Hawkshead Brewery
 Hawkshead Lager
5.0
Bottle/Can Speciality Light Beers 
Sponsored by Vale Labels Ltd
Brewery
Product
ABV
Gold
 Inner Bay Brewery Ltd
 Pearl
6
Silver
 Elgood & Sons Ltd
 Cherry Wheat Beer
3.6
Bronze
 Stonehouse Brewery Limited
 Witbier
4.2
Bottle/Can Speciality Mid to Dark Beers 
Sponsored by Rastal GmbH & Co KG
Brewery
Product
ABV
Gold
 Wibblers Brewery (Farms) Ltd
 Port infused Imperial Stoat.
9.0
Silver
 Hawkshead Brewery
 Tiramisu Imperial Stout
10.0
Bronze
 Thornbridge Brewery
 Coco Cocoa
5.5
Bottle/CanSours/Spontaneous
Brewery
Product
ABV
Gold
 Elgood & Sons Ltd
 Coolship Mango
5.0
Silver
 Brew York
 Goose Willis
5.3
Bronze
 Thornbridge Brewery
 Tart
6.0
Bottle/Can Strong Beers 6.5% and over
Brewery
Product
ABV
Gold
 Sonnet 43 Brew House
 Miss Scarlets Revolver Toasted Coconut Mocha Porter
6.8
Silver
 Fyne Ales Ltd
 Mills & Hills
9.5
Bronze
 Moor Beer Company
 Old Freddy Walker
7.3
Overall Champion of the Keg Beers
Sponsored by Kegstar
Brewery
Product
ABV
Gold
 Swannay Brewery
 Muckle IPA
6.6
Silver
 Otter Brewery
 Tarka Four
4.0
Bronze
 Orkney Brewery
 Skullsplitter
8.5
Keg British Dark Beers (up to 4.4%)
Sponsored by Muntons plc
Brewery
Product
ABV
Gold
 Neckstamper Brewing
 Bonebox Cooler London Porter
4.4
Silver
 Stonehouse Brewery
 Ballast
4.4
Bronze
 Joseph Holt Ltd
 Black
3.4

Keg British Dark Beers (4.5 to 6.4%)
Sponsored by Pentair Food & Beverage Solutions
Brewery
Product
ABV
Gold
 Padstow Brewing Co
 The Smoke
5.5
Silver
 Dovedale Brewing Company
 Stout
4.6
Bronze
 Windswept Brewing Co
 Wolf
6.0
Keg British Bitters (up to 4.4%)
Sponsored by Schafer Container Systems
Brewery
Product
ABV
Gold
 Rooster's Brewing Co.
 Yankee
4.3
Silver
 Gloucester Brewery
 Gloucester Gold
3.9
Bronze
 Wily Fox Brewery
 Fox Hat
4.2
Keg Premium Bitters (4.5 to 6.4%)
Sponsored by Anton Paar Ltd
Brewery
Product
ABV
Gold
 RedWillow Brewery
 Wreckless
4.8
Silver
 Signature Brew
 Progressive Bitter
4.7
Bronze
 Butcombe Brewing Co.
 Original
4.5
Keg Session IPA (up to 4.3%)
Sponsored by Zoedale
Brewery
Product
ABV
Gold
 salopian
 Auric
4.0
Silver
 Leigh on Sea Brewery
 Legra Pale
3.8
Bronze
 Barngates Brewery
 Pale
3.3
Keg Premium PAs (4.4 to 5.4%)
Sponsored by Close Brothers Brewery Rentals
Brewery
Product
ABV
Gold
 Quantock Brewery
 Titanium
5.1
Silver
 Keith Brewery Ltd.
 Pale Keith
5.0
Bronze
 Love Lane Brewery
 Love Lane Pale Ale
4.5
Keg IPA (5.5 to 6.4%)
Sponsored by Close Brothers Brewery Rentals
Brewery
Product
ABV
Gold
 Love Lane Brewery
 Love Lane Double Dry Hopped IPA
6.1
Silver
 Rooster's Brewing Co.
 Baby-Faced Assassin
6.1
Bronze
 Tap East
 IPA
6.0
Keg Imperial IPA (6.5% and over)
Sponsored by Flextech Hose Solutions
Brewery
Product
ABV
Gold
 Swannay Brewery
 Muckle IPA
6.6
Silver
 Brecon Brewing
 Mind Bleach
10.0
Bronze
 Blackedge Brewing Co Ltd
 DIPA
8.0
Keg Session Lager & Pilsners
Sponsored by SPAsoft Ltd
Brewery
Product
ABV
Gold
 Otter Brewery
 Tarka Four
4.0
Silver
 The Norfolk Brewhouse
 DewHopper
4.0
Bronze
 Rebellion Beer Co. Ltd.
 Lager
4.4
Keg Premium Lager & Pilsners
Sponsored by Keg Logistics UK Ltd
Brewery
Product
ABV
Gold
 Wye Valley Brewery
1985
4.5
Silver
 Woodforde's Brewery
 Conquest
4.5
Bronze
 Barngates Brewery
 Vienna
5.2
Keg Speciality Light Beers 
Sponsored by Festival Glass Ltd
Brewery
Product
ABV
Gold
 Big Smoke Brew Co
 Cold Spark
3.6
Silver
 Stonehouse Brewery
 Witbier
4.2
Bronze
 Tring Brewery
 Earl Grey Pale Ale
4.5
Keg Speciality Mid to Dark Beers 
Sponsored by Muntons plc
Brewery
Product
ABV
Gold
 Hammerton Brewery London
 Crunch
5.4
Silver
 Elgood & Sons Ltd
 Cherry Wheat
3.6
Bronze
 Wily Fox Brewery
 Dark  flagon
5.0
Keg Sours/Spontaneous
Sponsored by Lallemand UK
Brewery
Product
ABV
Gold
 Hawkshead Brewery
 Solar Sour
3.3
Silver
 Elgood & Sons Ltd
 Coolship Mango
5.0
Bronze
 Purity Brewing Company
 Farmhouse Ale
6.0
Keg Strong Beers 6.5% and over
Sponsored by Napthens
Brewery
Product
ABV
Gold
 Orkney Brewery
 Skullsplitter
8.5
Silver
 salopian
 polygraph
7.4
Bronze
 Signature Brew
 Anthology
10.0