Our independent craft brewers need certainty on deposit returns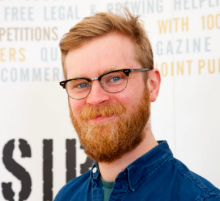 SIBA Chief Executive James Calder writes in BusinessGreen on the proposed Deposit Return Schemes.
Britain has stood at the forefront of the craft revolution in beer. Our country's independent craft brewers constantly innovate to bring drinkers new, exciting and refreshing beer styles from fruity saisons to Double IPAs to our bars, pubs and bottle shops.
Small brewers are also continually seeking ways to make their breweries more sustainable and are conscious of their environmental impact. From water recapture, reed bed technology, thinner glass bottles and better use of spent grain, our craft brewers lead the way.
This is why there is much in the Government's proposed Environment Bill, introduced as part of the Queen's Speech, that is of interest to brewers. We recognise that the time has come for a radical shift in the way we tackle waste. More needs to be done and recycling rates are not as high as they could be or as high as other European countries. This Bill is ambitious and intends to introduce measures through a deposit return scheme, recycling and extended producer responsibility, that will fundamentally change the way we all produce and consume products.
Given how interconnected our markets are – where beer brewed in Cornwall can be enjoyed in Aberdeen – we need a fully thought out system that considers all the issues in their totality to maximise efficiency and to minimise waste. However, and what concerns our brewers, is that this isn't going to be the case. With Scotland ploughing ahead with their own Deposit Return Scheme (DRS) planned for 2021, we do not know whether the one planned for England, Wales and Northern Ireland (expected in 2023) will be inter-operable with the Scottish scheme.
As small businesses which are capital and people intensive, independent craft brewers need certainty. At first a DRS sounds pretty straight forward. For who can grumble at handing over a deposit for each plastic and glass bottle and every can of drink and then get it back when they return it to a shop? Surely this will help drive recycling and encourage us all to change our behaviour?
However, such a scheme is much more complex and the ways in which businesses and consumers will have to adapt is massive. Brewers, under the Scottish proposals to fund the scheme, will have to pay registration fees of hundreds of pounds and producer fees which vary by container and could be between 1.5p-5p per can and bottle. In addition, the only comprehensive way to achieve the scheme is to have a new label on each container sold in Scotland, potentially with a barcode, which can be accepted by Reverse Vending Machines – designed to collect returned deposits. Space on labels in finite and some of our members don't even have barcodes on their labels.  Then there is the impact of dealing with returns in small brewery shops and tap rooms. For a small business, cashflow is king and our brewers need to know where they stand.
While global beer brands can more easily adapt to costs, small brewers cannot. There is a fear that breweries based in London, Bristol and Manchester may stop selling their beers in Edinburgh, Aberdeen and Inverness because of the costs – inevitably reducing the choice and availability of independent craft beer in Scotland.
Given that the Environment Bill will also introduce changes to extended producer responsibility – it needs to work together with a DRS to ensure that there is no 'double taxation' on products that are recycled, where products have to pay through both schemes.
No one wants to see the closure of breweries or the reduction in the choice and variety of beer. But we need to ensure that changes to tackle waste work for the whole of Britain. MPs debating the Queen's Speech and looking at the Environment Bill should give consideration to how we can make it a success. In our opinion, we need a single scheme across all of Britain or a completely inter-operable systems based on the same principles. Differing requirements would be a disaster for manufacturers and cause confusion for consumers. Recycling rates may not go up as much as desired and the potential for fraud across borders will be high.
Any scheme should have a de-minimis threshold so that small producers do not have to pay for expensive infrastructure, costs and fees due to the disproportionate burden it would place on them. We also need to adopt an evidence-based approach which shows that when recycling rates go up, consumers benefit and small producers, such as brewers, are not harmed directly.
We also need to be understood what problem we're trying to solve. With effective kerbside collections already in place, we wouldn't want to undermine this. It is products used on-the-go and plastic containers that are littered most frequently and the most visible elements. Perhaps a scheme should, at least initially, focus on plastic waste, allowing lessons to be learnt. Small businesses  also need time to prepare and require a timescale which is realistic.
Independent craft brewers want to do their bit for the environment. They care about sustainability and improving the impact they have on the world. Now is the opportunity to get this right for our brewers and for our country, but only if we have a scheme that's properly designed.