Are Generation Z the future of craft beer? Report says they'll drink less, but better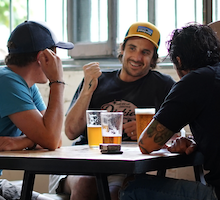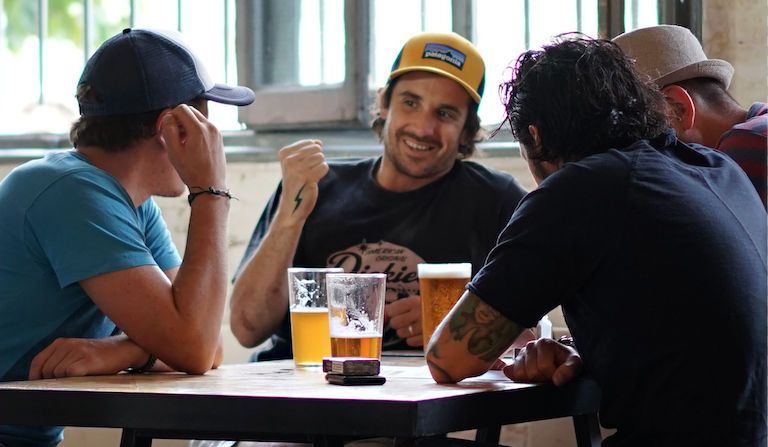 The consumer love affair with craft beer appears far from over, with industry experts predicting the next generation will be "drinking less, but better" – choosing quality products such as local independent craft beers over mainstream, mass-produced brews.
As the Millennial generation (currently aged 23-38) gives way to Generation Z (currently aged under 22) more people will be opting for quality, independent craft beer – at least that's the prediction of the SIBA British Craft Report 2019, a ground-breaking study of the current beer market in the UK.
"All evidence points towards a shift in drinking habits towards quality, and away from the volume drinking of years gone by. It will come as welcome news to the independent brewers who produce flavoursome, interesting craft beers. There is also a need for creating an experience around beer – whether that is tasting flights of beers or pairing beer with food, or running interesting one-off events or games tournaments. We're seeing brewers be more adventurous in what they offer young beer drinkers – in response to the trend for drinking less, but better."Caroline Nodder, Editor of SIBA British Craft Beer Report 2019.
As part of the SIBA Craft Beer Report the Society of Independent Brewers (SIBA) also surveyed their own independent craft brewery members, of which they have around 750 across the UK, finding young people are clearly drinking less than they were a few years ago. Between the 2017 and 2019 surveys the number of 25 to 34-year-olds drinking beer more regularly than once a week fell from 26% in 2017 to 16% in 2019. "Even allowing for seasonal variation – as the 2017 survey was done in August when beer consumption is generally higher, compared to February for the 2019 survey – this does support other research which suggests millennials and the following generation, Generation Z, will drink alcohol less frequently and in lower volumes."Caroline added.
However consumer trends research from Mintel suggests younger consumers increasingly value and will seek out 'genuine' products with heritage, a hand-crafted nature and trusted values – all areas where independent craft beer has a proven track record. The Mintel Global New Products Database (GNPD) from September 2018 also found that 45% of consumers were willing to pay more for craft and agreed that 'craft is worth the extra money'.
Pairing beer with food has also become increasingly popular, particularly amongst young people, with consumer research SIBA commissioned in 2016 through M&C Allegra finding younger consumers are drinking more beer in restaurants than other generations. The 25 to 34-year-olds scored strongly for drinking beer in restaurants, highlighting the greater interest among younger consumers in pairing beer with food, with 18 to 24-year-olds also scoring highly.
Independent craft brewers are taking notice of the trend too, with brewers across the UK going to lengths to attract and keep younger customers – from targeting music and gig venues, to organising table-tennis and foosball tournaments, brewers are keen to engage with young people and the next generation of beer lovers.
Case Studies: Brewers across the UK engaging with young drinkers
Signature Brew – "Brewing for young music lovers"
East London
Signature Brew are the World's number one brewery for band collaboration beers, having brewed with Mastodon, alt-J, Mogwai, Frank Turner, Rodney P, Enter Shikari and over 20 other renowned artists.
"We're on a mission to revolutionise the quality of beer at live music events by bringing an exciting core range (Roadie, Studio Pilsner, Backstage IPA and Nightliner) of music-inspired craft beers to the best bars, venues and festivals in the UK and beyond.
Through our critically acclaimed taproom and music venue in Haggerston in East London we're bringing two passions together with the winning formula of brewery fresh beer, amazing live music and a great space. "Tom Bott, Co-Founder Signature Brew
Led by founders Sam and Tom, the team at their East London brewery is made up of musicians and music fans alike and – with an unwavering commitment to quality – Signature Brew has channelled the spirit and energy of live music into a brewery that stands for craftsmanship, artistry and passion.
It's this ethos that has won us praise from the likes of Rolling Stone, Pitchfork, Kerrang!, NME and MTV as well as the wider UK beer press, the Morning Advertiser, The Independent and Channel 4's Sunday Brunch.
Tomos & Lilford Brewery – "Vegan & Low alcohol beers"
Llandow, Vale of Glamorgan
This Welsh brewer has had a great deal of success with young wedding parties who come and have a beer tasting to select their wedding beer – then spend the day brewing it alongside the expert team of brewers.
They also responded to the surge in veganism, particularly amongst younger drinkers, and have taken steps to become more sustainable – removing unnecessary use of animal products in the brewery and switching to vegan friendly ingredients. 75% of the brewery's beers are now fully vegan.
Younger generations are more discerning about alcohol, many choose not to drink at all, and as such Tomos & Lilford have begun creating a range of lower ABV products, including a 0% beer.
Draycott Brewing Company Ltd – "Peanut Butter Porter proves a hit"
Dale Abbey, Ilkeston, Derby
The brewery did a survey of drinkers 18 – 32 years of age, asking them "What excites you to try a real ale over a keg product?"
The most popular response was if that real ale was totally different from the usual experience. Further surveying found that what this really meant was 'interesting flavours', 'totally different' to what you would normally expect.
From this information the brewery designed, test brewed and are now brewing 'Lord Have Mercy, Peanut Butter Porter" – which is fast becoming their most popular beer, particularly with younger drinkers.
Boss Brewing – "Table Tennis, Foosbal and Craft Beer in Swansea"
Swansea
Boss Brewing's  'Copper Bar' venue in Swansea was recently named the UK's Best Independent Craft Beer Bar or Pub (City) – thanks to a combination of great beer and activities aimed at attracting younger beer drinkers.
They've converted the downstairs of bar into the 'sports bar' of the venue complete with table tennis, foosball, a pool table, giant Jenga and arcade games.
"There's a huge split in the demographics of our drinkers – whilst our more chilled upstairs area is populated with a more mature crowd, the youngsters all congregate downstairs. It's a winning formula because the younger generation really don't do going out 'for a drink' – they expect that little bit more and are looking for entertainment or an activity as a reason to leave the house. We find that they may drink less, but they are happy to go out and drink a couple if there's more to the night than just drinking."Sarah John, Brewer at Boss Brewing
Crucially these activities are all free to use, which matters to young people who are careful with their spending – and Boss say gives them a bit more loose change to buy a beer or two!
St. Andrews Brewhouse – "Phone App proves a hit with young customers"
Norwich, Norfolk
From tap takeovers to food events which match food and beer, St Andrews Brewhouse in Norwich are always looking for new ways to attract younger drinkers, including stocking newly popular sour beers and lower alcohol products.
The company also launched an app which has proved very popular with their younger customers – giving app users points for every use to collect rewards like money off goods and services at all of the City Pub sites. The app is also useful in offering an easier way for paying the bill as it ties in with the till system allowing users to pay on the fly.
Black Tor Brewery – "Diverse range of different beers a draw for young drinkers"
Christow, Devon
This brewery regularly exhibit at popular food and drink festivals, making sure to feature at least four cask ales along with bottled beers, allowing them to have a range of both traditional and modern in style beers – from best bitters and belgian- style witbiers, to dry-hopped IPAs, all served in the best condition and correct temperatures.
They also encourage younger drinkers who have not drank real ale to try all the beers with their head brewer on hand to tell them about the styles and the brewing process. "We find that many have misconceptions about cask ale and are pleasantly surprised by the huge array of flavours and styles, as well as the grain to glass story."Jonathan Crump, Black Tor Brewery
Old School Brewery – "Monthly open night has attracted younger fans"
Warton, Lancashire
On the second Friday of the month Old School Brewery host an open night, designed to attract new audiences and introduce them to the range of beers and venue in Warton. The open nights feature a range of bands and performers from the local area and from across the north of England, attracting a diverse audience and over the last couple of years developed a very loyal following
The popularity of the open nights have resulted in the brewery hosting larger events such as private parties and beer festivals.
The SIBA British Craft Beer Report 2019 can be downloaded in full by clicking here(8MB PDF)