Wheat Beer Challenge open for entries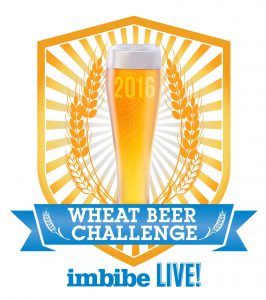 Calling all creative brewers, Imbibe Live's Wheat Beer Challenge is open for entries at live.imbibe.com/beer-challenge.
Entrants have until 20 May to register their entry, with delivery of samples between 13-17 June to Fuller's in Chiswick. The winner will not only score a seasonal listing with a selection of Mitchells & Butlers' leading pubs, but also a trip to the Pilsner Urquell brewery in the Czech Republic.
Following a first round of judging at Fuller's Brewery in Chiswick, the Imbibe Live audience will cast the winning vote at the final in Brewers' Den on Centre Stage on 4 July.
Designed to highlight for Imbibe Live's on-trade audience, what goes into crafting a great beer, the finalists pitch for votes while the audience taste the beers.
Guest judges joining competition chair and Imbibe Live ambassador, Mark Dorber from The Anchor at Walberswick, include this year's Brewer of the Year, Jenn Merrick, Fuller's head brewer John Keeling, and wheat beer specialist and Meantime founder Alastair Hook.
Competition partners There's A Beer for That and SIBA will also be represented along with prize sponsors M&B and Pilsner Urquell.
Beers must contain at least 25% wheat in their mashbill, and have been released this year – or be due to appear later this year. Entries in all styles are being invited, from bière blanche to Berliner weiss, fruit wheat beer to dunkelweiss. To ensure all are able to enter, all formats are welcome, cans and bottles, mini-kegs and mini- casks.
'The wheat beer challenge is an amazing opportunity for brewers to be judged by some of the UK's top brewers and industry experts and potentially be crowned the UK's best Wheat Beer in front of the nation's drinks buyers at Imbibe Live,' said SIBA's Neil Walker. 'This unique event is once again putting beer front and centre and I would encourage as many breweries to enter the competition as possible.'
While finalist Andrew Pringle of Keltek Cornish Brewery said of last year's contest, 'As a small brewery, the 2015 competition was a fantastic opportunity for us to showcase our beer at an event such as Imbibe Live,' the 2015 winner, Tim Dunford of Green Jack Brewery, has already thrown his hat in the ring for 2016.
Further information is available at Imbibe Live or from competition director, James Forbes, james@drinkbritain.com.
Beer & Cider Hub at Imbibe Live
This year's Imbibe Live has a dedicated Beer & Cider Hub. Tasting masterclasses lined up include Fullers' head brewer John Keeling, speaking on The Beauty of Ageing, beer sommelier and Imbibe's Educator of the Year, Jane Peyton, on sour beers, the Czech Trade taking us beyond Pilsner, and the welcome return of Thinking Drinkers, Ben McFarland and Tom Sandham, this time going global with their beer- and trend-infused tour de force.
On the cider side, NACM communications manager, Gabe Cook, aka The Ciderologist, will cover the nuts'n'bolts of craft cider, while the award-winning writer and photographer Bill Bradshaw will take a global outlook.
Exhibitors large and small will include Fuller's, Meantime, Adnams and Heathwick, while cider producers present are similarly diverse, with Cornwall's Healey's, Aspall, Pilton and Bulwark from Canada leading the way.
Hop & Apple Bar
In another departure for 2016, Imbibe Live is launching its Hop & Apple Bar. A hard-working exhibitor package, this offers the chance for breweries and cider houses with smaller budgets to get their beers in front of the Imbibe Live audience.
Please contact Lysanne Desroches, lysanne@imbibe.com for further information.