Wildcard named 'Brewery Business of the Year' in the SIBA Business Awards 2023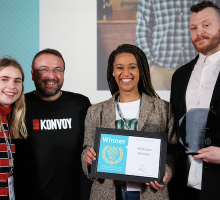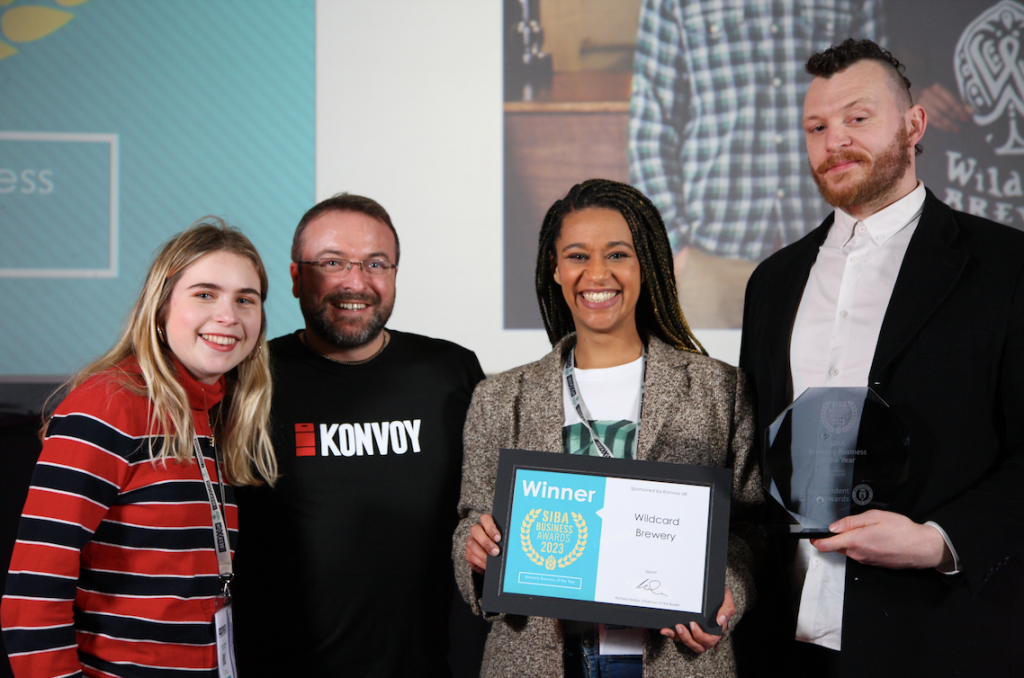 The winners in the SIBA Business Awards 2023 have today been revealed – highlighting the very best beer businesses across the UK – including breweries, pubs, taprooms and bottle shops
Wildcard in Walthamstow, London, took home the award's biggest accolade, winning Brewery Business of the Year 2023 in what was a big night for the beer and brewing industry.
Wildcard's owners Will Harris and Jaega Wise were on hand to accept the award,
"Delighted to win the award – it's just huge recognition for everyone at Wildcard and we're just really poprud of what we have achieved as a team." Will Harris, Wildcard
"We have been going for eleven years now and to get recognition on a national level is unbelievable for the team – we're going to go out tonight and celebrate! At Wildcard we operate a skinny team that works hard, so for us this is the ultimate validation. Sometimes things have got tough over the last couple of years and so an award like this really does mean everything." Jaega Wise, Wildcard.
The SIBA Business Awards are judged by a panel of independent beer industry experts, and organised by not-for-profit trade association the Society of Independent Brewers. The awards cover everything from brewery marketing, design and innovation, to efforts to make businesses more sustainable or impactful. Presenting the awards was beer industry writer and broadcaster Pete Brown, who had this to say on Wildcards win.
"Wildcard were hugely impressive across the board, taking home the top prize in two categories and carve a niche for themselves with unique design, top quality beers and keen business instincts. Their influence on the industry has been huge for what is a relatively small brewery and judges were blown away by just how much they doing to progress the brewery on all fronts." Pete Brown.
The 2023 awards also for the first time included a new "Empowering People" Award, which seeks to highlight the best breweries in the UK to work for by empowering and supporting their teams and championing inclusivity and diversity.
The new award places a spotlight on independent craft breweries who go above and beyond for the members of their team; empowering people to achieve more in their professional career, introducing initiatives and incentives which create a positive working environment, making efforts to promote diversity and inclusivity, or providing benefits or support mechanisms which encourage a happier healthier life for employees.
Joining the expert judging panel for 2023 were Andy Slee, SIBA Chief Executive; Caroline Nodder, Editor of Independent Brewer and the SIBA British Craft Beer Report; Alex Metcalfe, lead on CAMRA Learn & Discover; Jo Hunter, Interior & Architectural Design expert and founder of Hunter's Daughter; Charlie Docherty, SIBA Business Development Officer; and Neil Walker, SIBA Head of Comms & Marketing, who chaired the panel.
SIBA Business Awards 2023
UK's Best Independent Craft Beer Retailer – Single
Brewery Market, Twickenham – Winner
Brews of the World, Burton-on-Trent
CentrAle, Newcastle
The Filling Station, St Ives
UK's Best Independent Craft Beer Retailer – Multiple
10 Green Bottles
A Hoppy Place – Winner
General Stores
UK's Best Independent Craft Beer Retailer – Online
A Hoppy Place – Winner
Beers of Europe
Trembling Madness
UK's Best Independent Craft Beer Bar or Pub – City
Bullhouse East, Belfast – Winner
Craft Republic, Barry
Whitelock's Ale House, Leeds
UK's Best Independent Craft Beer Bar or Pub – Rural
The Baileyhead, Oswestry
Elephant & Castle, Wheathampstead – Winner
The Fox & Hounds Beer House, Caversham
UK's Best Independent Craft Beer Promotion
Hop Forward – Winner
London Craft Beer Festival
Norwich City of Ale
UK's Best Independent Craft Brewery Webshop
Cloudwater
Thornbridge
Wildcard – Winner
Marketing Implementation
Black Sheep – Winner
Hand Brew Co
Siren
Wiper + True
Community Engagement
Adnams
Full Circle – Winner
Moongazer – Highly Commended
Signature Brew
Best Individual Design
Anspach & Hobday – Winner
Full Circle
Red Willow
Best Concept Design
Abbeydale Funk Dungeon
Lakes Brew Co – Highly Commended
North Brewing
Wildcard – Winner
Business Innovation
Hobsons
Lincoln Green – Winner
Commercial Achievement
Bullhouse
Hobsons – Winner
Lakes Brew Co
Utopian
Empowering People – NEW!
Brentwood Brewery
Brewhouse & Kitchen – Winner
Signature Brew – Highly Commended
UK's Best Independent Craft Brewery Taproom
Gun Brewery
Hackney Church Brew Co. – Winner
Wiper + True – Highly Commended
Sustainable Business
Bluestone Brewing Co – Winner (joint)
Purity
Ramsgate Brewery – Winner (joint)
Wasted Degrees
Supplier Associate of the year (Brewer nominated)
Beer Box Shop
Charles Faram
Festival Glass – Winner
Saxon Packaging
Brewery Business of the Year (Judge Awarded)
Wildcard