Backyard Brewhouse & Thornbridge named best brewers in Midlands at SIBA Independent Beer Awards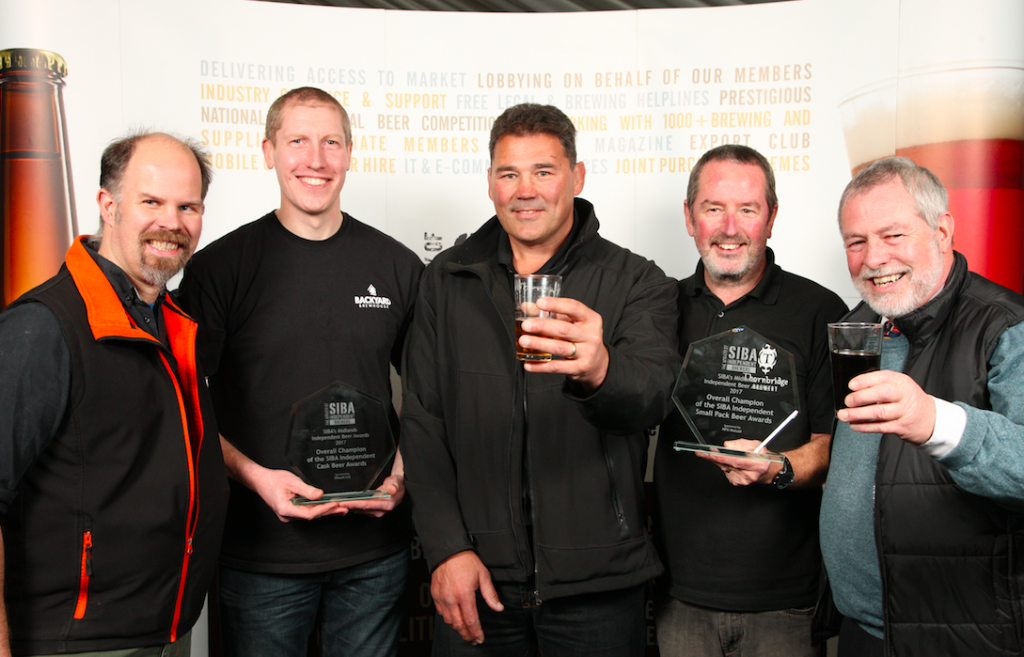 Backyard Brewhouse in Walsall and Thornbridge Brewery in Bakewell have taken home the two top spots at the SIBA Midlands Independent Beer Awards, taking home overall Gold in the cask and small pack competitions respectively.
The prestigious awards, run by the Society of Independent Brewers (SIBA), held at Nottingham Rugby Club prior to their beer festival, are judged by brewers and beer experts and seen very much as the 'brewers choice' awards in the industry.
Backyard Brewhouse's aptly named 'Gold' took home the overall Gold in the cask competition and Thornbridge brewery's AM:PM was named overall small pack (bottle and can) winner.
Commenting on the competition was SIBA Competitions Committee Chair Guy Sheppard, who presented the awards,
"The quality of entries was once again fantastic in the Midlands beer competition, with breweries new and established fighting it out to be named the best beer overall. Backyard and Thornbridge should be hugely proud of nosing ahead of an incredibly accomplished field in these hotly contested awards." 
Former New Zealand All Black and Wasps player Craig Dowd was also on hand to present the awards, representing Nottingham Rugby Club where the competition took place. Collecting the award for Backyard Brewhouse was Ian Hughes, who had this to say on their win,
"Being a small brewery it is a massive accolade to win the SIBA Independent Beer Award, what a huge honour. This has come as a total surprise amongst what I know was fierce competition. It's an intense beer with loads of American Citra hops –  which right now we think is exactly what people are looking for."
Collecting the award for Thornbridge brewery was Alex Buchanan who said,
"We're hugely honoured to win, this means a massive amount to our whole team back at the brewery. We think it's a great beer – bags of tropical flavours such as pineapple, tangerine and passion fruit – which is proving really popular with drinkers."
The competition took place immediately before the opening of the SIBA Midlands Beer Festival 2017, taking place at Nottingham Rugby Club, which runs Thursday 2nd November from 6pm-11pm, then continues Friday 3rd November 12 noon until 11pm and Saturday 4th November 12 noon until 11pm. For more information visit www.nottinghamrugby.co.uk
Full results:
Overall Champion of the Cask Competition
Sponsored by SPAsoft Ltd

Brewery
Product
ABV
Gold
The Backyard Brewhouse
Gold
4.5
Silver
The Backyard Brewhouse
1898
4.9
Bronze
Purity Brewing Company
Bunny Hop
3.5
Cask Standard Mild Ales & Brown Ales
Sponsored by Close Brothers Brewery Rentals

Brewery
Product
ABV
Gold
 The Grainstore Brewery
Rutland Panther
3.4
Silver
 Great Oakley Brewery
Welland Valley Mild
3.6
Bronze
 vale brewery
black swan mild
3.9
Cask Standard Bitters & Pale Ales
Sponsored by Rankin Brothers & Sons

Brewery
Product
ABV
Gold
 Purity Brewing Company
Bunny Hop
3.5
Silver
 Springhead Brewery
Outlawed
3.8
Bronze
 The Chiltern Brewery
Chiltern Pale Ale
3.7
Cask Best Bitters & Pale Ales
Sponsored by Charles Farams & Co. Ltd

Brewery
Product
ABV
Gold
 Purity Brewing Company
Mad Goose
4.2
Silver
 Lincoln Green Brewing Company Limited
Archer
4.0
Bronze
 The Heritage Brewing Company
St.Modwen
4.2
Cask Premium Bitters & Pale Ales 
Sponsored by Crisp Malting Group

Brewery
Product
ABV
Gold
 The Backyard Brewhouse
Gold
4.5
Silver
 Charnwood Brewery
American Pale Ale
4.8
Bronze
 Castle Rock
Elsie Mo
4.7
Cask Strong Bitters & Pale Ales
Sponsored by Murphy & Son Ltd

Brewery
Product
ABV
Gold
 Intrepid Brewing Company Ltd
Myrce IPA
5.3
Silver
 The Backyard Brewhouse
Antipodean
5.6
Bronze
 Slater's Ales
Haka
5.2
Cask Premium Strong Beers
Sponsored by Rastal GmbH & Co. Ltd

Brewery
Product
ABV
Gold
 The Loose Cannon Brewing Co ltd
 Double IPA
7.5
Silver
 Shiny Brewing Company
 Rocket
7.0
Bronze
 Dancing Duck
 Imperial Drake
6.5
Cask Porters, Stouts, Old Ales, Strong Milds & Strong Brown Ales
Sponsored by Brewers Select

Brewery
Product
ABV
Gold
 The Backyard Brewhouse
1898
4.9
Silver
 Brampton Brewery
Brampton Mild
4.9
Bronze
 Shiny Brewery Furnace Brewpub
My Milk Stout Brings All The Boys To The Bar
4.9
Cask Speciality Light Beers
Sponsored by CFB Boilers Ltd

Brewery
Product
ABV
Gold
 Dancing Duck
 Wot the Duck? Duck a l'orange
6.4
Silver
 Grafton Brewery
 Apricot Jungle
4.8
Bronze
 Shiny Brewing Company
 Elevation
4.7
Cask Speciality Mid to Dark Beers
Brewery
Product
ABV
Gold
 Blue Monkey Brewery
Guerrilla Chocolate Amaretto
4.9
Silver
 Fownes Brewing Company
Visions of Heresy
5.7
Bronze
 The Chiltern Brewery
Chiltern Black
3.9
Champion Small Pack Beers
Sponsored by NFU Mutual

Brewery
Product
ABV
Gold
Thornbridge Brewery
AM:PM
4.5
Silver
Ashover Brewery
Littlemoor Citra
4.1
Bronze
Brmapton Brewery
Impy Dark
4.3
Small Pack Standard Mild Ales & Brown Ales 
Brewery
Product
ABV
Gold
 Brampton Brewery
Impy Dark
4.3
Silver
 The Loose Cannon Brewing Co ltd
Abingdon Bridge
4.1
Bronze
 XT Brewing Co
FOUR
4.2
Small Pack Standard Bitters & Pale Ales
Brewery
Product
ABV
Gold
 Ashover Brewery
Littlemoor Citra
4.1
Silver
 The Backyard Brewhouse
Americana
4.3
Bronze
 Lymestone Brewery
Stone Faced
4.0
Small Pack Premium Bitters & Pale Ales
Sponsored by Saxon Packaging

Brewery
Product
ABV
Gold
 Thornbridge Brewery
AM:PM
4.5
Silver
Lincoln Green Brewing Company Limited
Archer
4.5
Bronze
 Weal Ales Brewery
Weller Weal
4.6
Small Pack Strong Bitters & Pale Ales
Brewery
Product
ABV
Gold
 The Chiltern Brewery
300's Old Ale
5.0
Silver
 Loddon Brewery
Forbury Lion IPA
5.5
Bronze
 Peak Ales Ltd.
IPA
6.0
Small Pack Premium Strong Beers
Brewery
Product
ABV
Gold
 Ashover Brewery
Victorian Ruby Mild
7.0
Silver
 Blue Monkey Brewery
Woolly Monkey
6.8
Bronze
 The Grainstore Brewery
Rutland Beast
5.3
Small Pack Standard Lager & Pilsners
Brewery
Product
ABV
Gold
 Charnwood Brewery
 Liska
4.0
Silver
 Derby Brewing Company
 Python Pilsner
4.2
Bronze
 Thornbridge Brewery
 Lukas
4.2
Small Pack Premium Lager & Pilsners
Brewery
Product
ABV
Gold
 Purity Brewing Company
Lawless Lager
4.5
Silver
 Shiny Brewing Company
Shiny Lager
4.5
Bronze
 Nobby's Brewing Company Ltd
Pilsner
4.8
Small Pack Porters, Stouts, Old Ales, Strong Milds & Strong Brown Ales
Brewery
Product
ABV
Gold
 Ashover Brewery
Milk Stout
6.0
Silver
 Brampton Brewery
Brampton Mild
4.9
Bronze
 Blue Monkey Brewery
Guerrilla 500ml Bottle
4.9
Small Pack Speciality Light Beers 
Sponsored by Beatson Clark Ltd

Brewery
Product
ABV
Gold
 Lymestone Brewery
Cherry Stone
5.2
Silver
 Dhillons Brewery
GPA
3.8
Bronze
 Peak Ales Ltd.
Chatsworth Gold
4.6
Small Pack Speciality Mid to Dark Beers 
Brewery
Product
ABV
Gold
 Thornbridge Brewery
 Cocoa Wonderland
6.8
Silver
 Fownes Brewing Company
 Visions of Heresy
5.7
Bronze
 The Backyard Brewhouse
 Coaltown
5.0