Discerning Drinkers: Consumers demand clarity on who is brewing their craft beer

New research published today shows the majority of beer drinkers want greater clarity over who is brewing the beer they drink, following an increase in the popularity of craft beer and a number of buyouts of independent craft breweries by global brewers.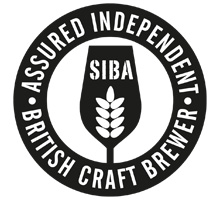 The independent YouGov survey of more than 1,000 beer drinkers was commissioned by SIBA, the Society of Independent Brewers, as part of their campaign to inform consumers of which beers are brewed by their members as truly independent British craft brewers. The 'Assured Independent British Craft Brewer' initiative allows SIBA member brewers who are relatively small, fully independent, and brewing quality beer* to use an 'Assured' seal on their beer products and point of sale marketing material to help them stand out from beers from other brewers
The research showed a large majority (60%) of beer drinkers cared who brewed their beer and more than two-thirds (69%) thought it would be useful to see the logo on beer pump clips, bottles and cans, in order to identify the beer as being brewed by a truly independent craft brewer, rather than a Global beer company. More than half (54%) went even further and said that they would be more likely to drink a beer which carried the logo.
"Quality, flavoursome beer from independent British craft breweries has never been in greater demand, with more people than ever drinking more discerningly and choosing full-flavoured beer. This has of course attracted the attention of the global brewers, who have been buying out previously independent breweries and trying to get their own slice of this growing sector. But what this survey clearly shows is consumers care whether the beer they are drinking was brewed by a truly independent British craft brewer or not – it's all about provenance, transparency and not misleading consumers." Mike Benner, SIBA Chief Executive.
The research also showed that half of beer drinkers (50%) were now drinking 'local craft beer', with this number rising to 61% for 25-34 year olds, suggesting a healthy future for this important British manufacturing industry.
Buyouts of previously independent craft breweries such as Camden Town by ABInBev – the makers of Budweiser – and London Fields by Carlsberg have brought into focus the need for clarity in the beer world. Just days ago Anchor Brewing in America, one of the USA's first craft breweries, was purchased by Japanese giants Sapporro – making a similar seal launched by the Brewers Association across the pond clearly neccessary.
SIBA's "Assured Independent British Craft Brewer" seal was introduced as a way for truly independent craft breweries to differentiate the beers they brew from mass-produced products and has been met with huge praise by brewers in the UK, many of whom will be displaying their wares at CAMRA's Great British Beer Festival today.
"Hundreds of the beers at this year's Great British Beer Festival have been brewed by independent breweries and we have worked with CAMRA to highlight them on the festival bars and in the programme. Independent craft beer is brewed by genuine passionate brewing artisans and that is something beer drinkers really care about, because it's the only way to get the absolute best tasting, most interesting beers."
The logo has been met with huge support from brewers, with SIBA's membership growing 6% in the last 8 months and 50 new breweries signing up to the Trade Association. Mike Benner commented,
"It can be no coincidence that since SIBA launched its 'Assured' scheme our membership has impressively continued to grow by nearly 50 more brewers. British professional brewing businesses recognise the threat of global craft to their business and the Assured scheme Is helping to create a future for independent British craft brewers to differentiate themselves in a crowded market place and helping brewers run sustainable businesses." Benner added.
Ed Mason, Owner of Five Points Brewery, is running the London Brewers Alliance bar at the Great British Beer Festival alongside Redemption and Windsor & Eton Breweries, who are all very proud of being Assured Independent British Craft Brewers,
"I believe that consumers value provenance, and want to support local and independent breweries.  Many consumers don't realise that what looks like an independent local craft beer on the bar can often be owned by one of the global lager brands.
As an industry, we truly independent craft brewers need to be vocal in championing provenance, which is one of the positives of the 'Assured Independent British Craft Brewer' 'seal that SIBA has recently introduced, it's a brilliant way of being open and transparent about our ownership and provenance." Ed Mason, Five Points Brewery.
The initiative has been welcomed by consumer group the Campaign for Real Ale (CAMRA), who run the Great British Beer Festival, who have highlighted the need for consumer's to be able to differentiate between beers brewed by local artisan brewers and large global brewers,
"Consumers should be given access to information to enable them to make informed choices about which beers to drink. There is currently no agreed definition of "craft" beer, either in the UK or abroad. That allows large global brewers, who produce beer in huge quantities, to market their products as "crafted" to boost sales – riding the wave of the popularity of "craft beer" for many drinkers. The discerning customer should have confidence that the beer they've chosen is indeed local and artisan, rather than just the product of clever but deceptive marketing." Tim Page, CAMRA Chief Executive.
Many beers now carry the logo: