Brew York and Rooster's named best independent craft brewers in the North East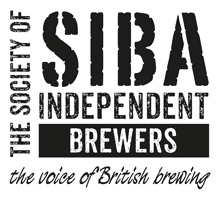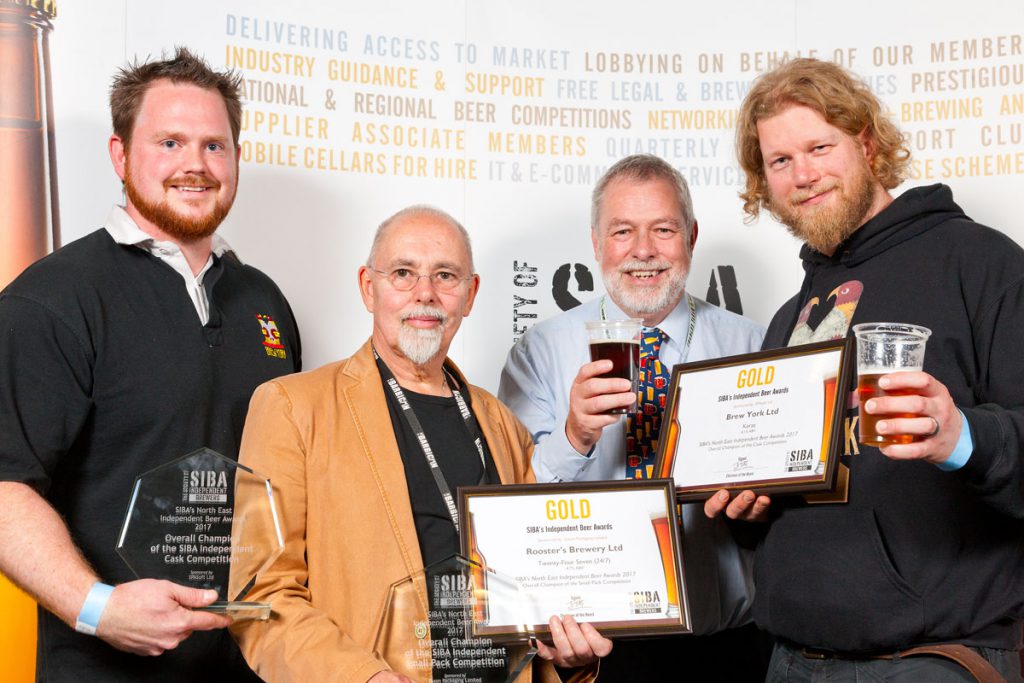 Brew York and Rooster's Brewery have won the two top awards in the SIBA North East Independent Beer Awards. Their win makes it a one-two for North Yorkshire brewers in a competition entered by breweries from the whole of Yorkshire, as well as Humberside, Cleveland, Durham, Tyne & Wear and Northumberland.
The prestigious awards, run by the Society of Independent Brewers (SIBA) at the "B-Fest" Beer, Blues & Folk festival held at the Barbican Centre in York, are judged by brewers and beer experts and seen very much as the 'brewers choice' awards in the industry.
Brew York Brewery from York took home the overall Gold in the cask competition with their 'Keras' American Pale Ale, whereas Rooster's Brewery in Knareborough was named overall small pack (bottle and can) winner for their Twenty-Four-Seven Session IPA.
Commenting on the competition was SIBA Competitions Committee Chair Guy Sheppard, who presented the awards,
"Thanks to all the judges from all around the country, a great new venue at the York Barbican. Thanks to all of the North East Regional Directors and very well done to the winners. The day went so smoothly and highlighted the high quality of beers coming out of the North East Region." 
Brew York's Keras is described as a 'Classic American style session pale, which uses two old-school favourite US hops in Cascade and Chinook. Subtly dry hopped so the fresh citrus and pine notes dominate in this clean, crisp and moreish pale ale', collecting the award was Owner and Brewer Wayne Smith who had this to say on their win,
"We're over the moon, the beer festival is in our hometown so we only have to walk five minutes from our brewery to get here, so we hoped we would be in with a chance! Keras is our one off pale ale so to win gold overall is amazing, the cask that we sent in for the competition is our last cask that we had of it – so we might have to brew some more! It's a classic pale ale with two American hops, Cascade and Chinook, and obviously it's a crowd pleaser so we're quite excited to brew it again."
The smallpack winner, Rooster's Twenty-Four-Seven is described as a Session IPA which combines 'Four big-hitting hops, which come together to create a sessionable, hop-forward pale ale with the intensity of a new world IPA. Amarillo, Chinook and Simcoe from the USA work in harmony with New Zealand's Nelson Sauvin to produce a punchbowl aroma of lemon, tangerine and gooseberry, followed by a balanced grapefruit bitterness.', commenting on their win was Ian Fozard, Owner of Rooster's brewery, who said
"This win is a real tribute to the brewery team and all the hard work they put in perfecting the beers. This is a beer that is growing in popularity with our customers and it's great to see it a hit with judges too!"
The The "B-Fest" Beer, Blues & Folk Festival features 200 of the region's best independent beers, served through 40 rotating handpulls, alongside local craft cider, street food and of course live music from top local bands. What's more as the SIBA North East Region's "Independent Beer Awards" are being judged immediately before the festival opened its doors, locals were the first to try the best-of-the-best beers from the competition.
The beer festival comprises of three 'sessions': 6pm until 11.30pm Friday 18th August, 12 noon until 5.30pm Saturday 19th August and 6.30pm until 11.30pm Saturday 19th August – tickets are available for £6 on the door or via the York Barbican website: http://www.yorkbarbican.co.uk/whats-on/b-fest-york-barbican/
Full Winners List
Overall Champion of the Cask Competition
Sponsored by SPASoft Ltd
Brewery
Product
ABV
Gold
 Brew York Ltd

Keras

4.1
Silver
 Revolutions Brewing Company Ltd
 Swoon Chocolate Fudge Milk Stout
4.5
Bronze
 Settle Brewing Company Ltd
 Nine Standards No.3 Porter
4.7
Cask Standard Mild Ales & Brown Ales
Brewery
Product
ABV
Gold
 Rudgate Brewery Ltd
Ruby Mild
4.4
Silver
 Ilkley Brewery
Ruby Jane
4
Bronze
 Ainsty Ales Ltd
Moloko Mild
3.9
Cask Standard Bitters & Pale Ales
Sponsored by Murphy & Son Limited
Brewery
Product
ABV
Gold
 Settle Brewing Company Ltd
 Mainline Bitter
3.8
Silver
 Cullercoats Brewery Ltd
 Shuggy Boat Blonde
3.8
Bronze
 York Brewery Ltd
 Hansom Blonde
3.9
Cask Best Bitters & Pale Ales
Sponsored by Charles Faram & Co Ltd
Brewery
Product
ABV
Gold
 Brew York Ltd
Keras
4.1
Silver
 Ilkley Brewery
Pale
4.2
Bronze
 Bradfield Brewery Ltd
Farmers Blonde
4
Premium Bitters & Pale Ales 
Sponsored by Muntons PLC
Brewery
Product
ABV
Gold
 Wold Top Brewery
 Wold Gold
4.8
Silver
 York Brewery Ltd
 Otherside IPA
4.5
Bronze
 Cullercoats Brewery Ltd
 Dry Hop Project #23 Ernest
4.8
Cask Strong Bitters & Pale Ales
Sponsored by Rankin Brothers & Sons
Brewery
Product
ABV
Gold
 Rooster's Brewery Ltd
Baby-Faced Assassin
6.1
Silver
 Firebrick Brewery
Wey-Aye P.A.
5.8
Bronze
 Cullercoats Brewery Ltd
Rocket Brigade IPA
5.5
Cask Premium Strong Beers
Sponsored by Rastal GmbH & Co KG
Brewery
Product
ABV
Gold
 Cullercoats Brewery Ltd
 Fortification
7.3
Silver
 Great Heck brewing Co Ltd
 Black Jesus
6.5
Bronze
 North Brewing Co
 Transmission
6.9
Cask Porters, Stouts, Old Ales, Strong Milds & Strong Brown Ales
Brewery
Product
ABV
Gold
 Settle Brewing Company Ltd
Nine Standards No.3 Porter
4.7
Silver
 Ossett Brewery
Rat Brewery Mother Rat
5.5
Bronze
 Acorn Brewery
old moor porter
4.4
Cask Speciality Light Beers
Brewery
Product
ABV
Gold
 Mordue Brewery
 Blood Orange IPA
4.9
Silver
 The Bosun's Brewery
 Razamataz
3.7
Bronze
 Daleside Brewery
 ThaiPA
4
Cask Speciality Mid to Dark Beers
Brewery
Product
ABV
Gold
 Revolutions Brewing Company Ltd
Swoon Chocolate Fudge Milk Stout
4.5
Silver
 Eyes Brewing Limited
Lecker Weisse
4.7
Bronze
 Sonnet 43 Brew House
The Raven Bourbon Milk Stout
4.3
Champion Small Pack Beers
Sponsored by Saxon Packaging Limited
Brewery
Product
ABV
Gold
 Rooster's Brewery Ltd
 Twenty-Four Seven (24/7)
4.7
Silver
 Brew York Ltd
 Tonkoko
4.3
Bronze
 Three Brothers Brewing Company Limited
 Honeysuckle smash
4
Small Pack Standard Mild Ales & Brown Ales 
Brewery
Product
ABV
Gold
 The Sheffield Brewery Company
Brunswick Black
3.5
Small Pack Standard Bitters & Pale Ales
Brewery
Product
ABV
Gold
 Black Sheep Brewery
 Velo
4.2
Silver
 Pennine Brewing Co
 Natural Gold
4.2
Bronze
 Brass Castle Brewery
 Hoptical Illusion
4.3
Small Pack Premium Bitters & Pale Ales
Sponsored by Beatson Clark Ltd
Brewery
Product
ABV
Gold
 Rooster's Brewery Ltd
Twenty-Four Seven (24/7)
4.7
Silver
 Rudgate Brewery Ltd
Jorvik Blonde
4.6
Bronze
 Firebrick Brewery
Stella Spark
4.5
Small Pack Strong Bitters & Pale Ales
Brewery
Product
ABV
Gold
 Maxim Brewery
 Maximus
6
Silver
 Saltaire Brewery Ltd
 Kala Black IPA
6.2
Bronze
 Rooster's Brewery Ltd
 Baby-Faced Assassin
6.1
Small Pack Premium Strong Beers
Brewery
Product
ABV
Gold
 Hambleton Ales
Nightmare Legend
6.5
Silver
 York Brewery Ltd
Legion IX
6.5
Bronze
 Sonnet 43 Brew House
Fierce Panther India Pale Ale
6.9
Small Pack Standard Lager & Pilsners
Brewery
Product
ABV
Gold
 Daleside Brewery
 Daleside Lager
4.3
Silver
 Sonnet 43 Brew House
 Yellow Cab Lager
4.1
Bronze
 Brass Castle Brewery
 Helles
4.4
Small Pack Premium Lager & Pilsners
Brewery
Product
ABV
Gold
 Yorkshire Heart Brewery
Liberty lager
5
Small Pack Porters, Stouts, Old Ales, Strong Milds & Strong Brown Ales
Brewery
Product
ABV
Gold
 Black Sheep Brewery
 Glug M'Glug
6.2
Silver
 Hambleton Ales
 Nightmare Porter
5
Bronze
 York Brewery Ltd
 Britania Milk Stout
4.2
Small Pack Speciality Light Beers 
Brewery
Product
ABV
Gold
 Three Brothers Brewing Company Ltd
Honeysuckle smash
4
Silver
 North Brewing Co
Volta
4.1
Bronze
 Yorkshire Heart Brewery
Get Pithed
4.2
Small Pack Speciality Mid to Dark Beers 
Brewery
Product
ABV
Gold
 Brew York Ltd
 Tonkoko
4.3
Silver
 Yorkshire Heart Brewery
 Rhubarbeer
3.7
Bronze
 Eyes Brewing Limited
 Milch Weisse Nitro
5