Cullercoats Brewery and Ossett Brewery awarded best independent craft beers in the North East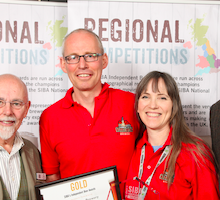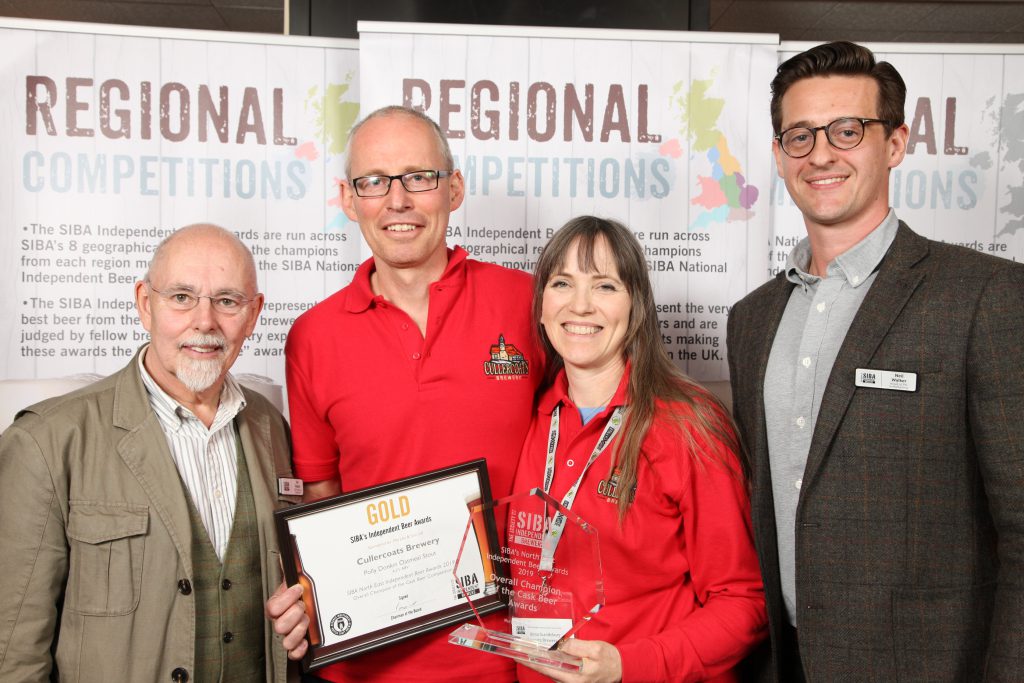 Cullercoats Brewery in North Shields and Ossett Brewery in West Yorkshire have taken the two top spots in the Society of Independent Brewers' SIBA North East Independent Beer Awards, which took place yesterday (3rdMay), with beer judging taking place throughout the day until the awards presentation at Gateshead Beer & Music Festival, which continues today.
Cullercoats Brewery took home overall Gold in the cask beer competition with their 'Polly Donkin Oatmeal Stout', a rich, thick and creamy stout which proved a hit with the expert judges. Ossett Brewery won the overall gold in the bottle & can competition with 'Alpaca',  an aromatic double dry-hopped IPA brewed under their new SALT Beer Factory brand.
The awards are judged by fellow brewers and other representatives from the industry, making these the much coveted 'brewers' choice' awards in the North East, including beers from brewers spanning Berwick-upon-Tweed to Sheffield. Accepting the top cask beer award for Cullercoats was Bill Scantlebury, Head brewer,
"This is the most important award for us to to win as it's judged by our peers. It's a fantastic pat on the back from our fellow brewers and we're very proud to win. It's great to see a traditional beer like this winning against such varied competition too, with all of the amazing beers in this competition it's brilliant that a traditional British Oatmeal stout can win."
Describing the winning beer Bill added,
"It's got a complex recipe with seven different grains and all British hops – Bramling Cross and Jester – which give fruity flavours on top of that lovely roasted malt base, which is very creamy tasting from the oats."
The Society of Independent Brewers (SIBA) represents independent craft brewers across the UK, who are now brewing the broadest range of beer styles ever seen, to quench the thirst for independent craft beer from drinkers and pub-goers. Presenting the awards was SIBA's Head of PR & Marketing Neil Walker,
"The quality of beer in this competition was astounding, with a real variety of styles including more modern New England style hazy IPA's and fruited sour beers going head to head with traditional porters, stouts and barleywines in the final judging. I'd like to congratulate all of the winners and in particular Cullercoats and Ossett who took the overall top spots – winning these awards is a huge achievement and I wish you the best of luck at the National finals next year!"
Winners from the North East Region now go forward to compete at the national finals in Liverpool early next year.
The Gateshead Beer & Music Festival where the judging took place is run in Association with SIBA and is located in Low Fell between Durham Road and Old Durham Road – the festival continues today and sunday.
Full Winners List:
Overall Champion Cask Beer
Sponsored by Murphy & Son Ltd
Brewery
Product
ABV
Gold
 Cullercoats Brewery
 Polly Donkin Oatmeal Stout
4.2
Silver
 Brass Castle Brewery
 Annexation
8.3
Bronze
 Daleside Brewery Ltd
 Monkey Wrench
5.3
Cask British Dark Beers (up to 4.4%)
Brewery
Product
ABV
Gold
 Cullercoats Brewery
Polly Donkin Oatmeal Stout
4.2
Silver
 Goose Eye Brewery Ltd.
Black Moor
3.9
Bronze
 First & Last Brewery
Red Rowan
4
Cask British Dark Beers (4.5 to 6.4%)
Brewery
Product
ABV
Gold
 BAD CO
Dark Necessities
5.5
Silver
 Bridgehouse Brewery LTD
BRIDGEHOUSE PORTER
4.5
Bronze
 Treboom Brewery
Orion's Belt
4.5
Cask British Bitters (up to 4.4%)
Sponsored by Charles Faram & Co. Ltd
Brewery
Product
ABV
Gold
 Acorn Brewery
Barnsley Bitter
3.8
Silver
 Timothy Taylor's
Landlord
4.3
Bronze
 Rooster's Brewing Co.
Capability Brown
4
Cask Premium Bitters (4.5 to 6.4%) 
Sponsored by Rankin Brother & Sons
Brewery
Product
ABV
Gold
 Daleside Brewery Ltd
Monkey Wrench
5.3
Silver
 Hexhamshire Brewery
Whapweasel
4.8
Bronze
 North Yorkshire Brewing Co Ltd
Flying Herbert
4.7
Cask Session IPA (up to 4.3%)
Sponsored by Rastal GmbH & Co. Ltd
Brewery
Product
ABV
Gold
 Hambleton Brewery
SOCIAL LUBRICANT
3.9
Silver
 Ainsty Ales
Flummoxed Farmer
4
Bronze
 Ossett Brewing Company Ltd
White Rat
4
Cask Premium PAs (4.4 to 5.4%)
Brewery
Product
ABV
Gold
 Great North Eastern Brewing Company LTD
Hopnicity
5
Silver
 Three Brothers Brewing Company Limited
Hopical Storm
5.3
Bronze
 Rooster's Brewing Co.
24 7
4.7
Cask IPA (5.5 to 6.4%)
Sponsored by Simpsons Malt
Brewery
Product
ABV
Gold
 Ilkley Brewery
Lotus
5.9
Silver
 Maxim Brewery
Medusa
5.6
Bronze
 Rooster's Brewing Co.
Baby-Faced Assassin
6.1
Cask Speciality Light Beers
Brewery
Product
ABV
Gold
 BAD CO
 OFF Tempo 05-18 Milkshake IPA
5.8
Silver
 Brass Castle Brewery
 Fruit Lupe
4.8
Bronze
 Ainsty Ales
 Wild Wheat
4.7
Cask Speciality Mid to Dark Beers
Brewery
Product
ABV
Gold
 Maxim Brewery
Raspberry Porter
5
Silver
 Hambleton Brewery
BLACK FOREST
5
Bronze
 Ossett Brewing Company Ltd
Black Voodoo
5.1
Cask Strong Beers 6.5% and over
Brewery
Product
ABV
Gold
 Brass Castle Brewery
Annexation
8.3
Silver
 Bridgehouse Brewery LTD
DANDYLION
7
Overall Champion Bottle/Can Beers
Brewery
Product
ABV
Gold
 Ossett Brewing Company Ltd
 Alpaca
6.6
Silver
 Rooster's Brewing Co.
 Baby-Faced Assassin
6.1
Bronze
 Cullercoats Brewery
 Royal Sovereign Barley Wine
11
Bottle/Can British Dark Beers (up to 4.4%)
Brewery
Product
ABV
Gold
 Wensleydale Brewery
Black Dub
4.4
Silver
 The Hop Studio Ltd
Porter
4.3
Bronze
 Cullercoats Brewery
Polly Donkin Oatmeal Stout
4.3

Bottle/Can British Dark Beers (4.5 to 6.4%)
Brewery
Product
ABV
Gold
 Hadrian Border Brewery
Ouseburn Porter
5.2
Silver
 Maxim Brewery
Maximus
6
Bronze
 Ilkley Brewery
Hanging Stone
5
Bottle/Can British Bitters (up to 4.4%)
Brewery
Product
ABV
Gold
 Acorn Brewery
Yorkshire Pride
3.7
Silver
 Hambleton Brewery
STALLION
4.2
Bronze
 Treboom Brewery
Kettle Drum
4.3
Bottle/Can Premium Bitters (4.5 to 6.4%)
Brewery
Product
ABV
Gold
 Hadrian Border Brewery
Grainger Ale
4.6
Silver
 Black Sheep Brewery
Yorkshire Square
5
Bronze
 Ilkley Brewery
Hendrix
4.9
Bottle/Can Session IPA (up to 4.3%)
Brewery
Product
ABV
Gold
 Black Sheep Brewery
Velo
4.2
Silver
 Ainsty Ales
Flummoxed Farmer
4
Bronze
 Ilkley Brewery
Limbo
1.2
Bottle/Can Premium PAs (4.4 to 5.4%)
Sponsored by Beatson ClarkLtd
Brewery
Product
ABV
Gold
 Twice Brewed Brew House
 Northern Frontier
5.3
Silver
 Rooster's Brewing Co.
 24 7
4.7
Bronze
 Hambleton Brewery
 THOROUGHBRED
5
Bottle/Can Can IPA (5.5 to 6.4%)
Sponsored by Simpsons Malt
Brewery
Product
ABV
Gold
 Rooster's Brewing Co.
Baby-Faced Assassin
6.1
Silver
 Black Sheep Brewery
Pathmaker
5.6
Bronze
 Brass Castle Brewery
Sunshine
5.7
Bottle/Can Can Imperial IPA (6.5% and over)
Brewery
Product
ABV
Gold
 Ossett Brewing Company Ltd
Alpaca
6.6
Silver
 Black Sheep Brewery
Legion IX
6.5
Bottle/Can Session Lager & Pilsners
Brewery
Product
ABV
Gold
 Daleside Brewery Ltd
 Lager
 4.30
Silver
 Firebrick Brewery Limited
 Giuseppe
 4.30
Bronze
 Hadrian Border Brewery
 Tyne Pilsner
 4.10
Bottle/Can Premium Lager & Pilsners
Brewery
Product
ABV
Gold
 Black Sheep Brewery
 54 Degrees North
4.5
Silver
 Treboom Brewery
 Trommel
5.1
Bronze
 Rooster's Brewing Co.
 Pilsnear
4.8
Bottle/Can Speciality Light Beers 
Brewery
Product
ABV
Gold
 Black Sheep Brewery
Pineapple IPA
5.3
Silver
 Brass Castle Brewery
Fruit Lupe
4.8
Bronze
 Three Brothers Brewing Company Limited
Honeysuckle smash
4
Bottle/Can Speciality Mid to Dark Beers 
Brewery
Product
ABV
Gold
 Black Sheep Brewery
 Choc & Orange Stout
6.1
Silver
 First & Last Brewery
 Damson Porter
4.8
Bronze
 Ilkley Brewery
 Fruition
5.5
Bottle/Can Sours/Spontaneous
Brewery
Product
ABV
Gold
 Black Sheep Brewery
Limoncello Sour
3.8
Silver
 Rooster's Brewing Co.
One Trick Pony
4.1
Can Strong Beers 6.5% and over
Brewery
Product
ABV
Gold
 Cullercoats Brewery
Royal Sovereign Barley Wine
11
Silver
 Brass Castle Brewery
Monsters Of The Deep
6.5