Cullercoats Brewery champion British Hops at SIBA awards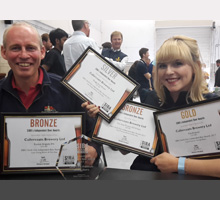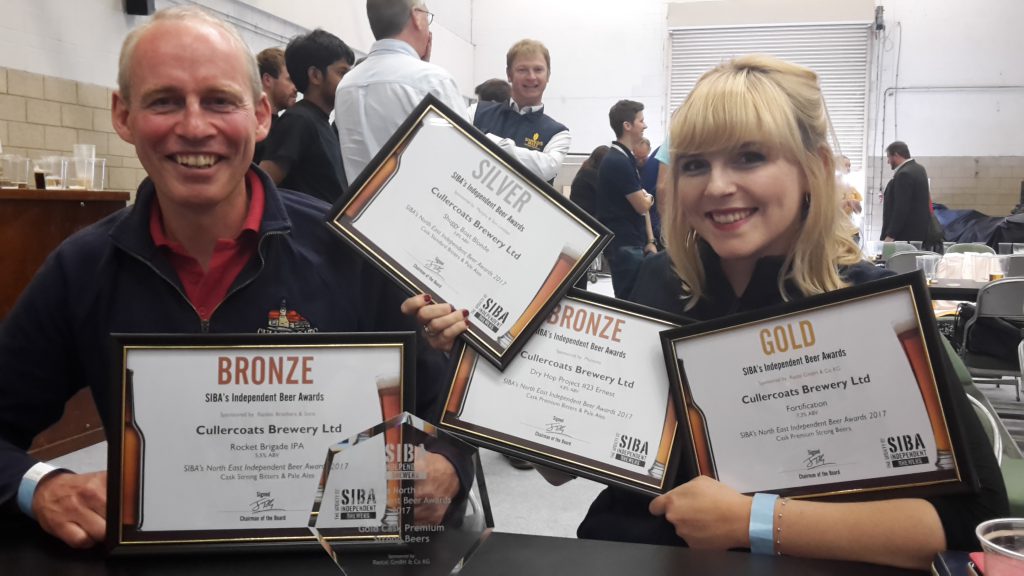 Cullercoats Brewery has brought home an armful of awards from the regional SIBA (Society of Independent Brewers) competition in York, adding to their already impressive collection.
The awards, often cited as 'the brewers' choice' in the industry, are based on blind tastings by a large panel of judges, made up of brewers and other industry experts. 177 cask ales were entered into the competition by 56 independent breweries, located all over the North East Region, from South Yorkshire up to the Scottish Borders.
Fortification ( ABV 7.3%) won Gold, Shuggy Boat Blonde (ABV 3.8%), the brewery's best selling beer, won Silver, with Rocket Brigade IPA (ABV 5.5%) and Dry Hop Project #23 Ernest (ABV 4.8%) both winning Bronze.
Anna Scantlebury, one half of the husband and wife team which set up the brewery almost 6 years ago said:
" To win awards in four out of the nine cask ale categories against such stiff competition is a huge accolade. It's the third consecutive year we've won a Gold award, qualifying the beer to go through to the National competition. We've gone on to win awards at National level twice before, so I'm hoping 2018 will make it a third!
Head brewer Bill Scantlebury said:
"As a brewery we put quality first every time, from the ingredients we buy, to the planning and production of all our beers – the hands-on attention to detail at every stage is what makes the difference. British hops are of exceptional quality and new varieties (such as Ernest) are giving brewers more choice than ever in terms of flavour and aroma. I do hope that our success serves to highlight the brilliant range of home-grown hops now available, not to mention the terrific quality malts from Yorkshire maltsters Fawcetts.
I'm hoping to produce a 'green-hopped' beer in September using freshly harvested hops grown half an hour away from the brewery, certainly the most northerly crop we will have brewed with yet – watch this space!"
Cullercoats brewery currently brews about 5000 pints a week, each one boosting the company's already impressive donation to RNLI , the Lifeboats Charity – over £33000 at the last count. Brewing is all done by Bill and his assistant brewer Sean Hardy, who joined the team 3 years ago. Extra help is brought in for the hand bottling and labelling of their core beers. The bottle conditioned ales are popular with local bars and eateries such as The Boatyard, Cullercoats, Kiln in The Ouseburn, Staiths Café and The View in Tynemouth; they can be bought in Fenwick, Boda Home, Centrale and other independent outlets.
The brewery's next project is a collaboration with Tony Patton of Dog and Rabbit Brewpub in Whitley Bay, producing a hearty IPA to be launched at Tynemouth Beer Festival on 28th September.