Focus Feature: Swan Brewery, Green Business of the Year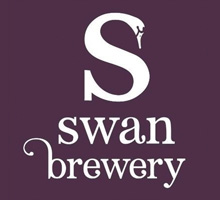 We will be running a series of 'Focus Features' highlighting the previous winners of SIBA's Business Awards in the run up to the launch of the 2018 SIBA Business & Industry Awards on 1st November 2017.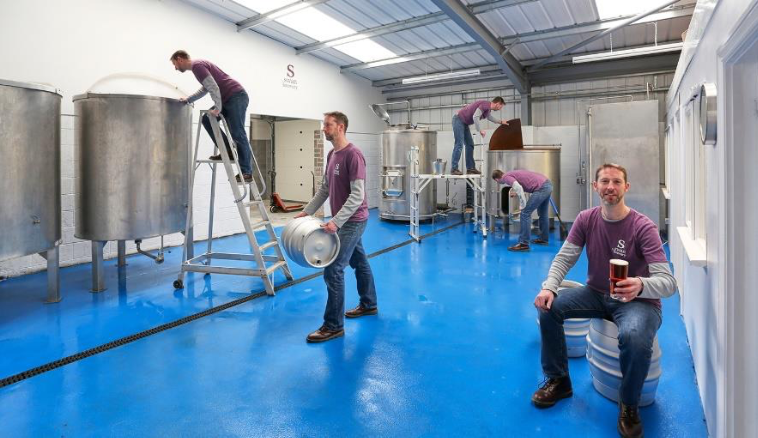 Swan Brewery
Winner of SIBA's Green Business of the Year 2017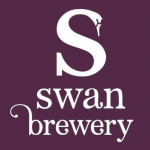 Swan Brewery's efforts to not only make their brewhouse and business activities as environmentally friendly as possible, but to engage their local community in this activity through their 'Green Saturday' open days, was a perfect example of what can be achieved by a small brewery.
Judges also felt that the practical, thoughtful methods employed by the Swan Brewery showed that being Green is something within the reach of every brewery and not just those with large amounts of money to invest.
"The Green Business category has become more and more hotly contested in recent years as an increasing number of independent breweries pay closer attention to their eco credentials. What set Swan Brewery apart was how they had not only carefully considered their environmental impact, but how they had involved their local community through the fun and engaging 'Green Swan Saturdays'." Neil Walker, Judging Chair of SIBA Business Awards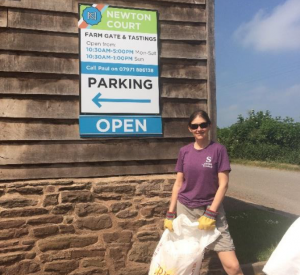 Swan Brewery on their Green Ethos:
We have made a decision to keep green choices and sustainability constantly on our agenda. As the business grows we will already have set in place environmentally conscious ways of working that further staff and stakeholders can embrace. We want to explore what being green and sustainability mean, in addition to the well understood aspects of energy reduction and minimising waste. In our view we widen the definition to include the viability and sustainability of communities: communities where people live, and communities in which businesses operate.
Swan on Engaging with the local community
Our 'Chutneyathon' was organised as part of the local "h.Energy" hub which took place over a weekend at a country park in the county. As well as the publicity that was generated by the organisers, we reached out through posters, social media and town and village newsletters inviting people to attend and donate.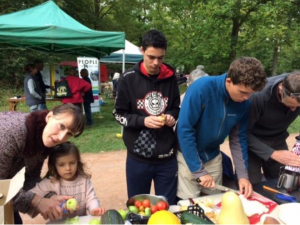 Donations would take the form of vegetables or fruit that could be made in to chutney or relish – perhaps runner beans that had gone too chunky, or beetroot that had grown large and leathery. The Leominster Allotment Association brought together a selection of vegetables grown in the hop-rich-earth created with our spent hops to donate to the Chutneyathon vegetable pile.
Joining us in the preparation were 130 or so visitors, ranging 3 to 90 in age. There were families, couples, men who wouldn't normally even chop an onion (their words), a group of Brownies and some of the allotment holders.
We also took along our small bar and a couple of firkins of ale which provided the beer for the recipes as well as being the hospitality bar for the evening bands. When the chutneys were jarred up these were sold and the money passed on to 2 charities: Wellington School PTA and People in Motion.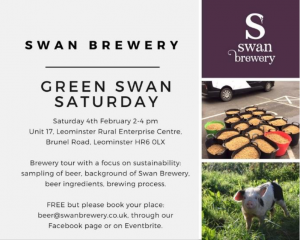 All of the green activities and measures (more listed below) are highlighted at our Green Swan Saturdays, a brewery tour with a focus on sustainability, with the aim to gently educate and inspire on aspects of environmental consciousness and practice.
We also use a hashtag #greenswan on social media to flag up the activities and actions we undertake which have a sustainability angle to them, and we have a section on our website which is similarly named.
Some practical Green measures taken by Swan Brewery:
Swan Brewery's brewing equipment is second-hand and was formerly at Moorside Brewery in Kirkbymoorside, run by ex- Joseph Holts Head Brewer Keith Sheard. This was both a financial decision and also fits with their personal ethos of buying "preloved" items in general.
As with many breweries Swan's malt arrives in 25kg sacks, on wooden pallets. The sturdy malt sacks have been donated to: The charity 'People in Motion' to transport their supplies of clothes, children's toys and camping equipment out to displaced people; to the local Newton Court Cid for collecting apples and pears, as well as a local green woodworker for bagging up shavings and chips of wood. The surplus pallets are donated to a local start up business converting them into furniture.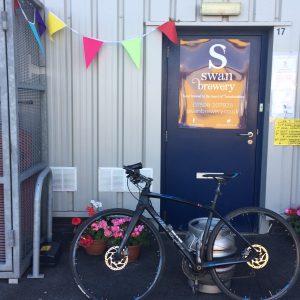 As keen cyclists, when possible a motor vehicle business journey is converted to a cycle journey.
A low emissions van 'Renault Trafic' run in ECO mode is used for beer deliveries. They also limit direct deliveries to a 30-mile radius and work hard to optimise their routes.
Swan Brewery brew with mainly Herefordshire and Worcestershire hops and are receptive to and proactive in trying out new local varieties. An example of this is 'Instone' grown by Simon Parker of Instone Court, Munderfield, a hop which is believed to be a wilt-resistant Fuggles seedling, a strain with a great deal of potential to reduce pesticide usage. This was used in Mortimer Ale, the first commercial beer to feature Instone in the recipe.
Many breweries use dried yeast in their brewing but Swan have chosen to use only wet yeast as it naturally regenerates itself within the brewery, returns the effort of husbandry in cost terms, and reduces consumption of a packaged, processed product.
One of Swan Brewery's neighbours on the Rural Enterprise Park where they are based keeps pigs and there is a well-practised system on brew days using trugs to contain and despatch the still- warm spent grain to the animals.
What can be learned from this Focus Feature?
Swan Brewery have shown that sustainability, social responsibility and community engagement can be undertaken harmoniously and that taking practical, thoughtful measures towards lessening your brewery's environmental impact is within the reach of even the smallest breweries.
The simple steps taken at every stage of their brewing process and the fun, engaging ways in which they have shared this with their local community should act as an inspiration to breweries of all sizes.
SIBA's Business Awards 2018 will open for entries on the 1st November 2017. For more information on the categories, or to see a list of previous winners, click here.