SIBA partner with British Glass & the Can Makers to bring dedicated Bottle and Can bars to BeerX for the first time ever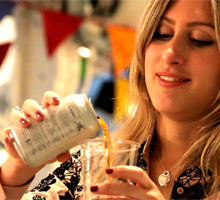 The Society of Independent Brewers (SIBA) have joined forces with British Glass and the Can Makers to bring dedicated bottle and can bars to BeerX next month.
With more and more independent craft breweries packaging their beer into bottles and cans for sale in the on and off-trade, SIBA are partnering with the trade organisations to offer dedicated can and bottled bars at their flagship event BeerX for the first time ever.
BeerAlive! is SIBA's new showcase of independent British craft beer that is open to both the public and trade and forms part of their huge BeerX event in Sheffield from the 16th-19th of March. Within the beer showcase there will be eight regionalised cask and keg bars plus two dedicate bottle and can bars, presented in partnership with British Glass and the Can Makers.
"SIBA are proud to be working with British Glass and Can Makers to show off the fantastic independent craft beers being packaged into bottle and can – proving that great beer comes in a range of different formats. Small pack beer is becoming increasingly important for our members as quality beer begins to make inroads to the hospitality sector, hotels, coffee shops and restaurants more than ever before." Mike Benner, SIBA Managing Director
Martin Constable, Chairman of the Can Makers welcomed the partnership,
"Cans are increasing in popularity as brewers recognise the role they play in maintaining the integrity of their beer and their recyclability. The drink is protected, kept fresh, sealed from light and air and is quick to chill; it is served in the exact state that the brewer intended.
"The improved accessibility of the canned craft beer means that brewers and consumers alike have fallen in love with it; it appears on the shelf in many independent stores and is increasingly listed in supermarkets. Plus, it is opening the craft beer market up to wider markets, attracting more females to what is often considered a male product."
Despite canned beers meteoric growth, bottled beer remains the most popular format for SIBA's members, with hundreds putting their beers into the competition taking place at BeerX, all of which will be served on the dedicated bottle bar.
"We're really excited to be sponsoring the BeerEx2017 bottle bar. Glass is the perfect partner for craft beer – delivering the flavour the brewer intended while giving great shelf-appeal. What's more – UK manufactured beer bottles can be made from as much as 90% recycled content and are themselves 100% recyclable – so they're kind to the environment too." Rebecca Cocking, British Glass' Head of Container Affairs
Working together the organisations hope to broaden the scope of where consumers can drink independent craft beer from beyond pubs, to hotels, bars, restaurants and coffee shops – where draught beer is often not possible.