Best Independent Craft Beers in the South West are a German Style 'Dunkelweizen' and American-Hopped 'Session IPA'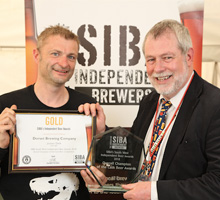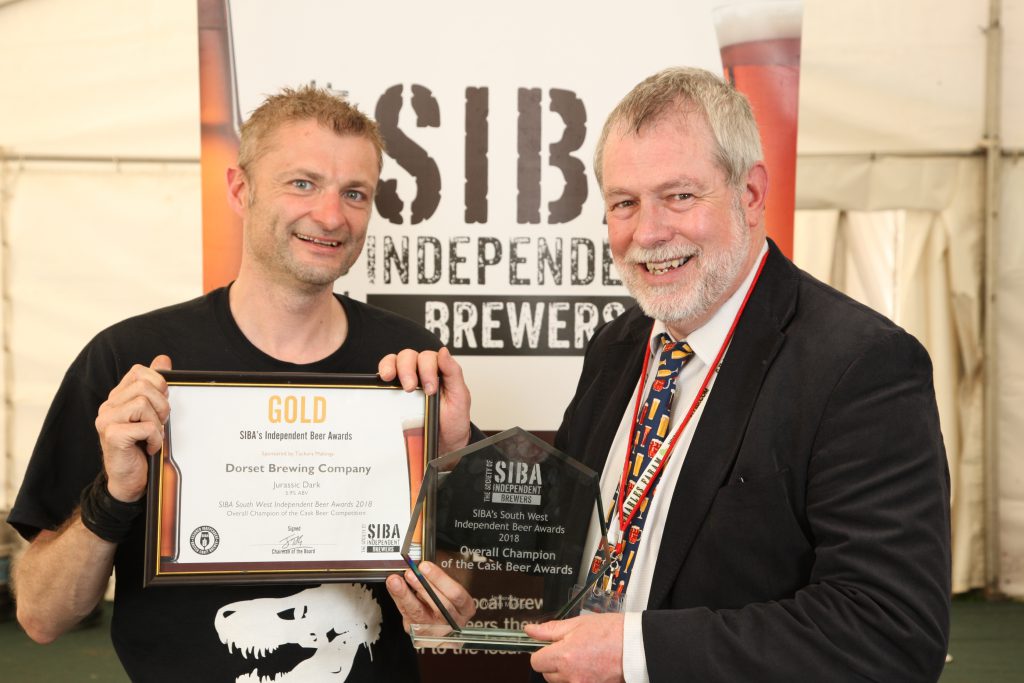 A German-style dark wheat beer, traditionally known as a 'Dunkelweizen', and an American hopped 'Session IPA' have taken home the two top spots in the SIBA South West Independent Beer Awards, showing just how exciting and vibrant the brewing scene is in the South West in 2018.
The awards took place prior to the famous Tuckers Maltings Beer Festival in Newton Abbot and are run by the Society of Independent Brewers (SIBA). The trade association represents independent craft brewers across the UK, who are now brewing the broadest range of beer styles ever seen, to quench the thirst for independent craft beer from drinkers and pub-goers.
'Jurassic Dark' (5.9%) by Dorset Brewing Co was named overall Champion Cask beer at the competition and is described as a rich dark beer with chocolate and port flavours, and a forest fruits aroma.
'Ellensberg Session IPA' (4.3% abv) by Harbour Brewing Co took home the overall Gold in the 'Bottle & Can' competition with their aromatic, citrusy and hugely drinkable canned Session IPA, brewed to show off flavours of citrus fruit and punchy American hops.
The awards, which were presented at Tucker's Maltings Beer festival last night, are judged by fellow brewers and other representatives from the industry, making these the much coveted 'brewers' choice' awards in the South West.
"The standard of the South West beers was fantastic again and we had some really good winners. This was the first time we tried some new beer categories to reflect today's beer market and the judges thought these worked very well. We feel this is a very positive move for British independent beer." Guy Sheppard, SIBA Competitions Chairman
SIBA's Independent Beer Award categories were given a shakeup this year to include more categories for popular IPA's and other now-popular beer styles, including a new Session IPA category, which Harbour won before taking the overall Gold against bottles and cans in other styles.
"I am really pleased to win this award and it is great to be recognised in this way by our peers – we were against very tough competition and I would just say please go out and enjoy this beer… it is perfect for a sunny afternoon!" Eddie Lofthouse, Director Harbour Brewing.
Session IPAs have proved popular with beer drinkers as they offer the drinkability of a craft lager or pale ale with the addition of the aromatic New World hops you would expect in an India Pale Ale (IPA), which tend to be much stronger in alcohol, typically five, six or evern seven percent alcohol.
The cask winner is a different beast altogether – a German style dark wheat beer with flavours of port and chocolate – but its win also shows the popularity of international styles with British brewers and beer drinkers alike,
"This is my favourite beer we brew. I am so pleased with this result and look forward to this going forward to SIBA's national beer competition. It is our first crack into the 'craft beer' market – it starts here!" Mike Thornton, Dorset Brewing Co.
Members of the public will get a chance to taste the best beers in the South West at the Tucker's Maltings Beer Festival which continues today and tomorrow. For more information visit http://edwintucker.co.uk/beer-festival/2018-26/#.Wti8dmbMzOQ
Full Winners' List
 
SIBA South West Independent Beer Awards 2018
DATE       OF JUDGING     19th April
Overall Champion of the Cask Competition
 

 

Sponsored by Tuckers Maltings

Brewery
Product
ABV
Gold
 Dorset Brewing Company
 Jurassic Dark
5.9
Silver
 Twisted Oak Brewery Ltd
 Leveret
4.6
Bronze
 St Austell Brewery
 Big Job
7.2
Cask British Dark Beers (up to 4.4%)
 

Brewery
Product
ABV
Gold
 Isle of Avalon Brewery
pomparles porter
4.4
Silver
 New Lion Brewery
Totnes Stout
4.4
Bronze
 Weighbridge Brewhouse
GWR Mild
4.0
Cask British Dark Beers (4.5 to 6.4%)
 

 

 
Brewery
Product
ABV
Gold
 Exeter Brewery
Darkness
5.1
Silver
 Roam Brewing Co.
Tavy Porter
5.2
Bronze
 Bristol Beer Factory
Milk Stout
4.5
Cask British Bitters (up to 4.4%)
 

Sponsored by Rastal GmbH & Co. Ltd

 
Brewery
Product
ABV
Gold
 Great western Brewing Company
Maiden Voyage
4.0
Silver
 Bays Brewery
Gold
4.3
Bronze
 Quantock Brewery
Wills Neck
4.3
Cask Premium Bitters (4.5 to 6.4%)
 

Sponsored by Rankin Brother & Sons

 
Brewery
Product
ABV
Gold
 Twisted Oak Brewery Ltd
 Leveret
4.6
Silver
 Powderkeg Brewery
 6ixes & 7evens
5.0
Bronze
 Roam Brewing Co.
 Sound Bitter
4.5
Cask Session IPA (up to 4.3%)
 

Sponsored by Crisp Malting Group

 
Brewery
Product
ABV
Gold
 Quantock Brewery
QPA
4.0
Silver
 Powderkeg Brewery
Speak Easy
4.3
Bronze
 St Austell Brewery
Prophecy
3.8
Cask Premium PAs (4.4 to 5.4%)
 

Sponsored by Murphy & Son Ltd

 
Brewery
Product
ABV
Gold
 Kettlesmith Brewing Company
Timeline
5.4
Silver
 Firebrand Brewing
West Coast Session IPA
4.5
Bronze
 Cheddar Ales Ltd
Frozen Deep
4.5
Cask IPA (5.5 to 6.4%)
 

Sponsored by Charles Faram & Co. Ltd

Brewery
Product
ABV
Gold
 Electric Bear Brewing Company
Above The Clouds
6.2
Silver
 Eight Arch Brewing Co.
Corbel
5.5
Bronze
 Dawkins Ales
Ultra
6.2
Cask Speciality Light Beers
Sponsored by SPASoft Ltd

Brewery
Product
ABV
Gold
 Moor Beer Company
Do It Together
5.2
Silver
 Great western Brewing Company
Bees Knees
4.2
Bronze
 Hunters Brewery Ltd
crispy pig
4.0
Cask Speciality Mid to Dark Beers
Brewery
Product
ABV
Gold
 Dorset Brewing Company
Jurassic Dark
5.9
Silver
 Gyle 59
Brad's Coffee Stout
4.5
Bronze
 Brewhouse and Kitchen Ltd Bristol
BA Maple Sap Scotch **Barrel aged**
6.4
Cask Strong Beers 6.5% and over
Sponsored by Bulk Storage & Process Systems Ltd

Brewery
Product
ABV
Gold
 St Austell Brewery
Big Job
7.2
Silver
 Exmoor Ales
Exmoor Beast
6.6
Bronze
 New Lion Brewery
Double Stout
7.4
Champion Bottle/Can Beers
 

Sponsored by SPASoft Ltd

Brewery
Product
ABV
Gold
Harbour Brewing Company
Ellensberg Session IPA
4.3
Silver
St Austell Brewery
Big Job
7.2
Bronze
Liberation Brewery
Liberation Ale
4.0
Bottle/Can British Dark Beers (up to 4.4%)
Brewery
Product
ABV
Gold
 Castle Brewery
Moat Mild
4.4
Silver
 Yeovil Ales
Stout Hearted
4.3
Bronze
 New Lion Brewery
Totnes Stout
4.4

Bottle/Can British Dark Beers (4.5 to 6.4%)
Brewery
Product
ABV
Gold
 Electric Bear Brewing Company
Inspector Remorse
4.7
Silver
  Roam Brewing Co.
Tavy Porter
5.2
Bronze
  PALMERS BREWERY
TALLY HO!
5.5
Bottle/Can British Bitters (up to 4.4%)
Brewery
Product
ABV
Gold
 Liberation Brewery
 Liberation Ale
4.0
Silver
 Padstow Brewing Company
 Padstow Pale Ale
3.6
Bronze
 Quantock Brewery
 Rale Head
3.9
Bottle/Can Premium Bitters (4.5 to 6.4%)
Brewery
Product
ABV
Gold
 Cheddar Ales Ltd
Karst
4.9
Silver
 Arkells Brewery
Moonlight
4.5
Bronze
 DARTMOOR BREWERY LTD
Jail Ale
4.8
Bottle/Can Session IPA (up to 4.3%)
 

Sponsored by Beatson ClarkLtd

Brewery
Product
ABV
Gold
 Harbour Brewing Company
 Ellensberg Session IPA
4.3
Silver
 Great western Brewing Company
 Hambrook Pale Ale
4.0
Bronze
 PALMERS BREWERY
 PALMERS IPA
4.2
Bottle/Can Premium PAs (4.4 to 5.4%)
Sponsored by Niche Solutions (GB) Ltd

Brewery
Product
ABV
Gold
 Brewhouse and Kitchen Ltd Bournemouth
Yankee Hack
4.8
Silver
 Quantock Brewery
Titanium
5.1
Bronze
 Art Brew
AB6 DDH
4.6
Bottle/Can Can IPA (5.5 to 6.4%)
Brewery
Product
ABV
Gold
 Eight Arch Brewing Co.
Corbel
5.5
Silver
 Firebrand Brewing
Graffiti IPA
5.5
Bronze
 Beat Ales
Funk
5.5
Bottle/Can Session Lager & Pilsners
Brewery
Product
ABV
Gold
 Keltek Cornish Brewery
Swifties Cornish Lager
4.0
Silver
 Harbour Brewing Company
Helles Lager
4.5
Bronze
 Hunters Brewery Ltd
Devon Maid Lager
4.4
Bottle/Can Premium Lager & Pilsners
Brewery
Product
ABV
Gold
 Harbour Brewing Company
Pilsner Lager
5.0
Silver
 ZerodegreesZER1
Pilsner
4.8
Bronze
 Powderkeg Brewery
Cut Loose
4.7
Bottle/Can Speciality Light Beers
 

Sponsored by SPASoft Ltd

Brewery
Product
ABV
Gold
 Red Rock Brewery Ltd
Honey Slow Beer
5.0
Silver
 Hop Kettle Brewing Co.
Busaba Saison
5.3
Bronze
 Skinners Brewery Company Ltd
Hops and Honey
4.0
Bottle/Can Speciality Mid to Dark Beers
Brewery
Product
ABV
Gold
 Dawkins Ales
Foresters Black
4.9
Silver
 Hop Kettle Brewing Co.
Flapjack Marmalade
7.7
Bronze
 Padstow Brewing Company
317
7.4
Bottle/Can Strong Beers 6.5% and over
Brewery
Product
ABV
Gold
 St Austell Brewery
Big Job
7.2
Silver
 Moor Beer Company
Old Freddy Walker
7.3
Bronze
 Firebrand Brewing
Impy Stout
10.0