Dawkins and Exmoor take home top Independent Beer Awards in SIBA South West Competition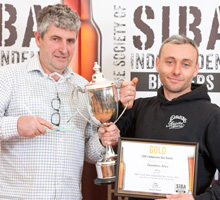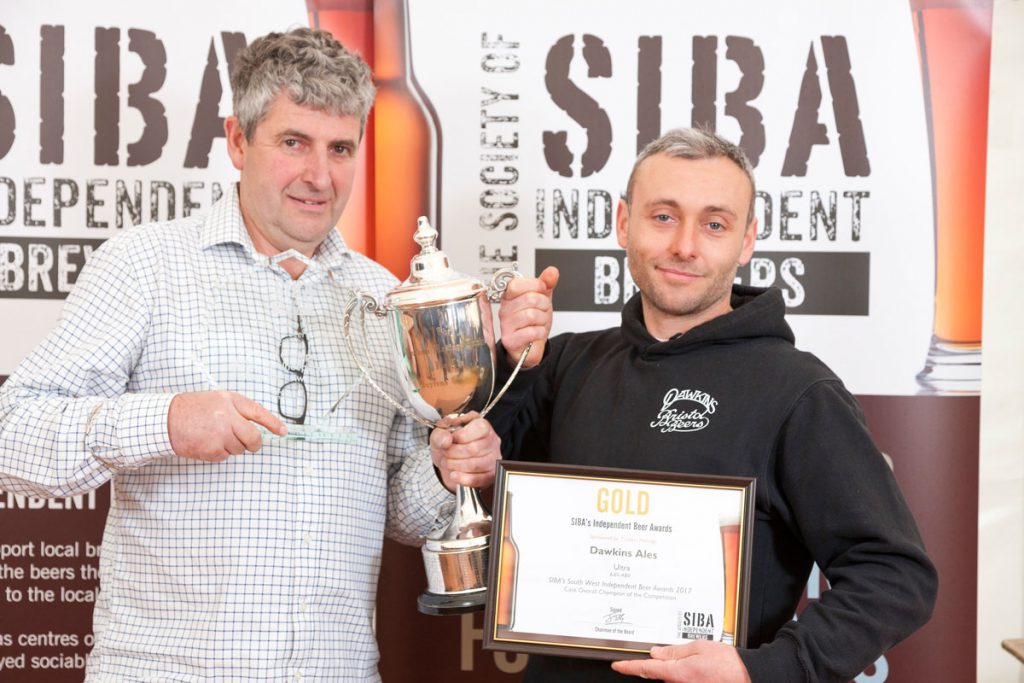 Dawkins Ales and Exmoor Ales have taken home the two Overall Champion awards in the Society of Independent Brewers (SIBA) South West Independent Beer Awards, which took place last night at the Tucker's Maltings Beer Festival in Newton Abbot.
'Ultra' by Dawkins Ales, a strong IPA brewed with American and New Zealand hops, was named overall Champion Cask beer at the competition, with 'Exmoor Beast' by Exmoor Ales, a rich, strong British ale, taking home the overall top spot in the 'smallpack' competition, which judges beers in bottles and cans.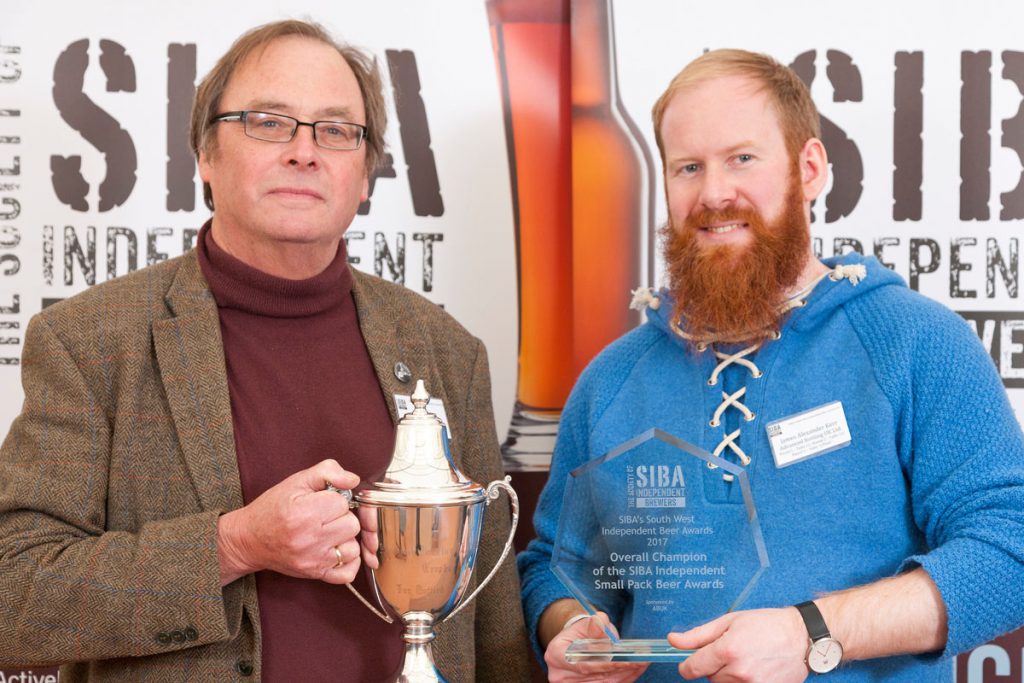 "The SIBA South West beer competition is our oldest regional competition and the standard gets higher every year. This year we saw two great examples of full-flavoured strong beers in two very different styles take home the top spots – which I think sums up perfectly the vibrant brewing scene we have in the UK, where brewers are both inspired by the past and looking to the future. It's also nice to show the huge diversity of beers now available in the South West, from the traditional low-abv bitters the region was once known for to the strong, richly flavoured beers that took home the top spots today." Buster Grant, SIBA National Chairman and Brewer at Brecon Brewing in Wales.
The awards, which were presented at Tucker's Maltings Beer festival last night, are judged by fellow brewers and other representatives from the industry, making these much coveted 'brewers' choice' awards in the South West.
"Winning the overall Champion is great as it gives recognition to all the hard work everyone puts in. When you look at a brilliant beer festival like this one, you look at all the beers that are here and who you're up against, the amount of love and energy that goes into producing such great quality beer, and it's amazing to be standing right at the top of that with our beer." Pete Howson, Brewer at Dawkins Ales.
SIBA's 'smallpack' competition is open to both bottled and canned beers, but it was the former that Exmoor's 'Exmoor Beast' was dispensed via when it took the top spot in the blind judged competition. "To win this award means a great deal to our brewing team and we're very proud of the beer, which was obviously a hit with judges!" Jonathan Price, Exmoor Ales.
Members of the public will get a chance to taste the best beers in the South West at the Tucker's Maltings Beer Festival which continues today and tomorrow. For more information visit http://edwintucker.co.uk/beer-festival/2017-25/#.WQIwDxiZNE4
Full Winners List

Overall Champion Cask of the Competition
Sponsored by GOLD Tuckers Maltings – SILVER Jim Laker Memorial – BRONZE SIBA
| | | | |
| --- | --- | --- | --- |
| | Brewery | Product | ABV |
| Gold |  Dawkins Ales |  Ultra | 6.6 |
| Silver |  Moor Beer Company |  Stout | 5.0 |
| Bronze |  CountryLife brewery |  Old Appledore | 3.7 |
Standard Mild Ales & Brown Ales
Sponsored by Flying Firkin
| | | | |
| --- | --- | --- | --- |
| | Brewery | Product | ABV |
| Gold |  CountryLife brewery ltd | Reef break | 4.0 |
| Silver |  Driftwood Spars Brewery | Blackheads Mild | 3.8 |
| Bronze |  Southbourne Ales | Sunbather | 4.0 |
Standard Bitters & Pale Ales
Sponsored by Hallamshire Brewery Services
| | | | |
| --- | --- | --- | --- |
| | Brewery | Product | ABV |
| Gold |  CountryLife brewery |  Old Appledore | 3.7 |
| Silver |  Crossed Anchors Brewing |  C.S.H | 3.8 |
| Bronze |  Forge Brewery |  Discovery | 3.8 |
Best Bitters & Pale Ales
Sponsored by Charles Faram & Co
| | | | |
| --- | --- | --- | --- |
| | Brewery | Product | ABV |
| Gold |  Forge Brewery | Litehouse | 4.3 |
| Silver |  Skinner's Brewing Co | Lushingtons | 4.2 |
| Bronze |  Kettlesmith Brewing Company | Faultline | 4.1 |
Premium Bitters & Pale Ales 
Sponsored by Murphy & Son Ltd
| | | | |
| --- | --- | --- | --- |
| | Brewery | Product | ABV |
| Gold |  Coastal Brewery |  Poseidon Extra | 4.5 |
| Silver |  Skinner's Brewing Co |  Porthleven | 4.8 |
| Bronze |  Dartmoor Brewery Ltd |  Jail Ale | 4.8 |
Strong Bitters & Pale Ales
Sponsored by AVS Wines & Beers
| | | | |
| --- | --- | --- | --- |
| | Brewery | Product | ABV |
| Gold |  Stonehenge Ales Ltd | Danish Dynamite | 5.0 |
| Silver |  Eight Arch Brewing Co. | Corbel | 5.5 |
| Bronze |  Exmoor Ales | Exmoor Stag | 5.2 |
Premium Strong Beers
Sponsored by East West Ales
| | | | |
| --- | --- | --- | --- |
| | Brewery | Product | ABV |
| Gold |  Dawkins Ales |  Ultra | 6.6 |
| Silver |  Branscombe Vale Brewery |  The Harbinger | 9.2 |
| Bronze |  Driftwood Spars Brewery |  Alfies Revenge | 6.5 |
Porters, Stouts, Old Ales, Strong Milds & Strong Brown Ales
Sponsored by ABUK
| | | | |
| --- | --- | --- | --- |
| | Brewery | Product | ABV |
| Gold |  Moor Beer Company | Stout | 5.0 |
| Silver |  Tavy Brewing Company | Porter | 5.2 |
| Bronze |  Butcombe Brewery | Forty Two | 4.2 |
Speciality Light Beers
Sponsored by SPASoft Ltd
| | | | |
| --- | --- | --- | --- |
| | Brewery | Product | ABV |
| Gold |  Gyle 59 |  Caribbean Cocktail | 4.5 |
| Silver |  Coastal Brewery |  Cornish Honey Cascade | 5.0 |
| Bronze |  Keystone Brewery |  Gold Spice | 4.0 |
Speciality Mid to Dark Beers
Sponsored by SPASoft Ltd
| | | | |
| --- | --- | --- | --- |
| | Brewery | Product | ABV |
| Gold |  Dawkins Ales | Foresters Black | 4.8 |
| Silver |  Brewhouse and Kitchen | Treason | 5.5 |
| Bronze |  Plain Ales Brewery Ltd | Inncognito | 4.8 |
Champion Small Pack Beers
Sponsored by ABUK 
| | | | |
| --- | --- | --- | --- |
| | Brewery | Product | ABV |
| Gold | Exmoor Ales | Exmoor Beast | 6.6 |
| Silver | Skinner's Brewing Co Ltd | Hops 'n' Honey | 4.0 |
| Bronze | Electric Bear Brewing Co. | Cherry Blackout | 8.0 |
Small Pack Standard Bitters & Pale Ales
Sponsored by Murphy & Son Ltd
| | | | |
| --- | --- | --- | --- |
| | Brewery | Product | ABV |
| Gold |  Glastonbury Ales |  American Pale | 4.2 |
| Silver |  Cheddar Ales Ltd |  Bitter Bully Pale Ale | 3.8 |
| Bronze |  Padstow Brewing Co |  Kor' Dorgel | 4.0 |
Small Pack Premium Bitters & Pale Ales
Sponsored by QCL
| | | | |
| --- | --- | --- | --- |
| | Brewery | Product | ABV |
| Gold |  Exeter Brewery | County Best | 4.6 |
| Silver |  Liberation Brewery | Liberation IPA | 4.8 |
| Bronze |  Cheddar Ales Ltd | Crown and Glory | 4.6 |
Small Pack Strong Bitters & Pale Ales
Sponsored by Rastal GmbH & Co. KG
| | | | |
| --- | --- | --- | --- |
| | Brewery | Product | ABV |
| Gold |  St Austell Brewery |  Proper Job | 5.5 |
| Silver |  South Hams Brewery |  Sherman | 6.4 |
| Bronze |  Otter Brewery |  Head | 5.8 |
Small Pack Premium Strong Beers
Sponsored by Bulk Storage & Process Systems Ltd
| | | | |
| --- | --- | --- | --- |
| | Brewery | Product | ABV |
| Gold |  Exmoor Ales | Exmoor Beast | 6.6 |
| Silver |  Bristol Beer Factory | Southville Hop | 6.5 |
| Bronze |  Moor Beer Company | Old Freddy Walker | 7.3 |
Small Pack Standard Lager & Pilsners
Sponsored by Niche Solutions (GB) Ltd
| | | | |
| --- | --- | --- | --- |
| | Brewery | Product | ABV |
| Gold |  Red Rock Brewery |  Pilsner | 4.1 |
| Silver |  Arkells Brewery |  Desi Biyar | 4.2 |
| Bronze |  Isle of Purbeck Brewery |  Solar Power | 4.3 |
Small Pack Premium Lager & Pilsners
Sponsored by Niche Solutions (GB) Ltd
| | | | |
| --- | --- | --- | --- |
| | Brewery | Product | ABV |
| Gold |  Powderkeg Brewery | Cut Loose | 4.7 |
Small Pack Porters, Stouts, Old Ales, Strong Milds & Strong Brown Ales
Sponsored by Beatson Clark Ltd
| | | | |
| --- | --- | --- | --- |
| | Brewery | Product | ABV |
| Gold |  Kettlesmith Brewing Company |  Ridgeline | 5.0 |
| Silver |  Electric Bear Brewing Co. |  Spilt Milk | 5.0 |
| Bronze |  Exeter Brewery |  Darkness | 5.1 |
Small Pack Speciality Light Beers 
Sponsored by Vigo Ltd
| | | | |
| --- | --- | --- | --- |
| | Brewery | Product | ABV |
| Gold |  Skinner's Brewing Co Ltd | Hops 'n' Honey | 4.0 |
| Silver |  Arkells Brewery | Bees Organic | 4.5 |
| Bronze |  Crossed Anchors Brewing | Weiss Guy | 5.0 |
Small Pack Speciality Mid to Dark Beers 
| | | | |
| --- | --- | --- | --- |
| | Brewery | Product | ABV |
| Gold |  Electric Bear Brewing Co. |  Cherry Blackout | 8.0 |
| Silver |  Red Rock Brewery Ltd |  Slow Original Wheat beer | 5.0 |
| Bronze |  The Incredible Brewing Co |  Rye Beer | 5.2 |
COPY ENDS
For further infromation contact PR & Marketing Manager Neil Walker on neil.walker@siba.co.uk