Obituary: Mark Wallington 1944-2021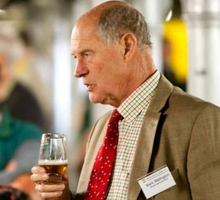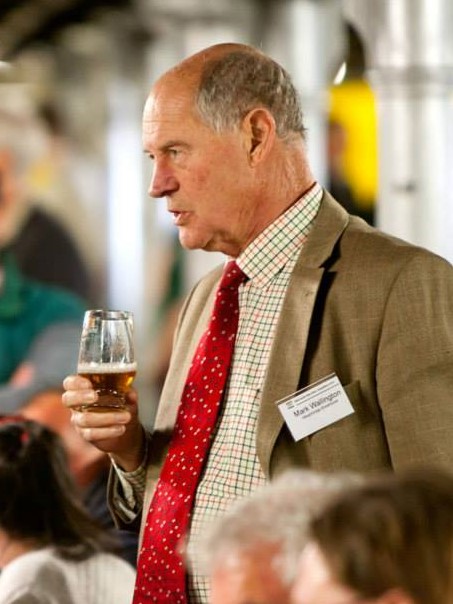 The SIBA team was greatly saddened to hear of the sudden death of long-serving SIBA Member and colleague Mark Wallington earlier this month.
Mark was the Finance Director for SIBA from 2001-2009 and a familiar figure at SIBA events and competitions, and our thoughts are with his wife Wendy, family and friends. He will be greatly missed by many within the small brewing community.
Guy Sheppard, a SIBA South West Director and Chairman of SIBA Competitions, knew Mark well and shares this tribute to him:
At the beginning of January Mark Wallington, a founding member of SIBA, suffered a massive stroke from which he never recovered.  His funeral was a small family commemoration, with his coffin looking fantastic covered in a mound of hops, and a more appropriate celebration of Mark's life will be held for all his many friends and colleagues when restrictions allow.
Mark, a former RAF pilot flying Hercules aircraft, started Archer's Brewery, Swindon in 1979. On leaving the RAF he had opted not to go the conventional route and move on to flying civilian aircraft and had instead started to retrain as an accountant working in both small and large organisations, but he always hankered after running his own business.
It was reading a newspaper article about Peter Austin and then embryonic Ringwood Brewery that caught his eye and so he found himself heading off to see Peter and his brewery. Mark was completely smitten with the idea and despite Peter and others trying to dissuade him otherwise, he was determined to set up his own brewery.  Mark never completed his accountancy qualifications; the day of his final exam saw him moving casks around his new brewery rather than sitting studiously in an exam hall. 
Mark was always impressed with the welcome and openness that he received from brewers both established and new; an industry trait that most of us identify with and he was forever grateful for the help that others had given him and in turn he passed on to newer brewers himself. A frustration was that there was no trade body who would acknowledge this new wave of brewers and so he and a few other new brewers met together at the Cross Keys in Wootten Bassett and decided to set up their own trade organisation and so it was that SIBA was started in 1980
Mark was fastidious at attending SIBA meetings both regional and national and even after he retired – although like so many brewers, retirement seemed to include lots of assistance for brewers who needed it – he was always to be seen at SIBA events and competitions up and down the country.  He was always there with his trademark half-pint tankard in his hand; I never quite gathered whether the half-pint was to limit his drinking or to increase it.  Whatever his glass was always half-full – he was never a glass half-empty man – and an evening spent with him was always great fun and infuriatingly he would always be up first thing next day without any effects from the night before!
The brewing industry has lost a passionate, cheerful, optimistic chap in Mark; he was a gentleman and great fun to be with.  We will all miss him and our sincerest condolences go to his wife Wendy and daughters Chloe and Esther.
Rest in Peace Mark – Cheers!