Independent Brewers take back Craft Beer
Independence, provenance and quality are key to the future of British beer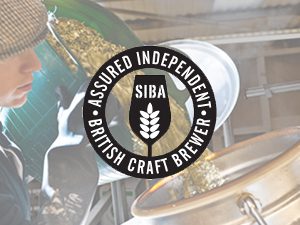 SIBA, the Society of Independent Brewers, has today launched an initiative to promote 'Assured Independent British Craft Breweries' in an effort to provide greater clarity for consumers looking to purchase beer from genuinely independent craft breweries in the UK.
With over 850 brewing members in the UK, SIBA is the voice of British brewing and is launching an initiative to champion the huge range of fantastic, full-flavoured beers from truly independent local breweries which have captured the excitement of the beer drinking public. As the 'craft beer' category has moved into mainstream retailing, SIBA says beer drinkers need more information to help them make informed choices.
Market research commissioned by SIBA shows that 46% of beer drinkers, by far the biggest group, regard craft beer as 'made by small brewers rather than large corporations', although one in ten beer drinkers are unsure what the term means. 35% regard craft breweries as 'artisanal' with 22% associating the term with 'small' and 14% with 'local'. SIBA claims that all its full brewing members fall into these definitions.
Mike Benner, Managing Director of SIBA, said, "The passion and innovation of independent brewers together with increasing consumer demand for diversity, provenance and excellence has created the craft beer revolution. It is the biggest thing to have happened to British beer for many years and has helped to revitalise the UK beer market and turn it into the most exciting beer scene in the World. Hundreds of passionate and genuine independent brewers have brought thousands of world-class beers to communities across the UK. However, as the craft beer market has grown it is being flooded with beers from across the world, often from large global brewers. We have launched our 'Assured' initiative to help consumers make informed decisions about where their beer comes from and who has brewed it."
In order to qualify for the stamp of approval breweries must be truly independent of any larger controlling brewing interest and pledge to abide by SIBA's Manual of Good Brewing Practice, which seeks to ensure quality throughout the independently brewed beer market. The initiative will make it easier for beer drinkers to identify beers from SIBA independent craft breweries quickly and easily, whether they're buying beer in a pub or bar, off-licence or supermarket.
Whilst all full SIBA brewing members will be eligible to use the stamp, over 150 have already actively pledged their support for the scheme and committed to use the logo in their future marketing. Including the brewers of SIBA's 8 Champion Cask Beers, which are being served at the Great British Beer festival as part of the launch of the campaign. One of these is Fiona from Loch Lomond brewery, who says it was right for SIBA to step in and classify craft breweries in the UK.
"Loch Lomond are very happy to be supporting this initiative as we believe it is hugely important for beer drinkers to be able to see whether the beer they are drinking is brewed by an independent craft brewer, or whether it is actually being produced by a global brewer. We think some consumers are being misled into thinking the beer they're drinking is a small-batch, hand-crafted product, when actually it's being produced on a mass scale." Fiona Maceachern, Loch Lomond Brewery, winner of SIBA's Champion cask competition.
Eddie Lofthouse, Co-founder of Harbour Brewing Co, added
"Its about empowering consumers to make informed choices, helping them identify true independent craft breweries so they can taste the amazing beers that they are making. In a craft brewery the decision making when it comes to the beer, lies on the front line, with the brewer, who has the ability to try new beer styles, ingredients or recipes more quickly than the big breweries. This leads to more unusual, interesting beers, and keeps the beer market exciting and varied – I'd rather drink beers that are dreamt-up by a brewer, not a board."
Breweries signed up to the initiative will be able to use the stamp on their pump clips, bottles, cans, point of sale and websites – making it crystal clear for consumers that what they are drinking is a genuine independently brewed craft beer.
Mike Benner added, "We're not being sanctimonious about this or taking ourselves too seriously and we realise that great beer can be brewed by all kinds of brewers, but as more and more brewers jump on the 'craft' bandwagon we think firstly that people want to know where their beer is being brewed and by whom, and secondly that we need to help even our relatively small members compete with the huge marketing budgets of big 'craft' brands. This is why we have launched this stamp of approval which assures independence and quality.
The future credibility and growth of the craft beer market would be seriously threatened if consumers simply associated it with a handful of brands from global brewers and not from their very own local brewery. Consumer access to beers from truly independent craft brewers is key to the future of British beer"
To give consumers a quick and easy way to identify the independent craft brewers near them SIBA has launched indiecraftbrewers.co.uk which includes a UK wide interactive map, making it quick and easy to get more information on the beer and breweries near them.
COPY ENDS
For further information contact SIBA's PR & Marketing Manager Neil Walker:
Mobile: 07493 883 273
Email: neil.walker@siba.co.uk
High resolution image: https://www.dropbox.com/s/pkdnempimhhq2l2/SIBA%20AIBCB%20logo_black.png?dl=0
Notes to Editors
Quotes from brewers across the UK on the initiative:
Bespoke Brewing, Gloucestershire
"This is another opportunity and vehicle to promote the fact that we aren't mass-produced corporate entities, we are craft brewers that put heart and love in to every pint we produce, so this should hopefully boost awareness further." Steve WIlliams, Head Brewer
Big Hand Brewing, Wrexham
"This simple logo means a consumer can rest easy in the knowledge that the beer they are drinking has been produced by a small independent brewer and is not just a label and marketing ploy by Big Business. Finally we have something that provides a clear, consistent and trustworthy message amongst all the noise." Dave Shaw, Director
Billericay Brewing Co., Essex
"The Assured Independent British Craft Brewer initiative will allow beer drinkers to identify beers crafted by truly independent breweries. These breweries always have a passion to make the most flavoursome beers possible." Trevor Jeffery, Owner/Brewer
Brecon Brewing, Wales
"Given the amount of confusion in the Market, this initiative is a welcome boost to Britain's Genuine Independent Craft Brewers – and we're proud to be one of them!" Buster Grant, Owner
Clarkshaws Brewing Co., London
"As a small independent brewery, we support SIBA's Assured Independent British Craft Brewer initiative because we believe that consumers want to know that the beer they choose to drink is truly independent and made by people who put quality first." Lucy Grimshaw, Director
Corvedale Brewery, Shropshire
"This will help to show the public witch brewers are truly independent, the same as the red tractor helps to show British farmers." Norman Pearce, Owner/Brewer
Crouch Vale Brewery, Essex
"This is an excellent initiative from SIBA, which should enable the consumer to quickly and easily differentiate between legitimate craft brewed beer and the mass-produced offerings of larger companies." Colin Bocking, Director
Exe Valley Brewery, Exeter
"As the word 'craft' has become a term that many beer drinkers now look out for, it will be very useful for them to be able to identify those brewers and brands who are truly independent of larger operations." Guy Sheppard, Owner (and SIBA National Chairman)
Golden Triangle Brewery, Norwich
"Keep beer Live, Local and Independent!" Kevin Tweedy, Owner
Great Oakley Brewery, Northamptonshire
"Proud to be totally independent and delighted to be a part of this initiative."
Phil Greenway, Owner
Hambleton Ales, North Yorkshire
"I am proud to be a British independent craft brewer and just want everyone in the world to know it!" Nick Stafford, Owner (and SIBA Operations Director)
Harbour Brewing Co, Cornwall
"Its about empowering consumers to make informed choices, helping them identify true independent craft breweries so they can taste the amazing beers that they are making. In a craft brewery the decision making when it comes to the beer, lies on the front line, with the brewer, who has the ability to try new beer styles, ingredients or recipes more quickly than the big breweries. This leads to more unusual, interesting beers, and keeps the beer market exciting and varied – I'd rather drink beers that are dreamt-up by a brewer, not a board." Eddie Lofthouse, Co-founder
Lincoln Green Brewing Company, Lincolnshire
"Consumers like to support local British brands and understand that the word 'craft' indicates something made with care on a small scale. Lincoln Green is proud to be part of the SIBA 'Assured Independent British Craft Brewer' initiative as it helps to highlight the care, quality and consistency that we put into the beers we produce." Anthony Hughes, Director
Maxim Brewery, Co Durham
"Maxim Brewery is a proud independent brewery with great brands, history and unique brewing equipment. Our use of SIBA's Assured Independent British Craft Brewer logo will help, consumers, customers and suppliers identify us as being a trusted, reliable and quality producer of great British Beer." Mark Anderson, Owner
Merrimen Brewing, Northamptonshire
"Merrimen Brewing fully support SIBA's Assured Independent British Craft Brewer initiative. It provides a voice for the small volume independent brewers when vying for business with the big national producers and a great shop window to promote our true craft beers." Alan Mellors, Owner
Musket Brewery, Kent
"I am very proud to own and to brew, in an assured independent micro brewery. Musket Brewery is a small family business and just part of numerous such breweries located here in Kent, producing great and highly sought-after real ales." Tony Williams, Owner
New River Brewery, Hertfordshire
"As a relatively new brewery, we are delighted to support this initiative. We believe it's vitally important that our customers are aware our beer is fresh, high quality and locally brewed."
Jeremy Altar, Owner
Redemption Brewery, London
"As an independent brewery, we are proud of our North London heritage. We applaud SIBA's efforts to encourage greater transparency in the UK brewing industry." Andy Moffat, Founder
Swannay Brewery, Orkney
"Swannay Brewery is a no ambiguity brand, family owned with beers made at Swannay in Orkney, by a small dedicated beer loving team. What it says on the label is what you get to enjoy, all made in and shipped from Swannay Brewery, Orkney." Rob Hill, Brewer
The Hop Studio, York
"We brew Original British Craft Beer.This is a great scheme and will really help us to stand out from the mega industrial brewers who claim to brew craft beer." Dave Shaw, Managing Director
Tyne Bank Brewery, Newcastle
"Tyne Bank Brewery is proud to be a SIBA Assured Independent British Craft Brewer. It's the independence of thought, action and ownership, together with the adherence to SIBA's Good Brewing Practice that leads to the creation of world class beers, such as our SIBA Champion Speciality Keg, "Summer Breeze". Julia Austin, Founder
Waen Brewery, Wales
"In a market place that is seeing many new breweries opening every week, it will be great to be part of a scheme that will give the public information at a glance to enable them to make the right choice when seeking out a good, well made crafted beer. " Sue Hayward, Director
XT Brewing, Oxfordshire/Buckinghamshire border
"Making a clear distinction for 'true' craft beer is a great step forward – the SIBA classification highlights where the beers are from genuine independent brewers – this is at the heart of what makes a beer 'craft'." Russ Taylor, Director
Full list of (152) Breweries who have pledged their support for the initiative to date and will be using the new logo on their bottles, pump clips or marketing:
8 Sail Brewery
Abbeydale Brewery
Acorn Brewery
Ainsty Ales Brewery
Alechemy Brewing
Ampthill Brewhouse
An Teallach ale co
Andwell Brewing Company
Arkells Brewery Ltd
Arran Brewery
Ascot Ales
Atom Brewing Co
Backyard Brewhouse Ltd
Barnaby's Brewhouse Ltd
Beat Ales
Bellfield Brewery
Bellinger's Brewery
Belvoir Brewery
Bespoke Brewing Co.
Betteridge's Brewery
Bewdley Brewery Ltd
Big Bog Brewing Company Limited
Big Hand Brewing
Billericay Brewing Company Ltd
Black horse brewing co
Bollington Brewing Co.
Box social
Bragdy Twt Lol
Brass Castle Brewery
Brecon Brewing
Brew-School
Brewshed
Brightside Brewing Company
Burnside Brewery
Cairngorm Brewery
Castle Brewery
Cerne Abbas Brewery
Ciach House Brewing Co Ltd
Clarkshaws Brewing Company Ltd
Coach House Brewing Co. Ltd
Coastal Brewery
Coniston Brewery
CORVEDALE BREWERY
Cross Borders Brewing Company Ltd
Crouch Vale Brewery Limited
Dawkins Ales
Derby Brewing Co
Devon Earth Brewery
Dhillons Brewery
Double Top Brewery
Dove Street
Draycott Brewing Company Derbyshire
Edinburgh Beer Factory
Elmtree Beers
Errant
Exe Valley
Firebrick Brewery
Flower Pots Brewery
Flying Monk
Forge brewery
FUGGLE BUNNY BREW HOUSE LIMITED
George's Brewery
Glastonbury Ales
Goddards Brewery
Golden Triangle
Goosnargh Brewing Co
Great Oakley Brewery
Great Western Brewing Company limited
Gun Brewery
Gun Dog Ales Ltd
GYLE 59
Half Moon Brewery
Hambleton Ales
Hammerpot Brewery
Harbour Brewing Co
Hardknott
Harviestoun Brewery
Hillfire Brewing Company
Hogs Back Brewery
Idle Valley Brewery
Ilkley Brewery
Kelburn
Kendrick's Brewing
Kent Brewery
Langham Brewery LLP
Leighton Buzzard Brewing Co
Lincoln Green Brewing Company
Little Dragon Brewery
Loch Lomond Brewery
Lymestone Brewery
Magpie Brewery
Maxim Brewery
Merrimen Brewing Ltd
Milton Brewery
Moles Brewing Company
Moor Beer Company
Moorstone Brewery
Musket Brewery
New River Brewery
NEWBY WYKE
Nobby's Brewing Co. Ltd.
North Cotswold Brewery
Old Dairy Brewery
Old Sawley Brewing Company
Ossett Brewery
Phipps NBC
Pilgrim Brewery
Powderkeg Brewery Ltd
Prospect Brewery Ltd
Purity Brewing Co
Rebellion Beer Company
Rectory Ales Limited
Red Squirrel Brewery
Red Star Brewery
Redemption Brewing Company
Reunion Ales
Revolutions Brewing Co. Ltd.
Rooster's Brewing Co
SchoolHouseBrewery
Signature Brew
Skinner's Brewery
South Hams Brewery
Staggeringly Good Beer
Strathaven Ales
Stroud Brewery
Summerskills Brewery
Swannay Brewery
Teme Valley Brewery
The Beerblefish Brewing Company
The Chiltern Brewery
The Hop Studio
The Langton Brewery Ltd
The Shotover Brewing Company Ltd
The Waen Brewery
The Wood Brewery Ltd
Tudor Breweery
Tunnel Brewery
Twickenham Fine Ales
Twisted Brewing
Twisted Oak Brewery
Tyne Bank Brewery
Vale Brewery Co Ltd
Warwickshire Beer Company td
Weetwood Ales
Weltons Brewery
Wibblers Brewery
Windsor and Eton
Wishbone Brewery
Withnell's Brewing Co. Ltd.
Wold Top Brewery
XT Brewing Co
Yorkshire Brewing Company Limited