Langham and Gun Brewery named best in the South East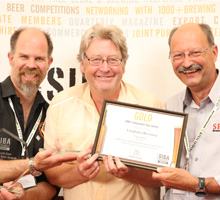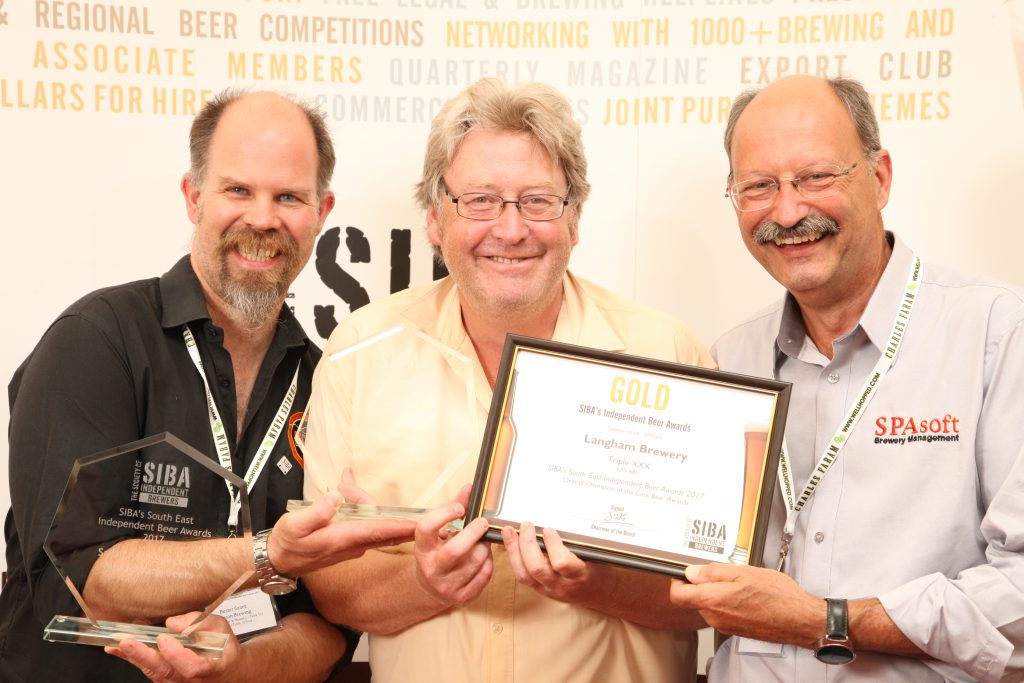 Langham Brewery and Gun Brewery have won the top awards in the SIBA South East Independent Beer Awards.
The prestigious awards, run by the Society of Independent Brewers (SIBA) at the Tonbridge Juddians Beer Festival in Kent, are judged by brewers and beer experts and seen very much as the 'brewers choice' awards in the industry.
Langham Brewery took home the overall Gold in the cask competition with their 'Triple XXX', whereas Gun Brewery was named overall small pack (bottle and can) winner for their Imperial Whisky Stout.
Commenting on the results was SIBA Chairman Buster Grant of Brecon Brewing, who presented the awards,
"The South East is a fast growing and vibrant beer scene and the beers in the competition reflected exactly that, with some fantastic beers entered across a diverse range of categories. These two beers have fought off tough competition to take the overall Golds and should certainly be considered the best of the best." 
Triple XXX by Langham is described as a traditional dark mild, collecting the award was Martyn Constable from Langham who had this to say on their win,
"It's fantastic to win. It's my personal favourite of our beers, a stunning dark mild that is very well rounded in flavour and it's also great to see a very traditional British style beer winning this competition against the huge range of styles entered – including some very modern heavily hopped styles." 
The smallpack winner, Gun Brewery's Imperial Whisky stout, is packaged in a 330ml can, a format growing in popularity with independent craft breweries across the UK, proving that cans are well suited to a huge range of beer styles. Described as having flavours of dark chocolate, coffee, black treacle and hints of Bourbon Oak, it's a big and full flavoured beer – and at over 7% not to for the feint hearted.
Full Winners List
Overall Champion of the Cask Beer Competition  
Sponsored by  SPAsoft Ltd 
| | | | |
| --- | --- | --- | --- |
| | Brewery | Product | ABV |
|  GOLD |  Langham Brewery |  Triple XXX | 4.4 |
|  SILVER |  Dark Star Brewing Co Ltd |  American Pale Ale | 4.7 |
|  BRONZE |  Truman's Brewery |  Lazarus | 4.2 |
Cask Standard Mild & Brown Ales   
Sponsored by  Rankin Brothers & Sons 
| | | | |
| --- | --- | --- | --- |
| | Brewery | Product | ABV |
|  GOLD |  Langham Brewery | Triple XXX | 4.4 |
|  SILVER |  Whitstable Brewery Co Ltd | Renaissance Ruby Mild | 3.9 |
|  BRONZE |  Arundel Brewery | Black Stallion | 3.7 |
Cask Standard Bitters & Pale Ales  
Sponsored by  QCL Scientific 
| | | | |
| --- | --- | --- | --- |
| | Brewery | Product | ABV |
|  GOLD |  White's Franklins |  English Garden | 3.8 |
|  SILVER |  Twickenham Fine Ales |  Grandstand | 3.8 |
|  BRONZE |  Old Dairy Brewery |  Uber Brew | 3.8 |
Cask Best Bitters & Pale Ales   
Sponsored by  Charles Farams & Co. Ltd 
| | | | |
| --- | --- | --- | --- |
| | Brewery | Product | ABV |
|  GOLD |  Truman's Brewery | Lazarus | 4.2 |
|  SILVER |  Long Man Brewery | Best Bitter | 4.0 |
|  BRONZE |  Surrey Hills Brewery | Shere Drop | 4.2 |
 Cask Premium Bitters & Pale Ales   
Sponsored by  Bulk Storage and Process Systems Ltd 
| | | | |
| --- | --- | --- | --- |
| | Brewery | Product | ABV |
|  GOLD |  Dark Star Brewing Co Ltd |  American Pale Ale | 4.7 |
|  SILVER |  Goddards Brewery |  Fuggle Dee Dum | 4.8 |
|  BRONZE |  Redemption Brewing Company |  Hopspur | 4.5 |
Cask Strong Bitters & Pale Ales  
Sponsored by  Crookham Travel 
| | | | |
| --- | --- | --- | --- |
| | Brewery | Product | ABV |
|  GOLD |  Hammerton Brewery | N7 | 5.2 |
|  SILVER |  Red Cat Brewing | NEW IPA | 6.0 |
|  BRONZE |  London Brewing Co | Skyline American Pale | 5.3 |
 Cask Premium Strong Beers  
Sponsored by  Murphy & Son Ltd 
| | | | |
| --- | --- | --- | --- |
| | Brewery | Product | ABV |
|  GOLD |  Big Smoke Brew Co |  The Judge DIPA | 8.5 |
Cask Porters, Stouts, Old Ales, Strong Milds & Strong Brown Ales   
Sponsored by  Brewers Select 
| | | | |
| --- | --- | --- | --- |
| | Brewery | Product | ABV |
|  GOLD |  Bedlam Brewery Ltd | Porter | 5.0 |
|  SILVER |  Long Man Brewery | Old Man | 4.3 |
|  BRONZE |  Big Smoke Brew Co | Underworld Milk Stout | 5.0 |
 Cask Speciality Light Beers  
Sponsored by  Crisp Malting Group 
| | | | |
| --- | --- | --- | --- |
| | Brewery | Product | ABV |
|  GOLD |  Red Cat Brewing |  Tellicherry Wit | 5.4 |
|  SILVER |  Enfield |  Raspberry Pale Ale | 3.9 |
|  BRONZE |  Bowman Ales |  Trebuchet | 4.5 |
 Cask Speciality Mid to Dark Beers  
Sponsored by  Muntons PLC
| | | | |
| --- | --- | --- | --- |
| | Brewery | Product | ABV |
|  GOLD |  Big Smoke Brew Co | Underworld Vanilla Milk Stout | 5.0 |
|  SILVER |  Canterbury Brewers & Distillers ( Stoneset Inns Ltd. ) | Itzamna | 9.6 |
|  BRONZE |  Binghams Brewery | Macchiato Stout | 5.0 |
 Overall Champion of the Small Pack Competition  
Sponsored by Croxson & Son Ltd
| | | | |
| --- | --- | --- | --- |
| | Brewery | Product | ABV |
|  GOLD | Gun Brewery | Imperial Whisky Stout | 7.4 |
|  SILVER | Brick Brewery | Peckham Pale | 4.5 |
|  BRONZE | Big Smoke Brew Co | Underworld Milk Stout | 5.2 |
 O Small Pack Standard Mild & Brown Ales   
| | | | |
| --- | --- | --- | --- |
| | Brewery | Product | ABV |
|  GOLD |  Wantsum Brewery | Black Prince | 3.9 |
|  SILVER |  West Berkshire Brewery | Maggs' Magnificent Mild | 3.7 |
|  BRONZE |  Hammerpot Brewery | Red Hunter | 4.3 |
 Small Pack Standard Bitters & Pale Ales   
Sponsored by  Zoedale Ltd 
| | | | |
| --- | --- | --- | --- |
| | Brewery | Product | ABV |
|  GOLD |  The Crafty Brewing Company |  Hop Tipple | 4.2 |
|  SILVER |  Westerham Brewery |  Scotney Bitter | 4.3 |
|  BRONZE |  Binghams Brewery |  Twyford Tipple | 3.7 |
 Small Pack Premium Bitters & Pale Ales   
Sponsored by  Rastal GmbH & Co. Ltd 
| | | | |
| --- | --- | --- | --- |
| | Brewery | Product | ABV |
|  GOLD |  Brick Brewery | Peckham Pale | 4.5 |
|  SILVER |  Three Sods Brewery | Trade union pale ale | 4.5 |
|  BRONZE |  Hammerpot Brewery | Brighton Belle | 4.6 |
 Small Pack Strong Bitters & Pale Ales   
| | | | |
| --- | --- | --- | --- |
| | Brewery | Product | ABV |
|  GOLD |  Windsor and Eton |  Uprising's Treason | 5.8 |
|  SILVER |  Brixton Brewery |  Atlantic APA | 5.4 |
|  BRONZE |  Canopy Beer Co |  Brockwell iPA | 5.6 |
Small Pack Premium Strong Beers   
| | | | |
| --- | --- | --- | --- |
| | Brewery | Product | ABV |
|  GOLD |  Old Dairy Brewery | Dark Side of the Moo | 7.0 |
|  SILVER |  Signature Brew | Stagediver | 7.2 |
|  BRONZE |  Red Cat Brewing | Imperial 15 | 9.1 |
 Small Pack Standard Lager & Pilsners                                                           
Sponsored by  CFB Steam Boilers 
| | | | |
| --- | --- | --- | --- |
| | Brewery | Product | ABV |
|  GOLD |  Whitstable Brewery Co Ltd |  Kentish Lager | 4.1 |
Small Pack Premium Lager & Pilsners                                                                   
| | | | |
| --- | --- | --- | --- |
| | Brewery | Product | ABV |
|  GOLD |  Whitstable Brewery Co Ltd | Whitstable Pilsner | 4.9 |
|  SILVER |  Westerham Brewery | Bohemian Rhapsody | 5.0 |
|  BRONZE |  Wantsum Brewery | Preussen Pilsner | 4.5 |
Small Pack Porters, Stouts, Old Ales, Strong Milds & Strong Brown Ales  
| | | | |
| --- | --- | --- | --- |
| | Brewery | Product | ABV |
|  GOLD |  Big Smoke Brew Co |  Underworld Milk Stout | 5.2 |
|  SILVER |  West Berkshire Brewery |  Tamesis Extra Stout | 4.9 |
|  BRONZE |  Old Dairy Brewery |  Snow Top | 6.0 |
Small Pack Speciality Light Beers   
Sponsored by  Beatson Clark Ltd 
| | | | |
| --- | --- | --- | --- |
| | Brewery | Product | ABV |
|  GOLD |  Flack Manor Brewery Ltd | Romsey Gold | 4.5 |
|  SILVER |  Signature Brew | Nice Time | 3.9 |
|  BRONZE |  Red Cat Brewing | Tellicherry Wit | 5.4 |
 Small Pack Speciality Mid to Dark Beers  
| | | | |
| --- | --- | --- | --- |
| | Brewery | Product | ABV |
|  GOLD |  Gun Brewery |  Imperial Whisky Stout | 7.4 |
|  SILVER |  Whitstable Brewery Co Ltd |  Raspberry Wheat Beer | 5.2 |
|  BRONZE |  Red Cat Brewing |  Smoggy | 4.7 |