SIBA publishes its manifesto for small independent brewers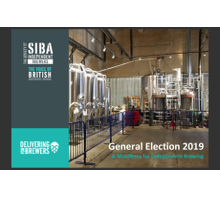 The Society of Independent Brewers (SIBA) has today set out its manifesto to turbocharge independent brewing in the UK.
Ahead of the General Election on 12 December 2019, SIBA urges the next Government to adopt 15 policies, covering five key areas, which will encourage growth and sustainability for the UK's craft brewers.
The UK has been at the forefront of the Global craft beer revolution, but there are huge challenges now facing the industry – from the duty burden, the review of Small Breweries' Relief and an unfair business rate regime to unfair practices and difficulties getting products to market.
The manifesto is therefore calling on the new Government to introduce 15 policies:
Small Breweries' Relief (SBR)
Positive reform of the curve above 5,000hl of annual production to encourage growth
No withdrawal of any relief for any small brewer so protecting jobs, businesses and investment
Clarity on control, connected parties and collaborations
Alcohol Duty
Commit to freeze beer duty for the duration of the next Parliament
Bring cider duty into line with beer duty
An alcohol duty review that protects the UK's national drink, beer
Business Rates
A long-term solution to help pubs on disproportionate business rates
More specific help in the short to medium term
A Treasury review into the differential between business rates of small brewers and global brewers
Market Fairness
Commit to ensuring a real, free and fair market rent only option for tied tenants in the Pubs Code
Remove the 'significant price trigger' for small brewery beer within the Pubs Code
Ensure HMRC enforcement teams are properly resourced to tackle duty fraud
Deposit Return Schemes for Cans and Bottles
One scheme for the whole of the UK
Start with plastic initially, and on-the-go products
De-minimis thresholds for small producers
James Calder, Chief Executive of SIBA, said:
"Independent brewing in the UK has been in the ascendency, with so much choice, quality and flavour in the UK beer. However, there are huge challenges facing the sector and the next Government is in a position to secure the sustainability and future of the UK's craft brewers.
Therefore, our manifesto urges the next Government to adopt our 15 policy initiatives which will turbocharge UK independent brewing. I would encourage all candidates in the election to show their support for independent brewing and back our plans."
SIBA's Manifesto for Independent Brewing can be read here – 2019 General Election Manifesto